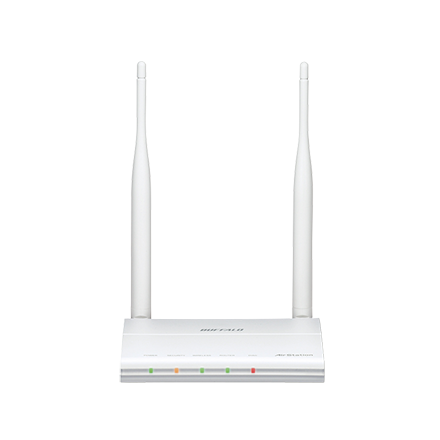 Wireless Router and AP
WCR-G300
Wireless-N Router & Access Point with double adjustable 5 dBi antennas




- Improved, easier setup―simple and quick with the web-based setup wizard
- 802.11n technology for higher data transfer rates up to 300 Mbps*
- Double 5 dBi adjustable antenna―fine-tune the antenna positioning to eliminate dead spots
- Backward compatible with 1 x 1, 802.11g/b devices
- High-spec Ralink 400MHz CPU
- Wireless Distribution System (WDS) extend your wireless network across access points
- Easy setup with AirStation One-Touch Secure System (AOSS™)
- Easy wireless network configuration with application for Android smartphones, AOSS for Android
- Multi-level Wireless Security Support: WPA2-PSK (AES), WPA-PSK (AES), and WEP (128/64-bit)
- Eco Minded - Energy saving feature reduces power consumption by 28%**
- Allows up to 4 simultaneous wired connections
- Compact chassis

The compact yet powerful AirStationTM Wireless-N router and bridge WCR-G300 is a great way to wirelessly connect the networked devices in your home to the Internet. The web-based setup wizard makes setup very simple and quick. Double 5 dBi antenna provides a speedy 300 Mbps transfer rate, allowing your to stream HD movies and video, music, and other multimedia content, download photos, e-mail, and more, simultaneously from multiple devices, with improved range as well. With multiple security and energy-saving options and more, the WCR-G300 packs a lot of performance in a compact unit.

Setting up the router is simple and quick with the web-based setup wizard.
First, connect your router and modem, then plug in the router to the AC adapter to
turn it on. Secondly. search for the available LAN connection on the network from
your computer. Choose the same SSID as written on the Admin Card. Third, launch
your web browser and setting screen appears. Set the operation condition as
needed to complete the setup. (some environments may require PPPoE settings).
It's that simple!

The double 5 dBi adjustable antennas and 11n standard combine to simultaneously
transmit dual data streams for improved perfonnance and higher data transfer rates
of up to 300 Mbps'. providing faster, more reliable delivery of streaming video and
other digital content. This also improves range by allowing the signal to bypass
obstacles, helping to reduce dead spots that block wireless transmission in your
home. This also makes the router the optimal way to link your smartphone to your
home network. Enjoy trouble-free streaming of video and music.

Backward compatible with 1×1,802.11g/b devices

While the WCR-G300 is capable of making full use of the features the performance
expected under the 802.11n standard and provided by MIMO 2x2 technology, it still
offers superior performance with devices operating under the 802.11g/b standards
and 1x1 data streaming.
Ralink 400 MHz CPU
In addition to high transfer speeds. the WCR-G300 also gets a boost in performance
from the Flalink 400 MHz CPU. This faster processing keeps the data flowing.
without the kinds of bottlenecks that slower CPUs create.

The Wireless Distribution System(WDS) further expands wireless coverage with other BUFFALO routers supporting WDS, reducing or even eliminating dead spots that hinder and may even prevent network functioning and Inrernet access.This is important in home and office enviroments where interior walls, corners, and other obstructions reduce or block signals form less powerful conventional routers.
Model
Wireless Interface
| | |
| --- | --- |
| Standard Compliance | IEEE802.11n/g/b |
| Security | WPA2-PSK (AES,TKIP), WPA-PSK (AES, TKIP), WEP (128/64bit) |
| Transfer Rates | Max. 300Mbps(IEEE802.11n) Max. 54Mbps(IEEE802.11g) Max. 11Mbps(IEEE802.11b) |
| Antenna | External 5dBi anntena, 2x2 |
| WDS | Y |
Wired Interface
| | |
| --- | --- |
| Standard Compliance | IEEE802.3/3u |
| Speed and Flow Controll | 10/100 Mbps (Auto Sensing) |
| Number of Ports | Internet : 1 x RJ-45 (Auto MDIX) LAN : 4 x RJ-45 (Auto MDIX) |
USB Interface
| | |
| --- | --- |
| Standard Compliance | - |
| Connector Type | - |
| Number of Ports | - |
Key Feature
| | |
| --- | --- |
| Advanced QoS | - |
| Guest Port | - |
| Beam Forming | - |
| Parental Controls | - |
| Wi-Fi Extender | - |
| PPTP Server | - |
| BitTorrent | - |
| Media Server | - |
| NFINITI HighPower Technology | - |
| Dynamic DNS | - |
| Energy Save | |
| MAC Address Clone | Y |
Other
OS Support
Windows® 7 (32/64-bit), Vista® (32/64-bit), XP
Mac OS® X 10.7, 10.6, 10.5, 10.4
Power Consumption
4.0W (Max)
Dimensions (LxWxH, mm)
120 x 105 x 22 mm (Exclude antennas)
Weight
176 g
Operating Environment
0-40°C, 20-80% (non-condensing)
Power Supply
AC 100-240V, 50/60Hz
Warranty
3-year
Package Contents
Contents
AirStation N300 Wireless-N Router & Extender WCR-G300
Quick Setup Guide
Ethernet Cable
AC Adapter
Admin Card
Warranty Statement
You can compare the specifications of the product in this page. Click the model which you want to compare and click the "Compare"button.