News
2014

2014/05/01
[New Product] LS220DE
Network Attached Storage the entire family can use. Can be set with smartphones and tablets, supports RAID 1 to protect critical data
May 1st, 2014 Tokyo, Japan: Buffalo Inc., a global leader in the design, development, and manufacture of storage and wireless networking solutions, today announced the launch of the LinkStation LS220DE, the latest model in the LS220D Series. The LinkStation LS220DE Network Attached Storage (NAS) accommodates two drives, with support for RAID 1 to automatically protect critical data. Users can also take advantage of the "WebAccess" smartphone app, enabling the NAS to function as high-capacity storage for smartphones and tablets. Settings be made simply and easily from smartphones and tablets. The LinkStation works with smartphones, tablets, and computers. These units are also compatible with the "WebAccess" app, making it a cinch to access and operate the home NAS, anytime and anywhere. It's just like a portable high-capacity hard drive that provides access to data stored in the home. The newly designed Web settings screen is also compatible with smartphones and tablets, allowing users to make settings simply and easily, with no computer required. The "SmartPhone Navigator" smartphone app's setup wizard assists with the basic settings, helping users get started without the typical confusion. The LinkStation also supports RAID 1 (mirroring) for automatic data duplication—if one drive happens to fail, the data can be recovered from the remaining drive. Replacing failed disks is also a breeze. Just as with previous models in the LinkStation series, these units are also compatible with PCs and Macs, making them convenient way to save, share, and back up data. Also included are an iTunes Server function Time Machine support, and number of other useful functions. Please check the product information page for the latest information.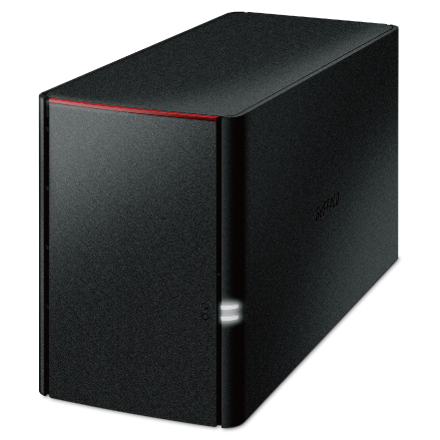 About Buffalo Technology
Buffalo is a global manufacturer of innovative storage, and wireless networking products for the home and small business. The company is recognized as the No.1 total AV/PC & Cell phone peripheral manufacturer in Japan, and was the worldwide consumer NAS market leader since 2005 (In-Stat). The company's storage products are addressing the needs of the individual and the business, providing cost-effective network attached storage(NAS), portable and desktop hard drives, multimedia players, and Wireless LAN routers, which together offer a complete and integrated solution for the small office and digital home environment, as well as the accessories and supplies. Buffalo's product portfolio includes its TeraStation NAS devices which are specifically designed to bring to the SMB. The LinkSatation range of NAS products, take multimedia NAS to the home, and enables you to create a central location to share information, store files, photos and music, and save all your digital content, simply and easily. The AirStation range of easy-to-use, high performance wireless networking products for the SMB/SoHo and home user. Headquartered in Japan, Buffalo Technology has offices in the EU, USA, Brasil, China, and Taiwan. For more information please visit
www.buffalotech.com
.