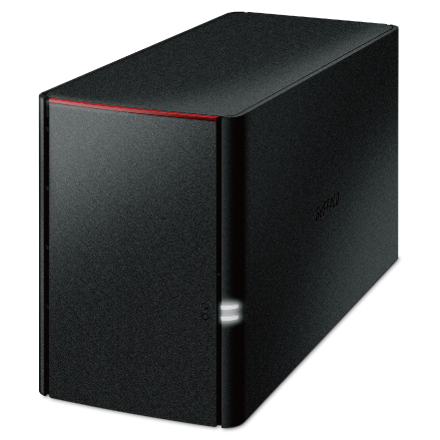 LinkStation™ 220DE Support RAID 1, duplicate your precious data automatically
LS220DE
The LinkStation™ LS220DE is an enclosure model of 2 bay Network Attached Storage combines an incredibly easy User Interface with the convenience and security. The LS220DE could link and manage data stored on computers, smartphones, tablets, and other devices. Easy to set up and packed with convenient features for transferring files, streaming content, adding disks, backing up and protecting data and more.

Enclosure : LS220DE








View photos and watch videos anywhere!
Hard Drive Accessible from Smartphones and Tablets

The WebAccess app supports not only Android and iOS but also Windows 8.1/8, Windows RT 8.1/RT, and Windows Phone as well, making it simple to connect to your NAS and access your data from nearly any smartphone or tablet, even when you're away from the NAS. Of course, you can also access the NAS from computers using a web browser.
Access your home NAS anytime, anywhere with "WebAccess"

The Web Access application lets you access and manage your home NAS simply and easily from smartphones, tablets, and computers, anytime and anywhere. Being able to use your home NAS anywhere is like walking around with a high-capacity hard drive. But this way, there is no need to save and carry around data on your smartphone, tablet, computer, or other mobile device.
1. NAS can be used simply and easily with a variety of different devices, from smartphones to tablets and computers.
2. Sharing files with friends and acquaintances is simple.
3. There's no need to bother with copying files to the device. This means there is no need to be concerned about the device's storage capacity.
4. If the mobile device is ever lost or stolen, the data is still safe on the NAS.
Access from computers also possible using a web browser
1. Configure the LinkStation on a LAN connected to the Internet.
2. In the LinkStation's Settings screen, set the WebAccess switch to the "On" position.
3. Send your "buffalonas.com name" to the individuals with whom you want to share your data.
  You can set a password as needed to restrict access.
4. The shared folder is then accessed.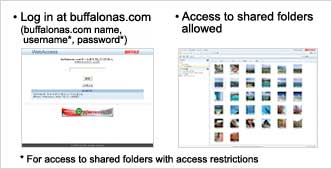 * To use the WebAccess function, you need an environment that allows you to connect the LinkStation to the Internet. You can also use WebAccess in environments without a fixed IP address assigned.
* Buffalo recommends use with a router that supports the "UPnP" (Universal Plug & Play) standard to connect peripheral devices via the network.
* With some hardware configurations or router settings to convert IP addresses in the LAN, you may not be able to use the easy settings with UPnP or the WebAccess function.
LinkStation's advantages over recently popular cloud services

Cloud services offer no user data administration, which raises concerns about privacy. In addition, most general services only provide several GB or so, which is not enough capacity to store photos, videos, and music data. Services with large amounts of storage usually charge high monthly fees. The LinkStation requires no additional fees after purchase, so you have free use of 1TB (1,000 GB) or more starting the day you set up the LinkStation.
Comparison of Cloud Services and LinkStation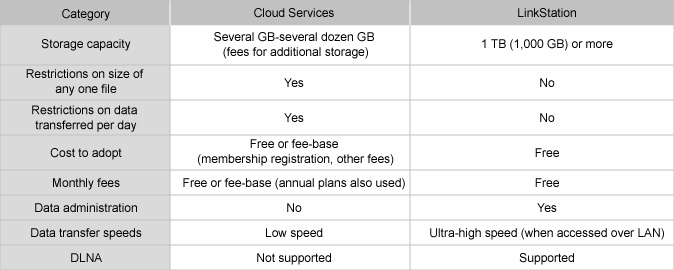 Uses special Web settings screen for smartphones and tablets
Set Up the NAS Using Only a Smartphone

Using the special Web settings screen for smartphones and tablets, you can easily manage your LinkStation, even without a computer. Of course, you can also access the LinkStation from computers easily with the simply designed interface.
* Supported OSs for smartphone user interfaces: iOS 5 or above, Android 2.3 or above
Setup is simple, just with a smartphone or tablet

Using the dedicated smartphone and tablet web settings screens, you can easily carry out the initial LinkStation setup without a computer—just use a smartphone or tablet. The setup wizard and user support let you set up everything without confusion.
NAS Navigator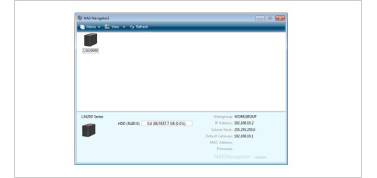 Easily find and connect to your LinkStation using the NAS Navigator tool. NAS Navigator finds all NAS devices attached to your network, making it easier to manage multiple NAS devices.
Supports RAID 1/0
Automatic Duplication Protects Critical Data
The LinkStation is equipped with two hard drives. You can select from three RAID modes to suit your uses: mirroring (RAID 1), RAID 0, or normal mode. The LinkStation ships with the "RAID 1" setting, which provides excellent protection for you important data.
Preserving and returning data in mirroring—process from failure to recovery

* While RAID 1 is effective in protecting data, this does not mean that complete protection is guaranteed. Always be sure to back up important data.
* The data cannot be recovered if both disks fail simultaneously. BUFFALO assumes no liability whatsoever for loss of data on drives damaged during transport, whether for warranty repair or free repair.
Direct Copy function—transfer data from USB flash drives, hard drives and digital cameras with a single touch
You can connect compatible a digital camera, video camera, or external hard drive to the LinkStation with at USB cable and then transfer all of the files to the LinkStation with the press of a button. Pressing the button automatically creates a new dated folder on the LinkStation and copies the data to that folder, without the need for any computer.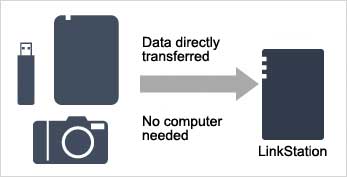 iTunes Server lets you listen to your favorite music on the computers in your home
You can use iTunes on any computer connected to the LAN to automatically find and stream music files saved on the LinkStation. The feature supports playback of files on up to five computers and transfers to iPods.
Supported formats: Audio data (MP3/M4A/M4P)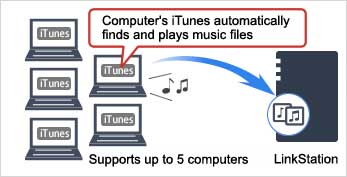 * If using iTunes 10, please use Version 10.0.1 or later.
* When transferring files to an iPod from the LinkStation, adding the LinkStation's shared folder to the iTunes Library allows you to transfer the files through
iTunes. Please note that files cannot be transferred using Explorer and other programs.
* Music purchased on the iTunes Store can also be shared and played through the LinkStation (iTunes specifications for sharing allow a user to play files on up to five authorized computers. You can set authorizations at home on a computer with iTunes installed.)
Use the Mac's automatic "Time Machine" backup function

The LinkStation is compatible with "Time Machine," the automatic backup function included on Mac computers running Mac OS X 10.5 Leopard or later, like those used at many design firms. All files, including the Mac's system file, applications, accounts, system preferences, documents, and other files can be backed up
automatically with Time Machine. Backups are performed in one-hour units, so you can return to the time you need in the past and recover the data at that time.
Supports Apple Bonjour
FTP Server
LinkStation NAS System offers an optional FTP server allowing users to securely access and share files on their LinkStation NAS device from outside the local network. The FTP server uses the same security settings as LinkStation user/group network file sharing.
USB Printer Server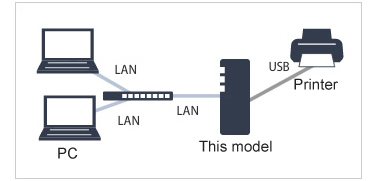 Share basic printing support to client PC and Mac computers on your network. Connect one printer at a time to your LinkStation and share basic printing functions with anyone on your network.
*Mounts as a shared printer in the LinkStation.
*No ink or status reporting from the printer to clients.
Hardware Overview

Dimensions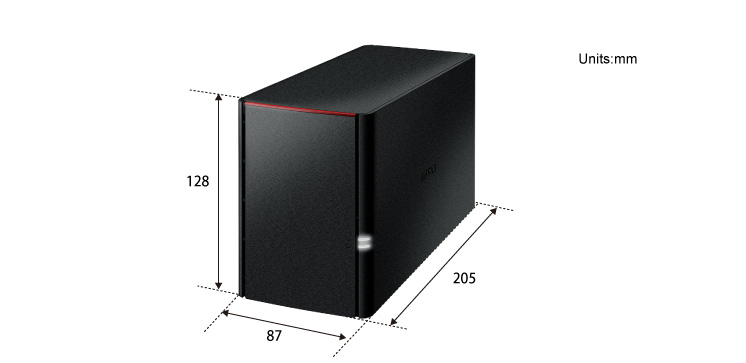 Model
Hardware
| | |
| --- | --- |
| OS | Linux Original |
| CPU | Marvell ARMADA 370 |
| Clock | 800MHz |
| Memory | DDR3 256MB |
Internal Hard Drives
| | |
| --- | --- |
| Number of Drives | 2 |
| Drive Interface | SATA II |
| Supported RAID Levels | 0, 1, JBOD (Normal) |
| Drive Capacity | LS220DE(Enclosure) |
LAN Interface
| | |
| --- | --- |
| Standard Compliance | IEEE802.3/3u/3ab |
| Speed and Flow Control | 10/100/1000 Mbps (Auto Sensing) |
| Number of Ports | 1 x RJ-45 (Auto MDIX) |
USB Interface
| | |
| --- | --- |
| Standard Compliance | Rear : USB 2.0 |
| Connector Type | A type |
| Number of Ports | 1 x USB2.0 |
Key Feature
| | |
| --- | --- |
| Active Directory support | Y |
| Energy Save | Y |
| Apple Bonjour® | Y |
| Apple Time Machine® | Y |
| iTunes® Server | Y |
| WebAccess | Y |
| BitTorrent™ | Y |
| DLNA™ Media Server | Y |
Other
Client OS Support
Windows® 8.1/8 (32/64-bit), 7 (32/64-bit), Vista® (32/64-bit),Windows® XP(32-bit),
Mac OS® X 10.9, 10.8, 10.7, 10.6
Power Consumption
22W(Average), 48W (Max), 0.5W(Stanby)
Dimensions (LxWxH, )
128 x 87 x 205
Weight
0.87 kg
Operating Environment
5-35°C, 20-80% (non-condensing)
Power Supply
AC 100-240V, 50/60Hz
Warranty
3-year
Package Contents
Contents
LinkStation LS220DE
LAN cable
CD-ROM
AC power
Quick Setup Guide
Warranty Statement
LS220DE / 2017-05-24

Product Datasheet

Download
You can compare the specifications of the product in this page. Click the model which you want to compare and click the "Compare"button.