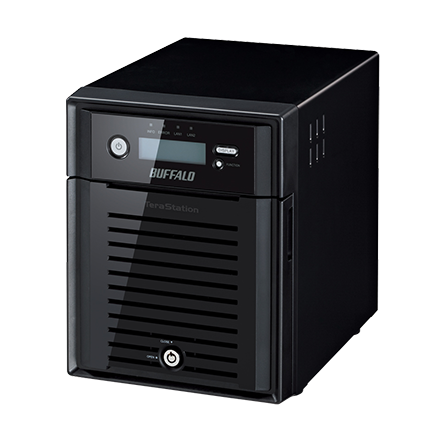 Buffalo TeraStation™ WS 5000R2 4 Bay with Windows® Storage Server 2012 R2
WS5400DNW2
TeraStation™ WS5400DNW2 brings you the power of Windows® Server OS and Intel® Atom™ Dual-Core Processor in a 4-bay form factor. The TeraStation™ WS5400DNW2 is powered by the Microsoft Windows® Storage Server 2012 Workgroup Edition, providing seamless integration with all Windows® computers and servers.
WS5400DN0404W2 (4TB)
WS5400DN0804W2 (8TB)
WS5400DN1204W2 (12TB)





Hard drives designed for NAS systems
Especially designed for use in NAS systems, the TeraStation's hard drives feature highly new technologies for highly reliable and stable operation. The drives are also equipped with specialized NAS firmware designed specifically for the extended operation that NAS devises are famous for.

Features
- Reduced power consumption and operating temperatures
- Vibration and noise suppression
- Stable operation and lower operating costs
Seamlessly share large files from multiple location within the network
With TeraStation™ WS5000R2 Series, you can share large files within the network with cross-platform support for versatility and access restrictions for security.

Functions for more efficient use of hard disk capacity
1. Storage Pools
This allows a system administrator to group multiple physical disks together and manage them as a single disk, without the constraints of the physical hard disks' capacity or configuration.
For example, a virtual disk can be created from a combination of TeraStation™ drives and an external hard disk connected to the USB port, enabling the user to freely configure unallocated storage capacity on the combined physical hard disks, without regard to the remaining disk space on any individual physical hard disk. This also allows replacement or addition of physical hard disks as needed.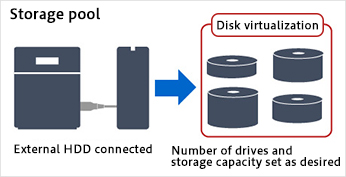 2. Thin Provisioning
Disk virtualization allows the user to create a virtual disk with greater capacity than the actual disk size. This function allows the user to allocate the virtual disk size in line with expected future capacity and add only the required hard drives as they are required, thus holding down the costs of initial investment while maintaining high disk utilization.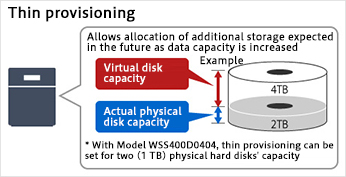 Expand your existing server's storage capacity with iSCSI
The TeraStation™ WS5000R2 Series can be used as an iSCSI storage array, allowing you to expand the storage space of your existing server. Since this can be done through the LAN network, installation location can be flexible.

Increase storage capacity for virtual server environment with iSCSI
The TeraStation™ WS5000R2 Series can be used as additional storage for virtual server environment.
By mirroring two TeraStation™ WSS 5000 Series, system with greater redundancy can be created.

HDD replaceable with optional hard drive cartridge
The TeraStation™ WS5000R2 Series uses cartridge type tray for easier HDD replacement. HDD can be quickly replaced by lifting the lever and sliding the cartridge out from the slot. No need to remove screws.
OP-HDS, an optional hard drive cartridge for TeraStation™ 5000 Series can be used for replacement.

Efficient account administration with Active Directory support
The TeraStation™ WS5000R2 Series uses the account information registered in the Active Directory server to control access to files and folders stored on the unit. This means that it requires no separate account management. In addition, the server can accommodate an unlimited number of registered users and groups, so it can be used even in large-scale environments. Active Directory centralizes management of account information, which vastly reduces the work of setup and administration, even with systems using multiple units.

Group administration function provides flexibility and rigorous security
Read-only and read-write attributes can be set for the individual folders and files residing on the unit. You can also restrict access to shared folders for groups and users individually for secure, efficient data management.

Quota function allows setting of users' available capacity
File server resource managers can set and manage the amount of storage capacity, in folder and volumes.
Managers can also set NTFS quotas*, providing users and groups the appropriate amount of disk space while preventing any one user or group from making excessive use of the hard drive.

*Volume must be formatted for NTFS
Frees up wasted disk space by deleting duplicate files
Function: Data Deduplication — Single Instance Storage (SIS)
These TeraStation™ models include a "data deduplication" function that eliminates wasted disk storage capacity. The function saves disk capacity by detecting duplicate copies of data files in different folders and automatically deleting blocks containing the same data found in other blocks.

*Supported for Standard Edition only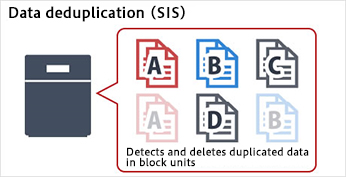 Increase security by restricting the types of files that can be saved
Function: File Screening
The TeraStation™ WS5000R2 Series also features a "file screening" function. This function allows administrators to predetermine the file types, extensions, and other information for files that may be saved to the TeraStation™ or specified folders, and prevents files that don't meet these criteria from being saved. Files can be sorted by file type, making it easier to search files and manage servers.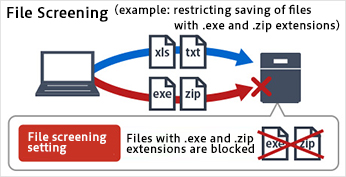 Prevent data from being leaked, even if the TeraStation™ is stolen
Function: Disk Encryption (BitLocker)

Using the TeraStation™ WS5000R2 Series encryption settings allows you to encrypt data automatically as it is written to the drive. This means that even if the hard disk is removed and taken away, the data cannot be read with another computer or TeraStation. In addition, you can assign passwords to shared folders with files residing on the TeraStation so that only users with the password can access the files.
* When the encryption settings are used, files are encrypted and cannot be read on other devices. However, files that are not assigned passwords can be read on the encrypted TeraStation without a password.
Operations continue even if PCs and mobile devices are disconnected from the network
Function: Offline Files
The TeraStation™ WS5000R2 Series supports the "Offline Files" function provided with Windows 8.1/8/7/Vista/XP/2000 and Windows Server 2012/2008/2003. This function enables folders and files to be accessed, even when the NAS is not connected to the network (offline; updated files are synchronized between the computer and TeraStation™ upon reconnection to the network)
Two different network segments can be connected using two LAN ports
The TeraStation™ WS5000R2 Series is equipped with two LAN ports, enabling access from each segment to be managed separately. Unrelated divisions are prevented from connecting to each other's networks, while being allowed to access the data stored on their own folders in the TeraStation™ WS5000R2 Series.

No need to purchase individual Client Access License (CAL)
Regular Windows® Server OS requires Client Access License (CAL) in each clients in order to access the server OS. With the Windows® Storage Server 2012 R2, which is installed in this TeraStation™ WS5000R2 Series,there is no need to purchace individual CAL to access the server OS. This helps reduce the initial cost of installing a server in your office.

DFS replication allows you to save data to a remote location via the network
The TeraStation™ WS5000R2 Series supports "DFS Replication", which allows you to back up files to a TeraStation™ WS5000R2 Series in a different location via the network. Backing up data to a remote location via the Internet protects your data, even when there is a breakdown locally. Even if a natural disaster or other such major problem occurs at the head office, the backup data in the remote locations allow to recover data.

*Difficulties in backing up may occur in some network environments. We recommend that the system be evaluated and verified in advance.
*Use of this function requires Active Directory on Windows Server 2003 R2 or later. In addition, the two TeraStation™ WS5000R2 Series units must be located in the same forest.
Multiple backup options available
- Replication
Replicates data between two TeraStations. In the event of a TeraStation failure, simply unplug the Ethernet cable from the malfunctioning TeraStation and plug into the backup TeraStation for service restoration.

*Supported after firmware update
- Scheduled backup
Scheduled backup can be set at a specific date and/or time.

*Supported after firmware update
- Many-to-one TeraStation Backup
Backup all shared folders in multiple TeraStations on a single TeraStation

*Supported after firmware update
Added data protection with RAID 5,1,and 0 support
There are two internal HDDs equipped in the unit and features "RAID", a technology that can recognize and show multiple hard drives like a single drive and which allows the storage to be configured in accordance with the user's needs. Using RAID 1 mode, for example, if one internal drive fails, you can recover the content, There are two internal HDDs equipped in the unit and features "RAID", a technology that can recognize and Normal mode, in which the two drives are used as independent drives.

Joining Active Directory makes administration more efficient
Copies of the shared folder can be created automatically according to administrator-specified schedules. If a user accidentally deletes afile,the user himself can use Explorer or a major Microsoft Office application* to directly restore the deleted file to when last saved.

*User of Shared Folder Shadow Copy requlres th cllent computer to be running Windows XP SP2 or later.
Hardware supporting 24/7 operation
Extremely reliable hardware
The design of the unit and ventilation fan help ensure air flow,which is critical in holding down temperatures inside the case.The fan used id very quiet.It also monitors temperatures within the case and automatically regulates the fan speed for quiet yet effective cooling.
Utilizes specially designed,highly reliable power supply unit
The components are rigorously designed to handle high-temperature environments and extended operation. The highly reliable power supply withstands even continuous 24-hour-a-day use.BUFFALO recommend confidently to even business users with systems running for long hours.
Front panel dust filter
The filter prevents dust from getting inside the unit,which reduces the load on the fan and contributes to more stable operation.

Hot-swappable hard drive
The inernal drives are hot-swappable,so they can be replaced in the event of a hard drive failure, with no need to switch off the power. It is designed to minimize effects on the system when disks are replaced. are replaced.The RAID array absent the failed hard drive allows the system to be used as usual,even while the drive is being replace,so there is no extra obstacle to normal business operations.

In the unlikely event of an internal drive filure,the failed drive can easily be replace by the user.Replacement is a snap,no screwdriver or other tools are required.

*For safety,please wear gloves or similar protection when replacing disks.
*BUFFALO assumes no liability whatsoever for loss of data on drlves damaged during transport, whether for warranty repair or free repair.
*Replacement drives other than conforming modeis are not supported.
Functions and features available only with the latest Windows Server OS
BUFFALO presents the new TeraStation WSS series, featuring the latest version of Windows Storage Server—Windows Storage Server 2012 R2—for seamless integration with Windows clients. These models feature advanced file management functions, have the ability to join Active Directory, and offer other powerful features available only with Windows Server OS. With an extensive lineup of models ranging from two- to six-drive configurations to standard 1U rack mountable models, you are sure to find just the right units to fit your budget and needs.
Operations and Connection Management, from System Checks to Error Processing
• Application: BUFFALO Dashboard (included)
"BUFFALO Dashboard" is an application that lets you monitor the TeraStation's operations and connections. In addition to functions used in checking system information and removing HDDs, this application also includes RAID settings, an alarm function that allows you to confirm a TeraStation's location, messages indicating the processes used when an error occurs, and more.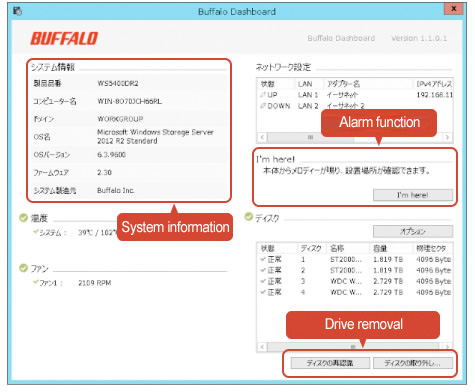 Easy setup, from initial NAS settings to advanced preferences
• Software: NAS Navigator 2 (included)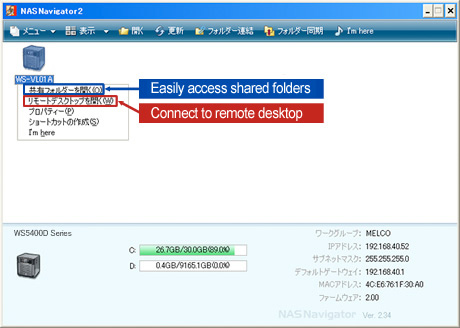 Simplify post-installation settings with this dedicated utility. The "NAS Navigator 2" utility included with the TeraStation lets you search and access installed TeraStations via the network, right from your computer. Just click on a product icon appearing in the NAS Navigator 2 window and use the options to connect to the remote desktop or access a shared folder.
Other features
- Features USB 3.0 ports for faster backups to external hard drives
- Compatible with SMB 3.0,allowing faster file transfers with Windows®7 and Windows Server®2012 R2
- 1000BASE-T Gigabit ethernet
- Windows Power Shell Version 3.0
- Windows Offline File function
- Security slot for theft prevention
- AES 256-bit hard drive encryption
- UPS support
Provides 3 years warranty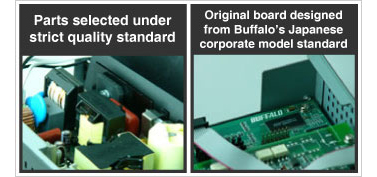 In order to provide stable network environment, reliability of network device is a key factor.
Buffalo's original corporate model quality standard requires selection of highly reliable parts and strict product development, pursuing for product's durability and longevity.
As a result, Buffalo is able to provide 3 years warranty on this TeraStation™ WS5000R2 Series.
RoHS compliant
The TeraStation™ WS5000R2 Series is a RoHS compliant product.
Hardware Overview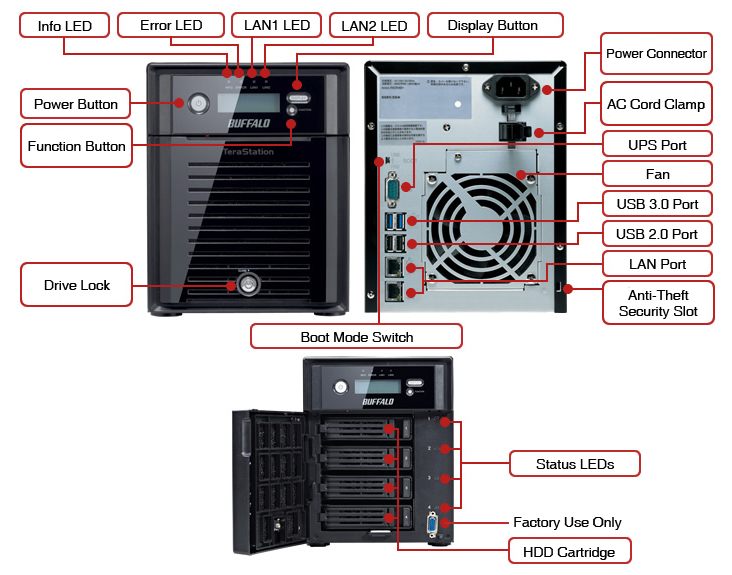 Dimensions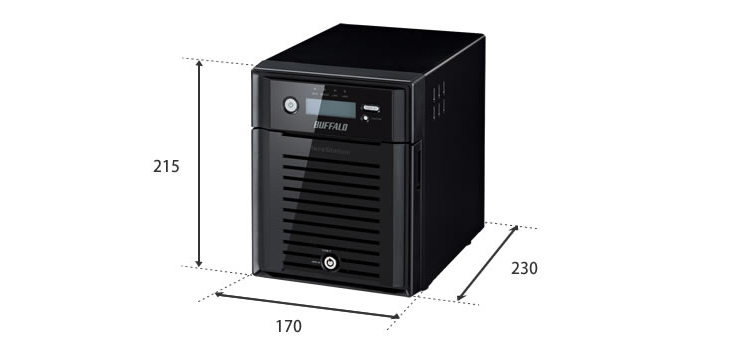 *Values are in milimeters.
Model
Hardware
| | |
| --- | --- |
| Type | Desktop |
| OS | Windows Storage Server 2012 R2 Workgroup Edition |
| CPU | Intel Atom D2700 |
| Clock | 1.86GHz |
| Memory | DDR3 4GB |
Internal Hard Drives
| | |
| --- | --- |
| Number of Drives | 4 |
| Drive Interface | SATA II |
| Supported RAID Levels | 0, 1, 5, JBOD (Normal) |
| Drive Capacity | WS5400DN0404W2 (4TB) WS5400DN0804W2 (8TB) WS5400DN1204W2 (12TB) |
LAN Interface
| | |
| --- | --- |
| Standard Compliance | IEEE802.3/3u/3ab |
| Speed and Flow Control | 10/100/1000 Mbps (Auto Sensing) |
| Number of Ports | 2 x RJ-45 (Auto MDIX) |
USB Interface
| | |
| --- | --- |
| Standard Compliance | USB 2.0 / USB 3.0 |
| Connector Type | A type |
| Number of Ports | 2 x USB2.0 / 2 x USB3.0 |
UPS Interface
| | |
| --- | --- |
| Standard Compliance | D-Sub 9pin |
| Number of Ports | 1 |
Other Interface
Key Feature
| | |
| --- | --- |
| iSCSI | Y |
| IP Camera | - |
| Redundant Power Surpply | - |
| Hot Spare | - |
| Hot Swap | Y |
| Replication | Y |
| Failover | - |
| Amazon S3 | - |
| Port Trunking | Y |
| Disk Quota | Y |
| Virus Scan | - |
Protocol Support
| | |
| --- | --- |
| Networking | TCP/IP |
| File Sharing | CIFS/SMB, AFP, HTTP/HTTPS, FTP/FTPS, SFTP, NFS |
| Directory Integration | LDAP, Active Directory |
| Management | HTTP/HTTPS |
| Time Synchronization | NTP |
Other
Client OS Support
Windows® 8.1/8 (32/64bit), Windows® 7 (32/64bit), Windows Vista™ (32/64bit), Windows® XP
Windows Server® 2012 R2/2012/2008 R2/2008/2003 R2/2003
Mac OS® X 10.5 and above
Power Consumption
86W (Max)
Dimensions (LxWxH, )
230 × 170 × 215
Weight
7.5 kg
Operating Environment
5-35°C, 20-80% (non-condensing)
Power Supply
AC 100-240V, 50/60Hz
Warranty
3-year
Package Contents
Contents
TeraStation WSS5000(WS5400DNW2)
LAN Cable
AC Cable
Front Panel Key
Utility Media(USB Memory)
Quick Setup Guide
Warranty Statement
WS5400DWR2 / 2015-05-22

Product Datasheet

Download
You can compare the specifications of the product in this page. Click the model which you want to compare and click the "Compare"button.