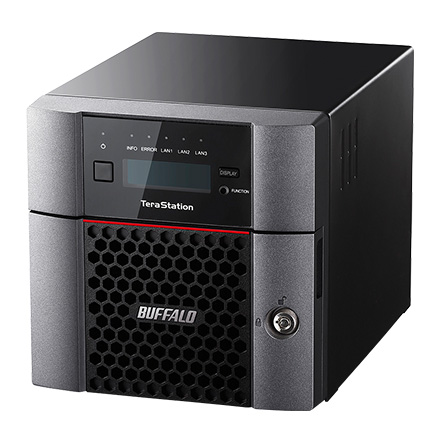 10GbE standard equipped TeraStation
Two-Bay NAS Device for corporations
TS5210DN
Pursuing the performance and dependability required for storage
10GbE standard equipped 2 bay model




Pursuing the performance and dependability required for storage. A TeraStation for a variety of business applications
A high-capacity file server that can be used by several divisions

Supports SMB/CIFS and allows file sharing on a mixed network environment including Windows, Mac, and Linux/UNIX clients. Group users can have individual access restrictions applied, allowing for secure and efficient data management.
Backup the office's client PCs and servers

From client PCs to servers, TeraStation will support the backing up of all types of business data.

・Supports Windows standard backups
・Supports Time Machine, which backs up Macs
・Supports the server backup software for a variety of servers
Use as storage for virtual servers (iSCSI target)

This TeraStatioin is equipped with the iSCSI target function and can be used to add storage to virtual environments.
The 10GbE standard equipped TeraStation can be introduced to 10GbE server environments.
Additionally, several volumes can be created and each one set up to be NAS or iSCSI storage. This allows for one TeraStation to serve multiple purposes.
Promotes faster information sharing in the office and increased business efficiency
10GbE ethernet standard equipped
Since the TeraStation is equipped with 10GbE (Gigabit Ethernet), users can experience the high speed of 10GbE without having to upgrade to 10GbE LAN cards.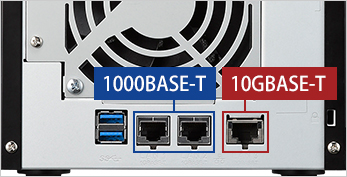 Equipped with a 1.7GHz quad core CPU
The use of the Annapurna Labs Alpine AL314 quad core processor for the CPU further improves the speed of this TeraStation. This high performance TeraStation will increase the speed of your office's information sharing.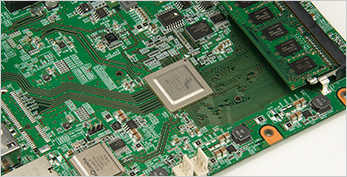 Equipped with 4GBs of high capacity ECC memory
Uses 4GBs of high capacity memory.
This allows for stable operation, even when using NAS for a variety of functions, such as a file server, for backups, or for replications.
Additionally, this TeraStation is equipped with ECC memory modules, which are used in servers.
If errors are detected in the memory, these errors are fixed while the server is operating. Therefore, even if there is a data error, the TeraStation can continue to be used without shutting down the system.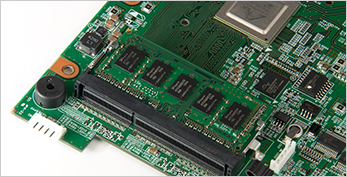 Achieved speeds exceeding the upper limit of 1GbE

Achieved speeds exceeding the upper limit of 1GbE
10GbE, which has transmission speeds exceeding the upper limit of 1GbE, is standard equipped.
This TeraStation has achieved superior read/write speeds as compared to previous models.
By optimizing the NAS firmware, the newest system with speeds near the upper limit of 1GbE has been created.
Even the 1GbE has improved speed over previous models.
Due to this, the upload and download speeds in a business environment, the processing time for files in the TeraStation, and the backup time required for devices like PCs has been greatly improved.
【Measurement Environment】
CPU:Intel(R)Core(TM)i7 4771
M/B:Intel(R) H87 chipset (MSI H87-G41)
Memory:PC-1600 DDR3 8GB x4
NIC:Intel Gigabit CT Desktop (1GbE)、Intel(R) X540-T2 (1GbE)
OS:Windows Server 2012 R2 64bit

【Measurement Method】
Copied 1 4GB file in Explorer
Stable Operation

It is important for TeraStations to operate with stability when connected to several servers and PCs simultaneously.
For example, we implemented a test on its operability under high-loads by estimating situations where there would be a large burden on the system, such as the simultaneous backup of company PCs outside of business hours or the simultaneous viewing of videos saved on the TeraStation during classes at school.
This test of how many PCs could stably operate with simultaneous full access over a 24 hour period allowed us to demonstrate that 57 PCs could stably operate at one time.
When compared with the 40 PCs supported by previous models*, this is approximately 1.4 times the number of PCs.
The TeraStation is reliable, even in an environment where several PCs and servers are used at once.
【Measurement Method】
57 client PCs were connected to the TS5410DN2404 and it was confirmed that write, comparison, and deletion operations could be done without any errors for 24 hours.
Perfect for being "difficult to break" and "protecting your data." We have implemented a stable and continuous operability that will not hinder your work flow!
Equipped with dependable HDDs specifically designed for NAS, which are suitable for use over a long period of time
NAS HDDs designed specifically to be used in NAS systems offer highly reliable and stable operation.
These drives are perfect for the long periods of use that is required for NAS. Their use lowers the risk of failures and succeeds in increasing the lifespan of the TeraStation.
Due to this, the TeraStation, including the HDDs, is covered by a 3 year warranty.

Features
● Reduces electricity consumption and operating temperature
● Reduces vibration and noise
● Provides a stable limit to operating costs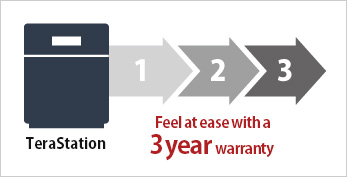 The high efficiency air flow case provides highly efficient cooling for the HDDs and system
A strong honeycomb structure was adopted to provide the most efficient air intake possible.
Nearly twice the efficiency of previous models was achieved. By efficiently circulating air, the HDDs and system are effectively cooled, allowing for stablity over a long period of use.
A silent fan was also used. The temperature in the case is monitored and the fan speed is automatically controlled to allow for quiet yet solid cooling.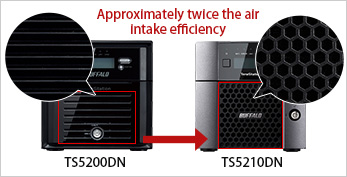 The "dust filter" protects the HDDs and system from dust or other particles
A dust filter was adopted to prevent the invasion of dust. This prevents dust from sticking to the HDDs or system, lowers the burden on the fan, and contributes to stability over a long period of use.
Additionally, the filter can easily be removed and cleaned without tools.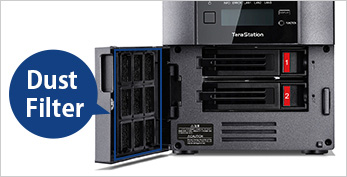 Continued use
With this TeraStation, you can select the following RAID set ups. (This TeraStation is set up to use RAID 6 when shipped)
●RAID 1
●RAID 0
Hot swapping allows you to switch HDDs while the power is on
Failover reduces downtime with automatic saving and switchovers between two devices
Various functions to prevent trouble or allow for the rapid recovery of service
The email notification function monitors the status of the hard disks and main unit
This function supplies email notifications with information such as HDD or main unit errors and S.M.A.R.T. (the self-diagnosis function equipped on the HDDs).
This is useful for understanding the status of the HDDs, the early detection of defects, and predicting failures.
Using the information gained from these notifications to replace parts before they fail or prepare replacement parts will allow for a reduction of the risk of work stoppages or data losses due to failures of the main unit or its HDDs.

● Ways to fix errors are introduced in the error notifications
→ This allows for failures to be quickly handled. Additionally, the content of the emails can be set to cover topics such as fixed period operation reports, general information, warnings, and abnormalities. In this way, only the notifications that are necessary for the environment are received.
→ Time will not be wasted searching through notifications for the information needed and large volumes of notifications being sent every day can be prevented.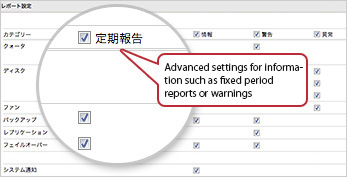 "SNMP" supports linking to the network monitoring software of other companies
This TeraStation is compatible with SNMP v2 and v3.
This allows the use of the network monitoring software to gather information such as S.M.A.R.T. data, the state of a backup, and the TeraStation settings.
Additionally, information such as alive monitoring and information on the RAID arrays can be reviewed.

■ Supports protocol encryption with SNWP v3
[The typical private MIB data that can be acquired using the SNMP protocol]
● HDD information (settings, capacity used, disk status)
● Model name
● Backup tasks
● RAID arrays
● Errors
● Failover
● Individual settings
● Firmware version
● Serial number
● The presence of firmware updates
● The ON/OFF status of each machine

For more information on the private MIB data that can be acquired, please review the private MIB download page.
A variety of backup options, just in case there are any failures
Group
● Scheduled backups (general, incremental, differential, log management backup)
● Replication
● Multi-server backup

Please click here for details.
"Online Storage Link" cloud storage protects against disasters.
【[Introducing compatible cloud services】
● Amazon S3
● Dropbox/Dropbox Business
Rapid recovery during a failure and the saving and restoration of settings when introducing several new machines
You can save your settings information to a USB flash drive*1 by connecting it to the main unit. Using the settings recovery function, you can easily apply the settings saved to to the USB flash drive when recovering from a failure or when introducing several new machines.

The main settings information:
● Users
● Groups
● Shared folders
● Access restrictions
● Backup settings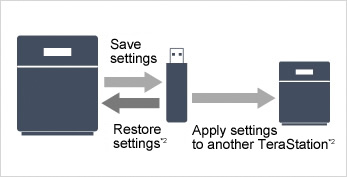 *1 The USB flash drive is sold separately.
*2 The disk configuration must be done in advance.
A two layer system firmware structure, just in case there are any failures

"The firmware is saved to both the HDD and NAND flash memory.
If the firmware on the HDD fails, you can boot using the system firmware saved on the NAND flash memory and attempt to fix the firmware on the HDD.
Using this, you can reduce system downtime and quickly restore your system."
Substantial security features protect your important data from theft or leaks
The pre-boot authentication feature prevents unauthorized start ups

When this device is started up, it will use a local network such as a VPN or Windows servers and computers (boot authentication server) that have the boot authentication tool installed to automatically perform an authentication. If this authentication fails or is blocked by the pre-boot authentication control tool, the TeraStation will not boot, preventing unauthorized booting if it is stolen.
Using the boot authentication tool installed on Windows computers, several TeraStations can be managed at once. The status of each TeraStation can be checked, allowing problems to be quickly dealt with.
Manage several TeraStations at once using the boot authentication tool
Using the boot authentication tool, you can manage several TeraStations at once.
The status of each TeraStation can be checked, allowing you to quickly deal with problems.

Download the boot authentication tool for TeraStation (free)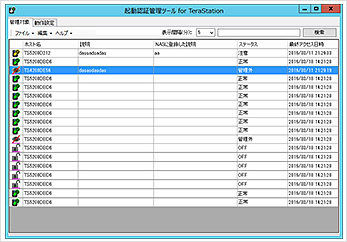 To set up boot authentication for your TeraStation, just turn on boot authentication using the device's settings screen and designate the boot authentication server.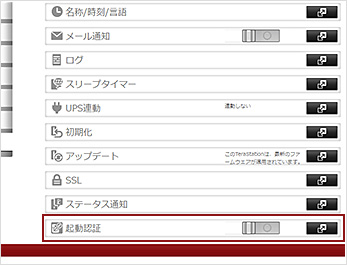 *The boot authentication function must be turned on while the device is able to connect to the boot authentication tool software.
*The HDDs will be formatted when you set up the boot authentication function. It is recommended that you perform this operation during its initial configuration.

Even when not connected to the network, password authentication can be done
If the network connection is temporarily offline due to a problem with the network, authentication is possible by contacting the administrator of the boot authentication server and getting an authorization password over the phone or through email. This password can then be directly input into the TeraStation using a smartphone or computer on scene.
Even if the TeraStation is stolen, the disks are encrypted
The security slot protects against theft
Antivirus
A planned future firmware update will include antivirus
Improves management efficiency by linking to Active Directory
The quota function allows an HDD quota to be set for each user or group
LCDs located on the front of the chassis. Easily display information on the NAS
The LCDs located on the front of the TeraStation display not only the verification of the TeraStation's IP address but also error information.
Their status can be understood without accessing the TeraStation's settings, making maintenance easier.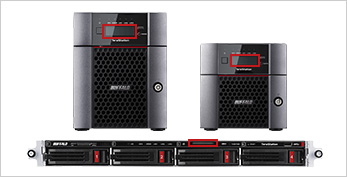 The ON/OFF function allows you to operate the TeraStation only at the time of your choosing
The migration function reduces the workload of replacing your TeraStation.
With the migration function (setting data copy function), you can easily migrate the settings saved on your old NAS.

Click here for details
The abundant maintenance menu
【Introducing the maintenance packs】
・"Onsite maintenance"
・"Onsite maintenance" No HDD returns pack
・"Delivery maintenance"
・"Delivery maintenance" No HDD returns pack

Click here for details
Model
Hardware
| | |
| --- | --- |
| Type | Desktop |
| OS | Linux Original |
| CPU | **** |
| Clock | **** |
| Memory | **** |
Internal Hard Drives
Number of Drives
2
Drive Interface
SATA3.0
Supported RAID Levels
0, 1, 5, 6, 10
Drive Capacity
TS5210DN (Enclosure)
TS5210DN0202 (2TB)
TS5210DN0402 (4TB)
TS5210DN0602 (6TB)
TS5210DN0802 (8TB)
LAN Interface
| | |
| --- | --- |
| Standard Compliance | IEEE802.3an / IEEE802.3ab / IEEE802.3u / IEEE802.3 (10GBASE-T / 1000BASE-T / 100BASE-TX / 10BASE-T) |
| Speed and Flow Control | **** |
| Number of Ports | 10GBASE-T:1 / 1000BASE-T:2 |
USB Interface
| | |
| --- | --- |
| Standard Compliance | USB 3.0 |
| Connector Type | A type |
| Number of Ports | 2 |
UPS Interface
| | |
| --- | --- |
| Standard Compliance | **** |
| Number of Ports | **** |
Other Interface
Key Feature
| | |
| --- | --- |
| iSCSI | Y |
| IP Camera | - |
| Redundant Power Surpply | **** |
| Hot Spare | Y |
| Hot Swap | Y |
| Replication | Y |
| Failover | Y |
| Amazon S3 | Y |
| Port Trunking | **** |
| Disk Quota | **** |
| Virus Scan | A planned future firmware update will include antivirus |
Protocol Support
| | |
| --- | --- |
| Networking | TCP/IP |
| File Sharing | SMB/CIFS,AFP,FTP,SFTP,SNMP |
| Directory Integration | **** |
| Management | **** |
| Time Synchronization | **** |
Other
Client OS Support
Windows® 10 / 8.1 / 7
Windows Server® 2012 R2*/ 2012/ 2008 R2/ 2008
Mac OS® X 10.9 - 10.11

* When the offline file setting is "Manual Cashing of Documents," the offline file settings cannot be made valid.
Power Consumption
Maximum: 100W
Dimensions (LxWxH, )
170 x 170 x 230
Weight
4.8 kg
Operating Environment
Temperature 0~40°C,Humidity 10~85% (no condensation)
Power Supply
AC100V, 50/60Hz
Warranty
3-year
Package Contents
Contents
TeraStation 5210DN (TS5210DN)
LAN cable (category 6a, straight, 2m)
AC cable (1.6m)
3 prong to 2 prong adapter
user's manual
warranty
key to open and close the front panel (2 keys)
model number sticker
You can compare the specifications of the product in this page. Click the model which you want to compare and click the "Compare"button.