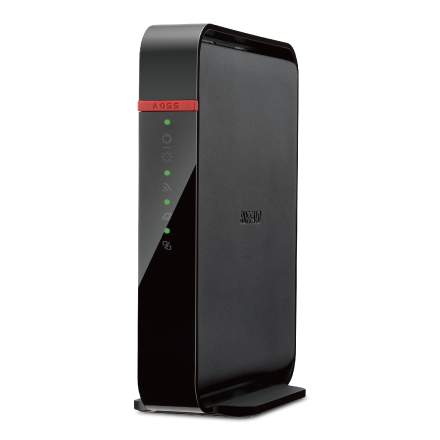 802.11ac Ultra Fast Dual Band Wireless Router
WHR-1166D
BUFFALO's AirStation WHR-1166D router incorporates the latest wireless technologies for Gigabit connectivity along with a wealth of features that extend signal coverage, enhance security, and provide unmatched convenience and flexibility. Even with numerous devices and multiple users simultaneously connected to the network, you can enjoy completely seamless media streaming, gaming, voice and data services-any application that requires fast, reliable transfer of massive amounts of data.




- 2 x 2 MIMO technology for higher data transfer rates up to 866Mbps*
- Backward compatible with 2 x 2, 1 x 1, 802.11a, 802.11n, 802.11g, and 802.11b devices
- Allows up to 4 simultaneous 100Mbps wired connections
- Multi-level Wireless Security Support: WPA2(AES),WPA-PSK (AES), and WEP
- Web Filtering and Parental control
- Simple to install and use - even for the novice user
- Can be positioned vertically or horizontally
- 3-Year Warranty
Smooth video playback over WiFi
802.11ac and Gigabit (WAN only) for ultra-fast transmissions
The 802.11ac standard used by the WHR-1166D AirStation enables high transfer rates that are approximately 2.8 times those achieved using the earlier 802.11n standard. This allows you to transfer large amounts of data in less time, for smooth playback of High-Vision video via wireless LANs. Earlier 802.11n/a/g/b standard devices can also be connected, so you can easily create a comfortable wireless LAN environment without having to replace your current router.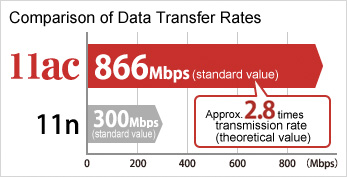 Features Gigabit Internet port—transfers large volumes of data, fast!

The WHR-1166D features a Gigabit Internet port capable of transfer rates of up to 1,000 Mbps over WAN. WAN devices equipped with a 100 Mbps port can achieve full WiFi networking performance without even approaching the transfer rates available with 802.11ac. Video files play back smoothly even on smartphones, with no frames dropped.
[Wireless Measurement Environment]
PC1: DELL PRECISION M4600 (Intel Core i7 2.4 GHz/Memory: 8192 MB), Windows7 Pro (32 bit)
PC2: NEC LaVie T330-750 (Intel Core i7 2.4 GHz/Memory: 8.0 GB) Windows8 (64bit)
[Measurement Method] PC1 was connected to the wireless LAN router (in Bridge mode) via the wired LAN (Internet port). PC2 was connected in relay mode to
the wired LAN (Internet port), with the wireless LAN router (in Bridge mode) and relay device connected wirelessly (802.11ac).
Using IxChariot v6.25, the transmissions from PC1, to the wireless LAN router (Bridge) to the relay device, and to PC2 was measured three times, and the values were then averaged. (Testing conducted by BUFFALO in November 2013)
* Transmission distance and rate are dependent on the environment.
* Actual effective WiFi and wired transfer speeds may vary with the user's Internet connection and environment.
* Maximum LAN switching hub transfer speed is 100 Mbps.

Dual 5 GHz and 2.4 GHz bands allow simultaneous connection of more devices

The WHR-1166D AirStation wireless LAN router supports 802.11ac 866 Mbps + 802.11n/g/b 300 Mbps high-speed transfers.* The ability to employ high-speed communications enables full use of the high transfer rates available with fiber optic and other high-speed circuits, making downloads, large file transfers, playback of high-Vision video, and other data transfers over the Internet easier and more enjoyable.
* The 866 Mbps under this wireless LAN standard is a theoretical maximum value and does not indicate the actual data transfer rate.
* Connecting at 866 Mbps requires that the access point also support 866 Mbps transfer rates. For more detailed information on supported devices, please refer
to the specifications.
* The device's initial setting is 866 Mbps (standard value) for 5GHz and 144 Mbps (standard value) for 2.4GHz.
Dual bands—connect more devices with no loss in speed

The 802.11n+802.11ac standard for high-speed wireless LAN employs MIMO (Multiple Input Multiple Output), a technology that utilizes multiple antennas for transmission and reception. This allows data to be transmitted simultaneously over multiple transmission routes (streams), increasing data transfer speeds. The WHR-1166D not only achieves high-speed transfers by transmitting over two streams simultaneously, the router supports the interference-resistant 802.11n/a+802.11ac standard as well as the 802.11n/g wireless LAN standard supported by many other devices.
You can have the router connected based on the signal conditions. Switch the connection as needed, using 802.11n/a+802.11ac for TV, or the conventional 802.11n/g to connect computers and game consoles, ensuring high-speed, hassle-free wireless LAN communications throughout the home.
Wireless Bridge eliminates dead spots
Wireless bridge increases reach, widens range

This function supports wireless communications between two wireless LAN routers, allowing signals to be relayed as transmission distance increases or in areas with dead spots where signals don't reach.
Enables relaying from other manufacturers' or earlier model wireless LAN routers
The WHR-1166D can also be used to relay/repeat signals from other manufacturers' wireless LAN routers and from older products. You can connect the wireless LAN router you've already been using with no need to change the router's settings. Simply use the setup the same way you always have.

* The relay function settings must be programmed with a computer.
* The relay function allows connection of up to two connections, including the router and the relay.
* Multi Security can also be used when the WHR-1166D is set up as a relay by connecting it to a wireless LAN access point.
* Use of the relay function requires a transmission source wireless LAN router that supports WPS or AOSS.
* Use of the relay function requires a transmission source wireless LAN router that supports 802.11ac or 802.11n/g/b.
Connect your wired device wirelessly with wireless LAN client feature

Connecting to the wired (Ethernet) port enables the WHR-1166D to function as a wireless LAN client device, allowing you to turn your computer or other wired device into a wireless device. This simplifies networking, without all the hassles of connecting and laying out LAN cables.
Connect game consoles and printers to WiFi networks with one touch
"AOSS" establishes WiFi connections with the press of a button

The WHR-1166D supports the "AOSS" one-touch wireless LAN connection protocol. Just press the AOSS button on the wireless LAN router and the wireless LAN client to initiate the wireless LAN—effortlessly. This makes it simple to connect not only game consoles, printers, and other AOSS-enabled home electronics to the wireless LAN, but also Macs and other computers that include wireless LAN capabilities as a standard feature.
* Settings via the Internet not available on devices other than smartphones, tablets, and computers.
* AOSS/WPS settings require a wireless LAN router and wireless LAN client that both support WPS or AOSS.
* For instructions on connecting with AOSS, please refer to the user manuals for the devices being connected.
* Operation is not guaranteed for all wireless LAN-equipped notebook computers.
* WPS is supported for Windows only (XP or later). WPS is not supported on Macs.
Reset encryption key
You can still connect devices that do not support AOSS/WPS by entering the SSID and encryption key printed on the WHR-1166D's rear panel. This simultaneously enables use of AOSS/WPS, providing you with flexibility in adding a variety of other devices.
Bypass interference automatically
Electromagnetic interference (EMI) can affect the speed of your wireless LAN. Even with the speedy 802.11n standard, interference occurring between other wireless LANs will keep the system from performing satisfactorily. The radio noise prevention function automatically scans all of the wireless LAN channels for signal and then automatically selects an open channel, allowing you to switch channels effortlessly.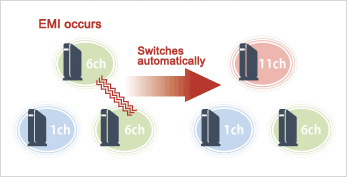 Router function switches on and off automatically
The WHR-1166D includes an automatic Router/Bridge switching function that makes connecting to the Internet even simpler. This function automatically detects the presence or absence of a router function in the network environment, and switches to the wireless LAN router mode as needed. You can also change modes manually using the switch on the rear panel.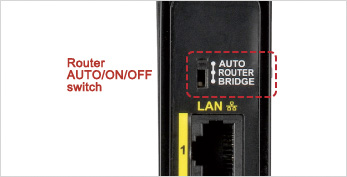 * Switching to the Bridge mode shuts off the router-related functions.
Other Features
Guest port function optimal for connecting visitors' computers and smartphones

The WHR-1166D features a "Guest Port" function allowing visitors to connect their own computer or smartphone to the WHR-1166D wirelessly, but for Internet access only. Access to the household's network is denied, household members can continue using the network without concern. Users can connect not only via SSID or authentication keys, they can alternatively select the easy-to-use Web Authentication feature?just launch the browser, enter User ID and password, and that's it.
Parental controls
The AirStation™ Dual Band Wireless router also offers Norton ConnectSafe™ web filtering and parental control by Symantec, that allows you to limit the amount of time specific users are connected. Upgrade your existing wireless connection to provide greater coverage, beamforming, blazing fast transfer speeds – all whilst protecting your network and your family, Buffalo' s AirStation™ Wireless Router is the next generation of wireless connectivity.
Simple to install and use even for the novice user
WHR-1166D`s easy setup is a few clicks away via a simple User Interface. The brand new UI has been designed to provide users one-click access to their most commonly accessed settings. Simple toggles and buttons provide a familiar and easy navigation experience. Accessible on a computer, smartphone, or tablet.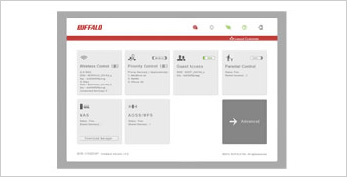 Hardware Overview

Dimensions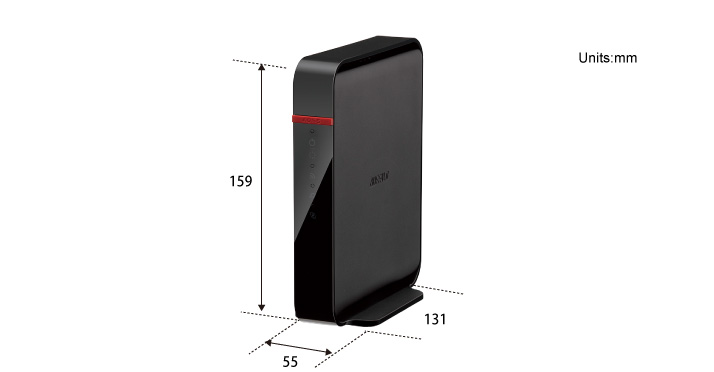 Model
Wireless Interface
Standard Compliance
IEEE802.11ac , IEEE802.11n/a/g/b
Security
WPA2-PSK (AES), WPA-PSK (AES),WPA/WPA2 mixed PSK,WEP (128/64bit)
Transfer Rates
Max. 866Mbps(IEEE802.11ac)
Max. 300Mbps(IEEE802.11n)
Max. 54Mbps(IEEE802.11a/g)
Max. 11Mbps(IEEE802.11b)
Antenna
Internal 5GHz anntena 2x2, 2.4GHz anntena 2x2
WDS
Support
Wired Interface
Standard Compliance
IEEE802.3/3u/3ab
Speed and Flow Controll
Internet : 10/100/1000 Mbps x 1
LAN : 10/100 Mbps (Auto Sensing)
Number of Ports
Internet : 1 x RJ-45 (Auto MDIX) LAN : 4 x RJ-45 (Auto MDIX)
USB Interface
| | |
| --- | --- |
| Standard Compliance | - |
| Connector Type | - |
| Number of Ports | - |
Key Feature
| | |
| --- | --- |
| Advanced QoS | - |
| Guest Port | Y |
| Beam Forming | - |
| Parental Controls | Y |
| Wi-Fi Extender | Y |
| PPTP Server | - |
| BitTorrent | - |
| Media Server | - |
| NFINITI HighPower Technology | - |
| Dynamic DNS | Y |
| Energy Save | Y |
| MAC Address Clone | Y |
Other
OS Support
Windows® 8 (32/64-bit), Windows® 7 (32/64-bit), Vista® (32/64-bit), XP
Mac OS® X 10.9, 10.8, 10.7, 10.6, 10.5
Power Consumption
18.0W (MAX)
Dimensions (LxWxH, mm)
130 x 55 x 159(Exclude antennas and a stand)
Weight
280g(Exclude a stand)
Operating Environment
0-40°C, 10-85% (non-condensing)
Power Supply
AC 100-240V, 50/60Hz
Warranty
3-year
Package Contents
Contents
AirStation WHR-1166D
LAN cable
AC power
Quick Setup Guide
Warranty Statement
WHR-1166D / 2014-05-27

Product Datasheet

Download
You can compare the specifications of the product in this page. Click the model which you want to compare and click the "Compare"button.