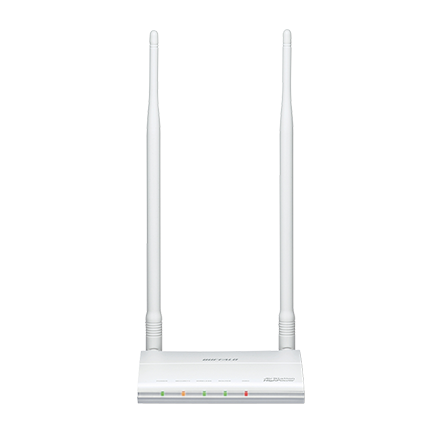 High Power Wireless Router and AP
WCR-HP-G300
2 x 8dBi removable antenna




Specifications
-HighPower technology extends range of your wireless network and eliminates dead spots
-Faster transmission rates up to 300 Mbps with 802.11n Technology
-2 x 8dBi high power adjustable antenna provides excellent wireless LAN coverage range and security
-Backward compatibility with 1x1, 802.11g/b device
-High specification Ralink, 400MHz CPU
-Easy Setup: Simple to install and use through installation guidance based on WEB screen.
-Wireless Distribution System (WDS) extends your wireless network across access points
-Simple to install wireless encryption system(AOSS™) with the push of a button
-Easy to set application program of Android smart phones through wireless network, AOSS supports Android system
-Multi-level Wireless Security Support: WPA2-PSK (TKIP, AES), WPA-PSK (TKIP, AES), and WEP (128/64bit)
-Eco Minded: Energy saving feature reduces power consumption by 28%
-Allows up to 4 simultaneous wired connections
-Compact Shell
-3 years warranty


WI-FI Protection Setting

AOSSTM Support
One-touch wireless connection AOSS Android Version

Japan Quality, No.1 Sales in Japan
Is the shell compact? Yes. Is it economical enough? Exactly. Is it powerful? Absolutely! AirStation wireless N router WCR-HP-G300 adopts the unbelievable removable 8dBi antenna to rapidly transfer the data without dropping or failure. It may even connect with smart phone and tablet devices! It brings the reliable and fast HD movies and videos, music and other multimedia contents, faster game action, picture download, and e-mail receiving/sending with transfer rates up to 300 Mbps. The installation guidance based on web screen makes the installation simple and fast. AOSSTM technology supports Android system and provides one-touch Wi-fi connection to your Android smart phone. It adopts multiple encryption modes and energy savings options. WCR-HP-G300 is a high power product and best suited for the home.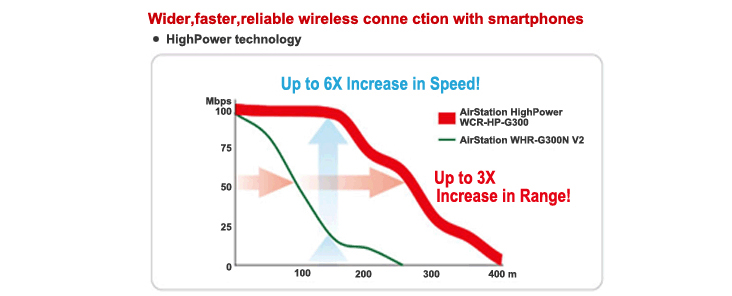 Dead ports in your home will slow your wireless connection or even prevent you from surf web. BUFFALO 's advanced HighPower technology strengthens the signal intensity and extends the coverage to two times
-Optimized and adjusted receiver and antenna provide the best performance and coverage
-Maintain network connection anywhere in your home

WCR-HP-G300 adopts 2 x 8dBi adjustable antennas to elevate the signal intensity and extend the coverage in order to realize more stable data transmission. Besides, data transfer rates with 11n technology up to 300 Mbps. Such function combination extends the wireless coverage to make the signal penetrate the obstacle and avoid the failure of wireless signal transmission due to the dead spots. As a result, you may enjoy the faster wireless network, more stable HD videos and other digital contents. This also enables your smart phone to enjoy the video stream and music in a smooth, seamless and fault-free way after connected to the router.

WCR-HP-G300 fully utilizes 802.11n standard and MIMO2×2 technology; it also can provide excellent performance with 802.11g/b standard and 1×1 data stream.
Ralink 400 MHz CPU
Other than faster transmission rates, WCR-HP-G300 adopting Ralink 400 MHz CPU also increase the performance. The faster data transmission will not encounter any difficulty even if the CPU is slow.

Simple to set router through installation guidance based on WEB screen. Step one: connect you router with the modem, insert the AC adapter to the router and switch it on. Step two: search the wireless network connected to your computer and select the name on the management card. Step three: configure the operation condition and complete the configuration according to the requirements, the configuration screen will appear when you log on your browser (some environments need PPPoE configuration). How simple it is!

WDS (wireless distribution system) extends the wireless coverage, and other Buffalo's routers also support WDS to reduce or eliminate the dead spots to optimize the network operation and Internet access. The indoor wall, corner and other obstacles in the home and office environment may reduce or resist the traditional router whose signal is not intense enough.

BUFFALO'S AOSSTM (one-touch wireless network encryption system) technology establishes and adds the devices to your wireless network through simply pressing and clicking. All available AOSSTM wireless devices and clients are automatically detected and configured. Besides, AOSSTM may automatically generate the highest level of encryption system, and both the router and client may support and configure the device of the same level.

"AOSSTM for Android System" is an application program that enables Android smart phone user to build security wireless connection between Android smart phone and BUFFALO's devices with simple touch. Connection to the high-speed broadband network through Wi-Fi enables you to download the application and play the HD video without worrying the transmission rates or cost.

WCR-HP-G300 supports WPA2-PSK (TKIP, AES), WPA-PSK (TKIP, AES) and WEP (128/64-bit). Other than the encryption level, you may also configure the user account and access time. Easy and security shall prevent you from data theft. BUFFALO pays great attention to your data security.

You may configure the AirStation according to your life style, including the time when you use the network or not.
Eco Minded Mode can be used to set the energy savings. You may realize automatically energy savings by setting the power on/off every day at scheduled time through setting screen. You can just press AOOSTM, the route can be started immediately if you suddenly want to use it after its power off. User defined mode enables you to more accurately configure the router according to your demand, including wireless LAN (on/off), wired Ethernet interface (100Mbps/10Mbps off) and LED indicator (on/off). For example, you may use all network interfaces in the evening and Saturday and only allow the computer of the child to use the wireless LAN to play games in the day.
Buffalo Test was carried out in Feb, 2012
Wattmeter: YOKOGAWA WT210 Data Quality Analyzer: Ethernet switch testing SMB-2000 in Netcom System < Test Method> Connect to all ports of data quality analyzer, then test the power consumption of data transferring after sending broadcasting data packet from Data Quality Analyzer and wired LAN port.
Model
Wireless Interface
| | |
| --- | --- |
| Standard Compliance | IEEE802.11n/g/b |
| Security | WPA2-PSK (AES,TKIP), WPA-PSK (AES, TKIP), WEP (128/64bit) |
| Transfer Rates | Max. 300Mbps(IEEE802.11n) Max. 54Mbps(IEEE802.11g) Max. 11Mbps(IEEE802.11b) |
| Antenna | External 8dBi anntena, 2x2 |
| WDS | Y |
Wired Interface
| | |
| --- | --- |
| Standard Compliance | IEEE802.3/3u |
| Speed and Flow Controll | 10/100 Mbps (Auto Sensing) |
| Number of Ports | Internet : 1 x RJ-45 (Auto MDIX) LAN : 4 x RJ-45 (Auto MDIX) |
USB Interface
| | |
| --- | --- |
| Standard Compliance | - |
| Connector Type | - |
| Number of Ports | - |
Key Feature
| | |
| --- | --- |
| Advanced QoS | - |
| Guest Port | - |
| Beam Forming | - |
| Parental Controls | - |
| Wi-Fi Extender | - |
| PPTP Server | - |
| BitTorrent | - |
| Media Server | - |
| NFINITI HighPower Technology | Y |
| Dynamic DNS | - |
| Energy Save | |
| MAC Address Clone | Y |
Other
OS Support
Windows® 7 (32/64-bit), Vista® (32/64-bit), XP
Mac OS® X 10.7, 10.6, 10.5, 10.4
Power Consumption
4.0W (Max)
Dimensions (LxWxH, mm)
120 x 105 x 22 mm(excluding antenna)
Weight
208g
Operating Environment
0-40°C, 20-80% (non-condensing)
Power Supply
AC 100-240V, 50/60Hz
Warranty
3-year
Package Contents
Contents
AirStation N300 Wireless-N Router & Extender WCR-HP-G300
2 Detachable 8 dBi Antennas
Quick Setup Guide
Ethernet Cable
AC Adapter
Admin Card
Warranty Statement
You can compare the specifications of the product in this page. Click the model which you want to compare and click the "Compare"button.