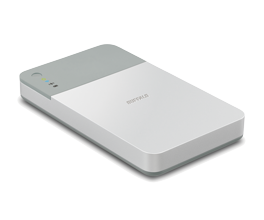 Wi-Fi Portable HDD with USB 3.0
HDW-PDU3
Take the MiniStation™ Air along wherever you go and enjoy videos, photos, music,
and other data stored on your computers̶even TV programs saved to recorders anywhere, anytime. Store your data on the MiniStation™ Air and access it whenever
you want, as much as you want, with no mobile phone line required. Sharing data between smartphones and tablets is also incredibly easy.
1TB: HDW-PD1.0U3




- Wi-Fi (IEEE802.11n/g/b) and super speed USB 3.0 (up to 5 Gbps) interfaces
- 1TB capacity
- Internet mode
- Multi-user connection
- Battery recharges with USB I/F on PC/MAC (or USB port on AC adapter included with smartphone/tablet)
- Support iOS (6 or later) and Android (2.3 or later)
- Compatible with Windows8/7/vista/XP/RT and Mac OS X (10.6 or later)
- Supports major video, photo and document formats
- AOSS and WPS for easy, secure Wi-Fi connection setups
- Resume function mounted
- User-friendly UI with photo thumbnail displayed
- Comfortable and clean design
- 3 year warranty
Connect smartphones and tablets via Wi-Fi
Videos, music, photos, even recorded TV programs Take it all with you through your smartphone
Take the MiniStation™ Air along wherever you go and enjoy videos, photos, music, and other data stored on your computers even programs saved with TVs and video recorders anywhere, anytime. Store videos and recorded programs, favorite music, photo collections, and other data on the MiniStation™ Air and use the special MiniStation Air2 app to access it whenever you want, as much as you want, with no mobile phone line required. Sharing data between smartphones and tablets is also incredibly easy.

* Playback of recorded programs requires PacketVideo's Twonky Beam (paid) app.
* Supported for smartphones and tablets running iOS, Android, and Kindle.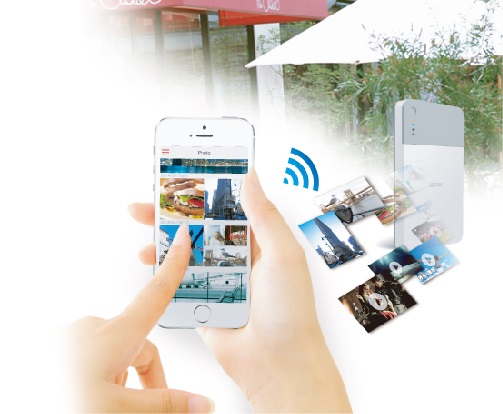 Enjoy data on the go
01 Commuter time Enjoy recorded programs while commuting or riding on trains and buses.
You can use your daily commute or time on the move to
enjoy programs and movies recorded at home.
The MiniStation™ Air's huge storage capacity allows you to take along loads of recorded programs, movies, music and other files without having to worry about your smartphone's capacity.
And since it connects wirelessly, you can leave it in your bag and enjoy connecting anytime and anywhere without any hassle.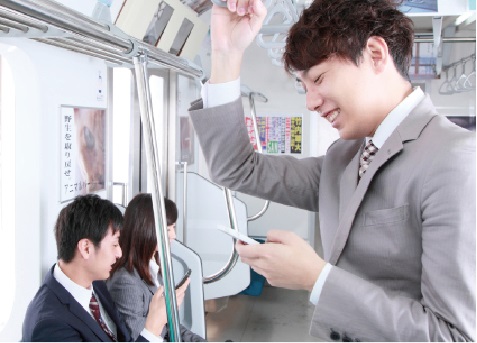 02 Lunch time At cafés or restaurants, liven up your lunch or break time with photos and videos.
Smartphones are indispensable for capturing photos and video of those everyday moments that always arise, good times traveling with loved ones, friends' and colleagues' weddings, and other occasions. Take this high-capacity wireless HDD with you, and say goodbye to worries about your smartphone's capacity and immediately enjoy viewing your files.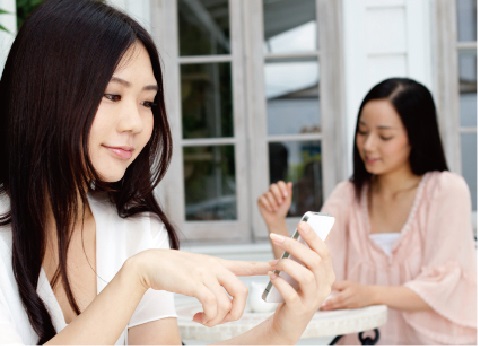 03 Journey With videos and music to enjoy, family visits, travels, and other long car trips are never boring.
While returning to the family home for the holidays and other travel is enjoyable, spending hour after hour in the car tends to be very boring for children. The MiniStation™ Air's huge storage capacity allows kids to load up their favorite
videos and music and take it along with the family's smartphones and tablets, so those long hours riding in the car are never dull.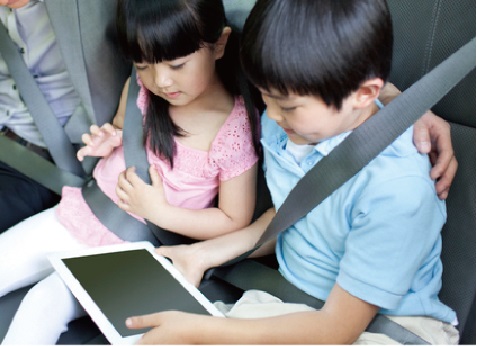 04 Business trip Free time on business trips becomes a chance to catch up on the backlog of recorded programs.
On business trips, free time created by sudden schedule changes and time alone in hotel rooms becomes a chance to watch all those TV programs and videos you have recorded.
Relax and enjoy the programs you want to see, without bothering anyone, and without any worries about mobile phone lines or packet restrictions.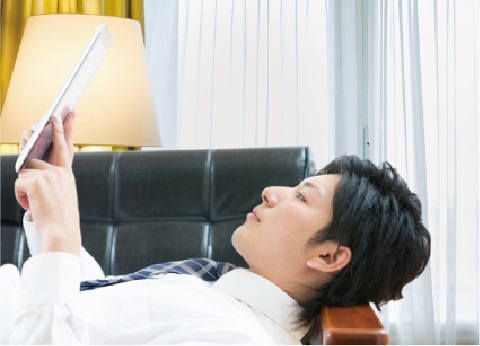 Supports DLNA
Enjoy video and photos even on wide-screen TVs
The MiniStation™ Air features a "DLNA server function" that lets you play your videos, photos, and music data on TVs, audio systems, and other digital home devices. Use smart TVs and media recorders, audio players, and other DLNA
playback devices to stream multimedia content stored on the MiniStation™ Air. Now you can share the videos you watch on the go with your smartphone screen and let everyone enjoy them on the living room wide-screen TV.
Remember good times and important events watching videos and photos that give you the feeling of being right back in the moment, recalling events even more clearly as everyone adds their own recollections.
What is DLNA?
DLNA refers to product guidelines for simple, trouble-free interoperability between digital home devices and computers, and to the organization that determines these standards.
Established by a group of home electronics and computer manufacturers, the Digital Living Network Alliance maintains a registry of TVs, digital recorders, and other DLNA-compliant devices. Videos, photos, music, and all other types of digital content on different DLNA-supported devices can be accessed and shared merely by connecting the devices via the network, without any need to know which device the content is actually stored on.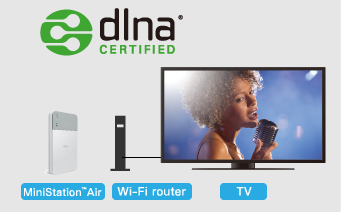 Also useful in business settings
Achieve paperless sharing of materials in meetings and presentations.
The MiniStation™ Air connects to computers as well as smartphones and tablets, allowing materials to be shared with up to eight different devices. This also makes it useful for sharing large files containing too much data to send in emails.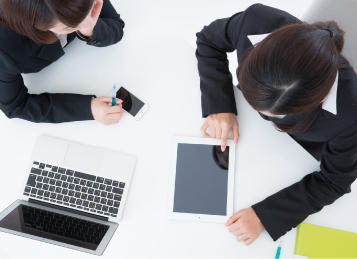 Create and edit materials on smartphones or tablets, even while traveling on business.
Since the MiniStation™ Air stores documents and other computer data files, you can edit and send the data while away from the office if a sudden request comes up.

*Separate apps are required to edit files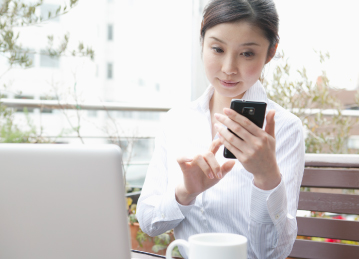 Take huge storage capacity along with your smartphone
HDD connects smartphones and tablets wirelessly solves your storage capacity problems!!
The MiniStation™ Air portable hard disk drive provides a Wi-Fi connection to your smartphone or tablet. The combination of huge storage capacity and a built-in battery means you can take your video, music, photos, and other files with you
without having to worry about your smartphone or tablet's capacity̶enjoy the data saved to the hard drive anywhere, as much as you like. You can also use the hard drive to store videos and photos taken and music downloaded with your smartphone, instantly eliminating your smartphone or tablet's storage problems.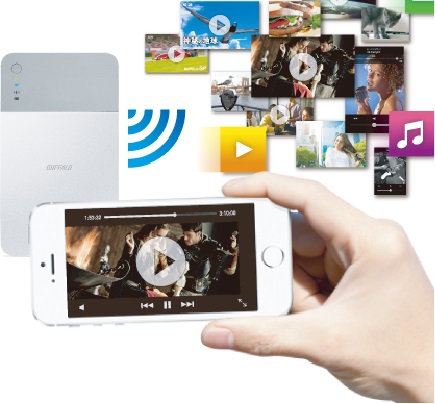 Smartphones connect via Wi-Fi
No more worries about poor signal reception or data limits
Enjoy even when reception is unstable
Devices can connect to each other using the MiniStation™ Air's Wi-Fi connection, allowing you to enjoy videos and other data without any worries about unstable signal
reception with LTE, 3G, or other mobile networks.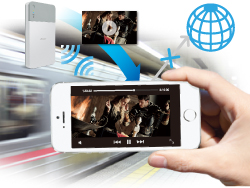 Works even with Wi-Fi-only devices
Wi-Fi versions of mobile devices that do not use mobile
phone networks can connect via Wi-Fi and access the
videos, photos, music, and other data stored on the Mini-
Station™ Air.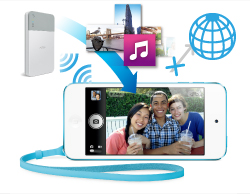 Connects even when in your bag
The MiniStation™ Air connects devices wirelessly̶no cables are needed. Keep it in your bag for a stylish way to connect.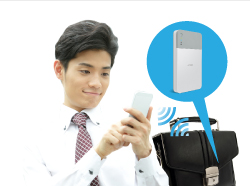 Functions to make connecting easy and convenient
Copy data from computers with a speedy USB 3.0 connection.
The MiniStation™ Air can connect to computers using the high-speed USB 3.0 connection, which makes copying large files fast and easy, including large video files, high-resolution photo data taken with digital single-lens reflex cameras, and high-quality music files.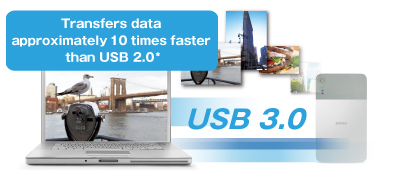 No additional devices needed Smartphones and tablets use direct wireless connection
MiniStation™ Air uses a direct wireless connection to connect and exchange data with Wi-Fi supported devices. It needs no 3G, LTE, or other mobile network or any Wi-Fi router (wireless LAN router), so it's ready to use whenever it's needed.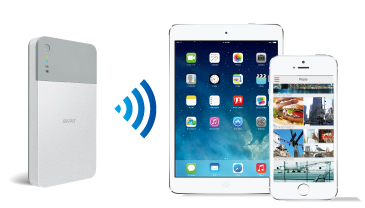 Links up to 8 devices.
Connects multiple smartphones and tablets.
The MiniStation™ Air can simultaneously connect multiple smartphones, tablets, computers, and other Wi-Fi capable devices. Furthermore, the HDD can be accessed by up to eight individual Wi-Fi devices simultaneously.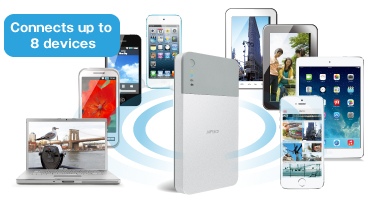 Connect to home and company networks via Wi-Fi
With a Wi-Fi router (wireless LAN router) running, the Mini-
Station™ Air can connect via Wi-Fi to home and company networks, enabling TVs, computers, and other devices on the same network to access the data on the MiniStation™ Air.
Additionally, BUFFALO wireless LAN routers feature AOSS, which allows you to connect with just one touch. The WPS one-touch connection system is also supported.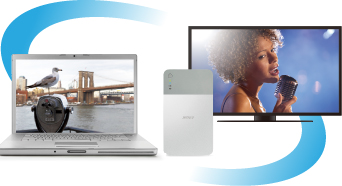 Get SNS notifications and email while videos and music are playing.
With the MiniStation Air™ connected wirelessly to a Wi-Fi router (wireless LAN router), smartphones and tablets can connect to the Internet while remaining connected to the MiniStation Air™ via the Wi-Fi connection. Get SNS and email, even while connected to the MiniStation Air™.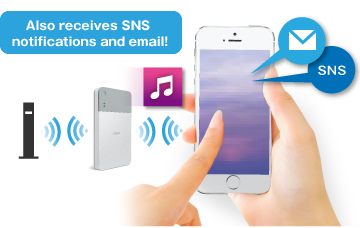 For smartphones and tablets
Special app is easy to understand, simple to use
"MiniStation Air 2" is a free app for smartphones and tablets that lets you set up and use the MiniStation Air™ from these devices. The app displays video, photo, and music content in thumbnail lists for simple, intuitive operation. The app features a user-friendly interface for setting up wireless connections and making settings to the MiniStation Air™.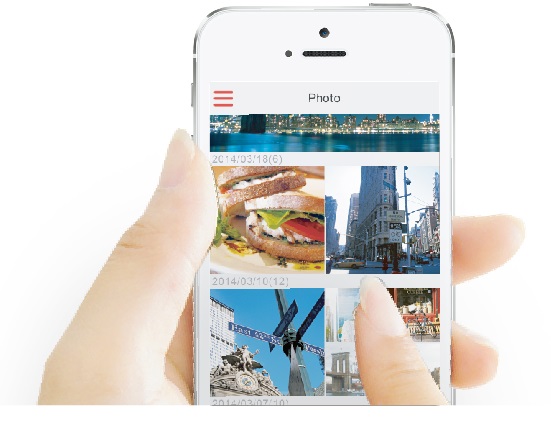 Interface optimized for each device
The app's user interface is designed to conform to the smartphone or tablet's screen size, making it easy to use with any device. The app is a pleasure to use, even on
smartphones' smaller screens.

* App cannot be used on computers.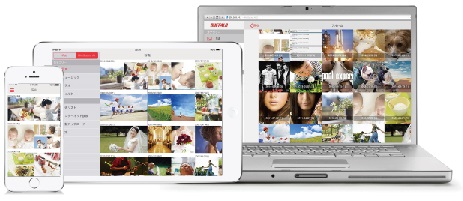 Display video, photo, and music thumbnails
Even if you have many images with file names that are difficult to remember, like those assigned to photos taken with digital cameras, you can display these as thumbnails. This lets you go directly to the files you want, quickly and easily.
You can also display the content of individual folders, just like in Windows. Thumbnails are automatically generated and displayed, no matter which folder the files are saved to.
* Music album displays support ID3 tags and VTF8. Album art may be embedded in MP3 files.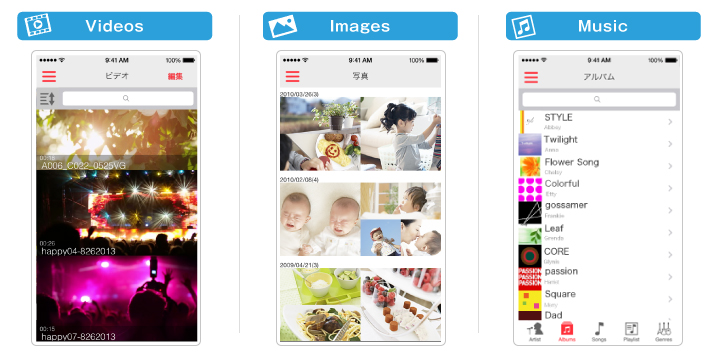 Display video, photo, and music in list format
You can also display the content of individual folders, just like in Windows. Thumbnails are automatically generated and displayed, no matter which folder the files are saved to.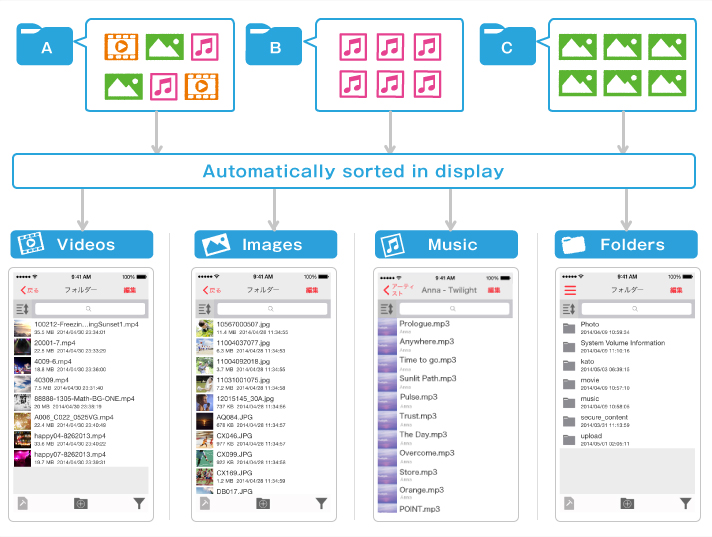 Convenient video viewing function
Resume function continues playback from where you left off
The app includes a Resume function that remembers where a video was last stopped and begins playback from that point the next time the video is played. This lets you watch a video on the way to work, stop it, then continue from the same point when you head back home.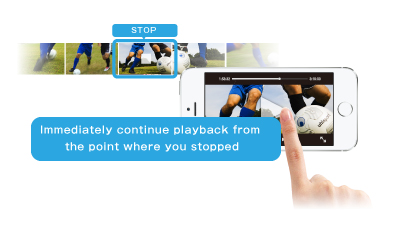 Convenient functions for greater assurance and more enjoyable use on the go
Shockproof design protects against vibration from portable use
The MiniStation Air™ is meant to be carried around, so it's designed to withstand the shock and vibration from daily use. Plate springs are used in connecting the drive to the chassis, the drive is cushioned with silicon shock dampeners, and ample space is provided between the platters, all of which provide the hard disk drive with thorough protection from physical shock.
* The MiniStation Air™ is not guaranteed against damage from drops and other intense impacts.
Can also be used as a mobile battery
If your smartphone battery runs out of power while you are away from home or the office, you can connect the smartphone with a USB cable and use the MiniStation™ Air to recharge the smartphone battery. Rest easy, even if your battery is drained.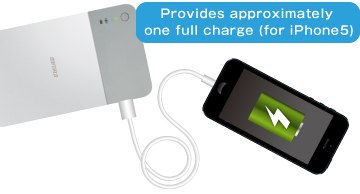 Battery is built in external power supply needed
The MiniStation™ Air includes an internal battery. Charge the battery ahead of time, and then switch it on whenever you need to use it. Enjoy approximately 12 hours of continuous video playback, even with no AC adapter or connector cable supplying power.
* Enables continuous playback of six 2-hour video files at 500kbps using the "MiniStation Air 2" app, with the battery 100% charged, power management set to Balance mode, and the lookahead function used.
* The MiniStation™ Air includes a function that extends battery time when playing back video with the "MiniStation Air 2" app by pre-loading video to the smartphone and reducing amount the MiniStation™ Air needs to run (patent pending).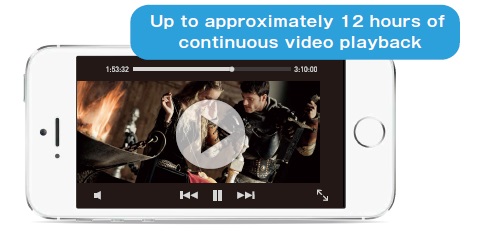 Back up data, simply and easily
Backing up data is easy with smartphone SD cards or by connecting to computers. Not only can you stream media from the MiniStation™ Air, you can also use it for backing up data from smartphones. You can also have the photos you take with your smartphone automatically backed up to the MiniStation™ Air (Auto Upload setting).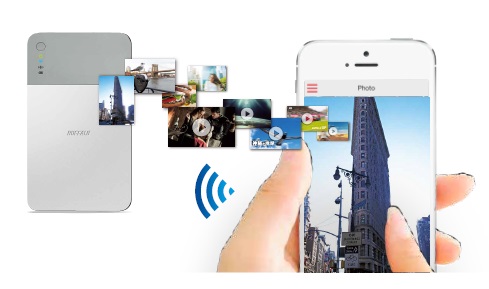 Connecting to smartphones and Wi-Fi routers is simple
To connect a smartphone, just read in the QR code. The MiniStation™ Air also supports AOSS for one-touch connections with Wi-Fi routers. To repeat, connecting is simple.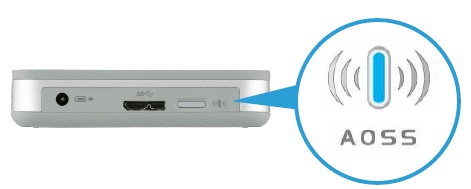 Supports robust WPA2 encryption
The wireless LAN industry group Wi-Fi Alliance recommends using the robust "WPA2" wireless LAN security standard.
WPA2 is mutually compatible with the earlier WPA standard and supports the "AES" wireless LAN encryption protocol, so you can use it with confidence.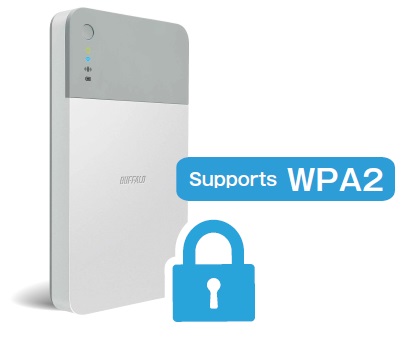 Hardware Overview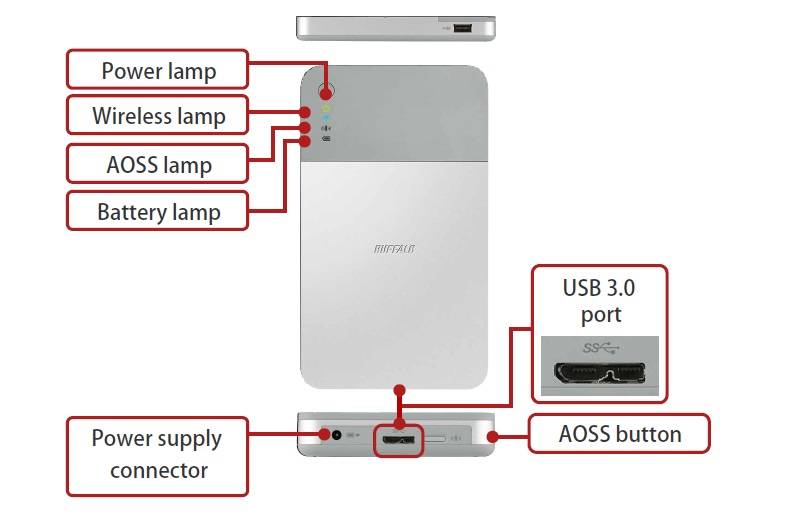 Dimensions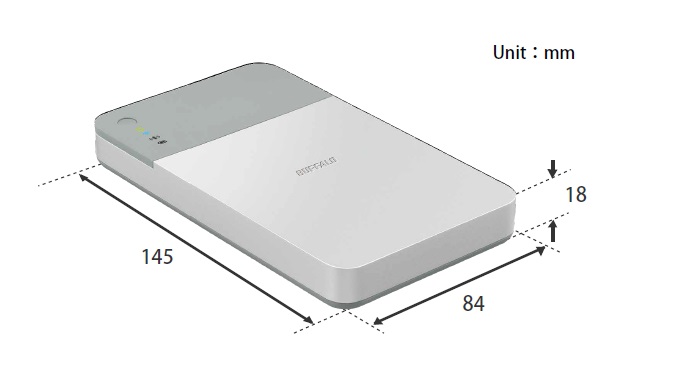 Model
Color Variation & Drive Capacity
| | |
| --- | --- |
| Crystal Black | 1TB:HDW-PD1.0U3 |
| Aquamarine Blue | - |
| Ruby Red | - |
| Rose Quartz | - |
| Crystal Silver | - |
| Champagne Topaz | - |
| Pink | |
| White | |
| Yellow | |
Internal Hard Drives
| | |
| --- | --- |
| Number of Drives | 1 |
| Drive Interface | - |
USB Interface
Standard Compliance
USB 2.0 / USB 3.0
Number of Ports
USB 3.0 x1
Data Transfer Rate
USB 3.0 : Max. 5 Gbps
USB 2.0 : Max. 480 Mbps
Wi-Fi, IEEE802.1n : Max.150 Mbps
Wi-Fi, IEEE802.11g : Max. 54 Mbps
Key Feature
OS Support
| | |
| --- | --- |
| Variety | Windows 7 (32-bit/64-bit) / Vista (32-bit/64-bit) / XP(32-bit) / Mac OS X 10.5 or later |
Other
| | |
| --- | --- |
| Dimensions (LxWxH, mm) | 84 × 23 × 130 mm |
| Weight | 285 g |
| Operating Environment | |
| Power Supply | DC 5V (Bus-Powered) |
| Warranty | 3-year limited warranty |
Package Contents
Contents
MiniStation Air
USB Data Cable
USB Power Cable
Quick Setup Guide
Warranty Statement
HDW-PDU3 / 2014-06-12

Product Datasheet

Download
You can compare the specifications of the product in this page. Click the model which you want to compare and click the "Compare"button.