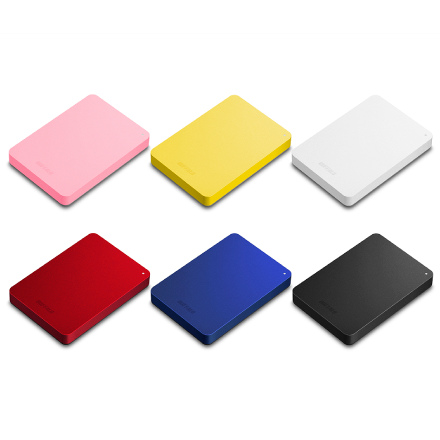 Rugged, TurboPC EX-compatible MiniStation portable USB 3.0 HDD
HD-PNFU3
Compact and well-designed shockproof chassis protects your valuable data.

Black: HD-PNF2.0U3-GB(2TB), HD-PNF1.0U3-BB(1TB)
Red: HD-PNF1.0U3-BR(1TB)
White: HD-PNF1.0U3-BW(1TB)





Optimally designed to match capacity
Flat Design, Compact Form
The MiniStation's stylish exterior, with its flat design and attractive matte finish, made it the winner of the 2013 Good Design Award. Available in six vibrant colors—select the color that suits your own taste.

15% thinner than previous model *1
The optimized design matches chassis thickness to the drive's storage capacity, with no wasted space. This results in a compact size that makes even the high-capacity models convenient to carry.

*2 2TB model available only in black.
*1 Compared with the HD-PNTU3 (500 GB model).
No worries, even if dropped
Shockproof Body Protects Drive from Accidental Damage
Since a portable hard drive is designed to be frequently carried around, the risk of dropping it is unavoidable. This MiniStation features a shockproof chassis the protects the drive from damage if it's accidentally dropped. The chassis incorporates a shock-absorbing frame (with plate springs) and total of eight silicon shock dampeners (two in each of the four corners) to provide the drive with secure protection.

* Protection from damage to the MiniStation's hard drive, data, and exterior chassis is not guaranteed in all conditions or environments. Additionally, the chassis is not intended to prevent damage to the hard drive while it is operating. Please do not intentionally drop the drive or subject it to shock.
Locks down easily for peace of mind if the drive is lost or stolen
"Lock-and-Go" Protects Your Critical Data
The MiniStation features an "Lock-and-Go" function that allows you to lock the drive from your computer so that it stays locked even when connected to another computer. This reduces worries if the drive is ever lost.

* Use this function after downloading it from the BUFFALO website.
* The drive can also be set to Normal mode, with the lock switched off.
Includes easy-to-set, easy-to-use "Lock-and-Go" function
"Lock-and-Go" only locks the hard drive without encrypting the data, so settings are simpler than with previously available security software. Setting and releasing the lock is simple, making the software easier to use.
Software speeds file transfers
Up to 20%* Increase in Storage Capacity with TurboPC EX
・Save mode
Using TurboPC EX's Save mode can increase the hard drive's storage capacity by up to 20%*. With a 1 TB hard drive, for example, you can save up to 200 GB more in files. Now you can save more of the photos and videos you take to the extra disk space created.
* Calculation based on compression ratio used in compressing approximately 40 GB of files (approximately 19,00 files) of different types (extensions). Compression ratio and available disk space may vary according to the files saved.
(Testing conducted by BUFFALO in May 2013)
• File compression technology increases storage capacity!
Compressing files before transferring them to the hard drive allows you to store more files.

・Speed mode
Use this mode to write files files faster and reduce the time needed to save and copy data. Speed mode transfers data over four times faster than with USB 2.0 models (with TurboPC EX off).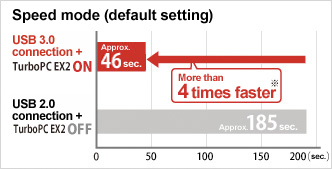 ・Balance mode
This mode automatically selects Save mode or Speed mode based on the type of file being copied.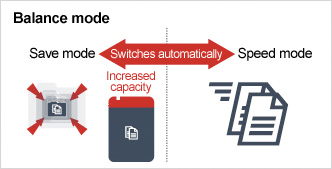 [Test Environment]
[PC] Motherboard: GA-Z77MX-D3H
TH/CPU: Intel Core i7-3770K 3.50 GHz/Memory: DDR3 4GB/OS:
Windows 8 Pro 64bit (JP)/Internal HDD: Seagate ST1000DM003; [HDD]
HD-PNF1.0U3
The HDD was connected to the PC's USB port and 1,000 5-MB files stored on the internal HDD were then copied to the HDD. The time required from start to completion of copying was measured via a USB 3.0 connection with the "TurboPC EX" software Speed mode on, and via a USB 2.0 connection with the "TurboPC EX" software Speed mode off (current as of Oct. 2013).

* Measured values were obtained in a specific test environment; this does not necessarily guarantee similar results can be achieved in all operating environments.
* Transfer speeds and compression ratios may vary significantly according to the type, number, and size of the files and the operating environment used.
* Transfers speeds do not exceed the theoretical value for the USB 3.0 standard (5 Gbps).
* TurboPC EX supported for Windows only.
BUFFALO HDDs—Good for the Environment, Easy on the Budget
Reduces hard drive energy consumption by up to 51%
Hard disks are accessed mainly for reading and writing data, so they are idle for most of the time the computer is in use. When there is no activity for a specified period of time while the drive is in standby, the "eco Manager" software spins down and stops the drive and switches it to "Energy-Saving Mode." This "Energy-Saving Mode" cuts power consumption up to 51% as compared with normal standby (idling). With multiple drives connected, each one can still be configured individually. This is one hard drive that's easy both on the environment and your budget.

* Test Environment
[PC] Acer Aspire/CPU: Core i5/OS: Windows 8
With the HD-PNF2.0U3 drive connected to the computer, testing compared power consumption during normal standby (idling) and with
the drive stopped with eco Manager.
(Testing conducted by BUFFALO in Sep. 2013)
* The graph indicates values obtained in a specific test environment; this does not necessarily guarantee similar results can be achieved in all operating environments.
* eco Manager supported for Windows only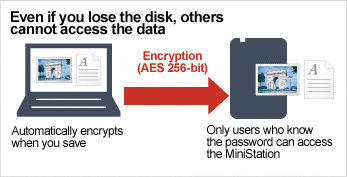 Easy formatting
This software allows you to format hard disks and other drives simply and easily.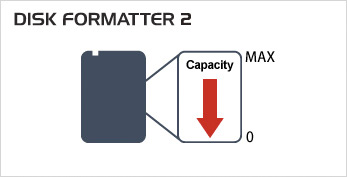 Hardware Overview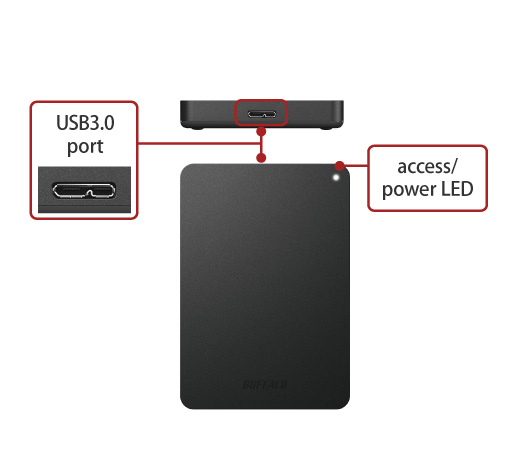 Dimensions(Unit: mm)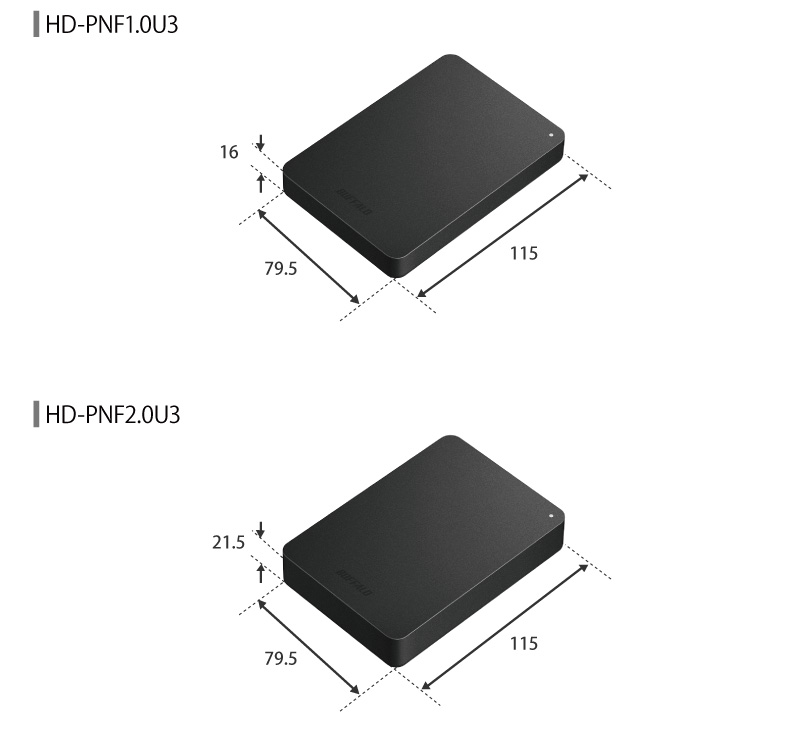 Model
Color Variation & Drive Capacity
| | |
| --- | --- |
| Crystal Black | HD-PNF2.0U3-GB(2TB), HD-PNF1.0U3-BB(1TB) |
| Aquamarine Blue | HD-PNF1.0U3-BL(1TB)  |
| Ruby Red | HD-PNF1.0U3-BR(1TB) |
| Rose Quartz | - |
| Crystal Silver | - |
| Champagne Topaz | - |
| Pink | - |
| White | - |
| Yellow | -  |
Internal Hard Drives
| | |
| --- | --- |
| Number of Drives | 1 |
| Drive Interface | SATA II |
USB Interface
| | |
| --- | --- |
| Standard Compliance | USB 2.0 / USB 3.0 |
| Number of Ports | 1 |
| Data Transfer Rate | Max. 5 Gbps (USB 3.0) Max. 480 Mbps (USB 2.0) |
Key Feature
Feature
Software Encryption
Shock-Proof Chassis
Compact and Lightweight
Preformatted
OS Support
Variety
Win 8 (64-bit/32-bit), 7 (64-bit/32-bit), ),Mac OS X 10.6 or later
Connection: USB 2.0 , USB 3.0
Attached,Software: DriveNavigator , Secure Lock Manager Easy , Disk Formatter , TurboPC , TurboCopy , Backup Utility , RAMDISK Utility , Buffalo Tools Launcher , ecoManager , Picasa , Google Chrome , Adobe Reader

Other
Dimensions (LxWxH, mm)
1TB Model:79.5×16×115mm
2TB Model:79.5×21.5×115mm
Weight
1TB Model: approx. 170g 2TB Model: approx. 240g
Operating Environment
Temperature 5 - 35℃, Humidity 20 - 80% (Non-condensing)
Power Supply
DC 5V (USB powered)
Warranty
3-year
Package Contents
Contents
MiniStation HD-PNTU3
USB 3.0 cable
Quick Setup Guide
Warranty Statement
HD-PNFU3 / 2014-03-18

Product DataSheet

Download
You can compare the specifications of the product in this page. Click the model which you want to compare and click the "Compare"button.