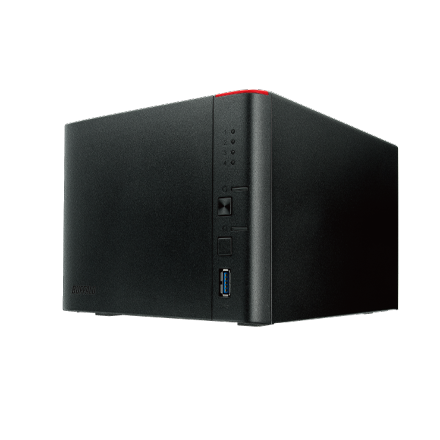 LinkStation™ 441DE High Performance 4 drives RAID Network Storage
LS441DE
The LinkStation Network Attached Storage (NAS) is an incredibly powerful yet convenient way to link and manage data stored on computers, smartphones, tablets, and other devices. Easy to set up and use, the LinkStation features massive storage and is packed with convenient features for transferring files, streaming content, adding disks, backing up and protecting data, and more.

Enclosure : LS441DE









Easily access files the same way you do with smartphones, tablets and computers.
Gives everyone in the family quick access!
This unit enables high-speed data transfers with speed more than 80 MB/s. Enjoy getting to your photos, movies, and music quickly and reliably, even with the entire family accessing their data at the same time.

Designed and built for high performance
High-speed 100 MB/s transfers vastly reduce copy times

Use of the latest high-speed processor technologies greatly increases processing power, providing the LinkStation with speedy data transfer speeds of up to 100 MB/s*1. Speeds exceeding standard USB 2.0 specs of 60 MB/s (480 Mbps) allow faster and more stable Hi-Vision video, streamed content, and transfers of other data-intensive files.
*1 [PC] MB: Intel H57, CPU: Intel Core i3-540, Memory: 2 GB, OS: Windows 7; [NAS] LS441D0404 With the NAS connected to the computer via a LAN cable and the DLNA function switched off, the transfer speed of 4xHD playback (simultaneous playback of four 3-minute 45-second video files) using benchmarking software (NASPT Ver. 1.7.1). (Testing by BUFFALO, June 2014)
*Measured values were obtained in a specific test environment; this does not necessarily guarantee similar results can be achieved in all operating environments.
WebAccess Free Personal Cloud Service

While on the go, Buffalo's free WebAccess service allows you to create a personal cloud for easy remote access and file sharing with anyone, anywhere over the Internet. Your data remains securely stored in one place on your home network, but you can access it quickly from any computer, tablet or smartphone device over the Web. Sharing is as easy as sending a link to your friends and family; they can securely access only the files you've selected for them to see.
For enhanced access on your iPhone, iPod touch, iPad and Android devices, download Buffalo's free WebAccess mobile apps.
WebAccess i for iPhone® and iPod® touch
WebAccess i HD for iPad®
WebAccess A for Android
Scalable Solution
RAID Modes and Diskless Enclosure Model
This LS441DE is equipped with four internal drive bays. Along with the normal operating mode, installation of four hard disk drives provides you with four additional RAID modes (RAID 0/1/5/10) to select from according to your needs, for protection of system backup data, work data, photo and video data, and other important data from unexpected drive failure.
Quick Install Drives
Hard drives are easily accessible via the front panel.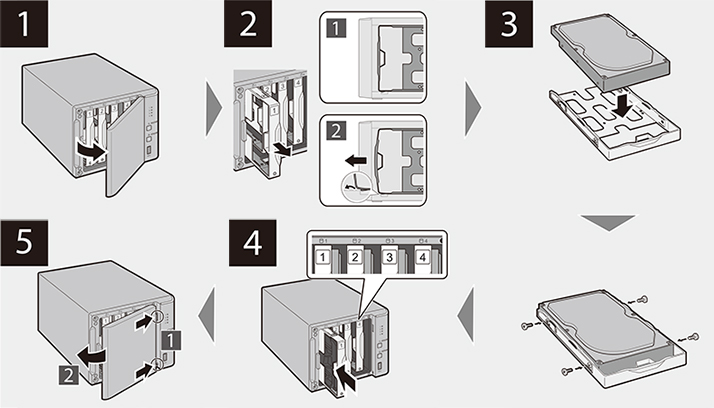 Advanced Features
Sleep Mode

The LinkStation features a Timer ON/OFF function that allows the power to be switched on only at predetermined times. This both enhances convenience in using the NAS and conserves energy, and prevents wasted electricity from forgetting to switch the power off. The reduction in wasteful power consumption after office hours, on days off, or anytime the drive isn't needed also reduces CO2 emissions and helps the Earth's environment.
iTunes® Server
LinkStation NAS System has an integrated iTunes server allowing users to set up LinkStation as a content source to easily stream content from their LinkStation device directly to any network device running iTunes.
*Supports playback of files on up to five computers and transfers to iPods.
*Supported formats : Audio data (MP3/M4A/M4P)
USB Printer Server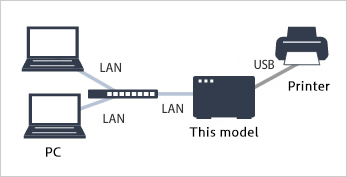 Share basic printing support to client PC and Mac computers on your network. Connect one printer at a time to your LinkStation and share basic printing functions with anyone on your network.
*Mounts as a shared printer in the LinkStation .
*No ink or status reporting from the printer to clients.
NAS Navigator
Easily find and connect to your LinkStation using the NAS Navigator tool. NAS Navigator finds all NAS devices attached to your network, making it easier to manage multiple NAS devices.
"BitTorrent" Support
LinkStation NAS System includes uTorrent, a powerful BitTorrent client for easy torrent file management. Manage P2P file transfers directly from your LinkStation without the use of a dedicated PC. You can download and share files directly from your LinkStation and you can manage downloads from anywhere using the simple Web-based download manager.
Use the Bittorrent Remote app to manage downloads when you are away from the computer
This app lets you run the "BitTorrent" file sharing software on the LinkStation remotely and stream downloaded files even when you are out and about

* App for Android only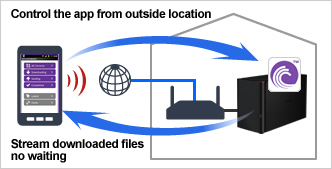 USB3.0 External Hard Drive Support
Plug a USB hard drive into the available USB port to expand the total capacity of your LinkStation unit. External storage cannot be added to the LinkStation RAID array.
No reformatting is required for external HDD & SDXC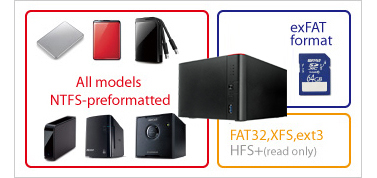 This unit supports the exFAT format employed in the NTFS and SDXC systems used by many computers, so there's no need to reformat disks used as additional storage. However, connection of SD cards and other such media requires a separate card reader.
*This unit supports external HDDs formatted in FAT32, XFS, and ext3.
Mac OS X: Time Machine®
LinkStation supports Time Machine for Mac users, including Mac OS X Lion. Schedule backups from one or multiple Mac computers on your network.

Back up your data and prepare for data disasters
Windows PC Backup
Back up Windows PCs with NovaBACKUP® Professional backup software. Included with each LinkStation NAS unit is five free licenses of NovaBACKUP®, an easy-to-use backup solution that automatically backs up your personal documents along with your favorite photos, music and important email files safely and securely. Back up PCs, notebooks and workstations.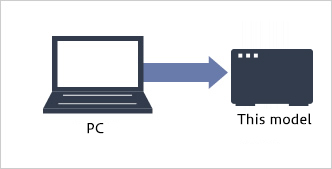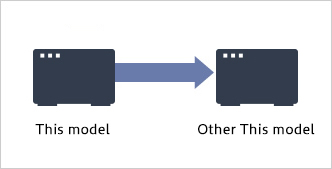 LinkStation Backup
Back up and protect the data on your LinkStation NAS quickly and securely. Supports back up to another LinkStation via your home or office network (on LAN), or via the Internet (with IP).
Back up to a USB hard drive
Simply plug a USB hard drive into the USB accessory port on your LinkStation NAS unit and easily back up the contents of your LinkStation. Only AC powered hard drives are supported.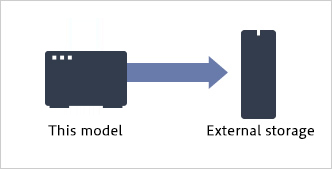 Hardware Overview

Dimensions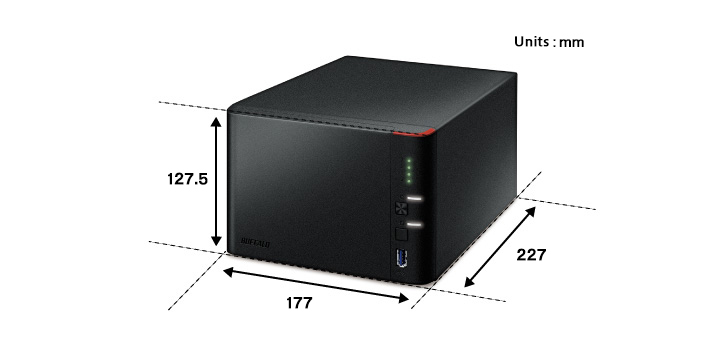 Model
Hardware
| | |
| --- | --- |
| OS | Linux Original |
| CPU | Marvell ARMADA 370 |
| Clock | 1.2GHz |
| Memory | DDR3 512MB |
Internal Hard Drives
| | |
| --- | --- |
| Number of Drives | 4 |
| Drive Interface | SATA II |
| Supported RAID Levels | 0, 1, 5, 10, JBOD (Normal) |
| Drive Capacity | LS441DE(Enclosure) |
LAN Interface
| | |
| --- | --- |
| Standard Compliance | IEEE802.3/3u/3ab |
| Speed and Flow Control | 10/100/1000 Mbps (Auto Sensing) |
| Number of Ports | 1 x RJ-45 (Auto MDIX) |
USB Interface
| | |
| --- | --- |
| Standard Compliance | Front : USB 3.0 / Rear: USB2.0, USB3.0 |
| Connector Type | A type |
| Number of Ports | 1 x USB2.0 / USB3.0 x 2 |
Key Feature
| | |
| --- | --- |
| Active Directory support | Y |
| Energy Save | Y |
| Apple Bonjour® | Y |
| Apple Time Machine® | Y |
| iTunes® Server | Y |
| WebAccess | Y |
| BitTorrent™ | Y |
| DLNA™ Media Server | Y |
Other
Client OS Support
Windows® 8.1/8 (32/64-bit), 7 (32/64-bit), Vista® (32/64-bit), XP, Windows®Server 2012/2008,
Mac OS®X 10.9, 10.8, 10.7, 10.6
Power Consumption
42W (Average), 90W (MAX)
Dimensions (LxWxH, )
127.5 x 177 x 227
Weight
2.3 kg (Empty enclosure)
Operating Environment
5-35°C, 20-80% (non-condensing)
Power Supply
AC 100-240V, 50/60Hz
Warranty
3-year
Package Contents
Contents
LinkStation LS441DE
Ethernet Cable
AC Power
Setup CD-ROM
Screw
Quick Setup Guide
Warranty Statement
LS441DE / 2014-07-14

Product Datasheet

Download
You can compare the specifications of the product in this page. Click the model which you want to compare and click the "Compare"button.