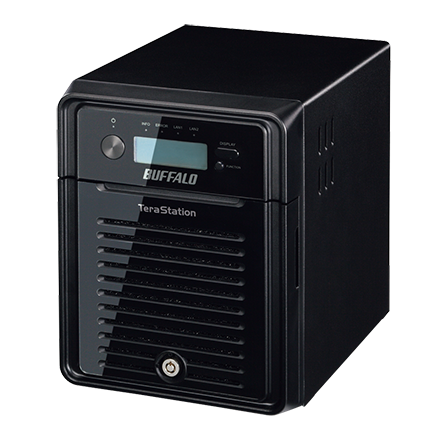 TeraStation 3400
TS3400D
Business Class Four Bay NAS Device

4TB : TS3400D0404
8TB : TS3400D0804





- Four bay, pedestal form factor
- Superior performance with Marvell ARMADA XP dual-core processor
- Business class NAS features such as file sharing and client/server backup
- IP camera support
- iSCSI target support
- Share level replication feature with device failover
- Cloud storage backup support
- 24/7 reliability with hot swap, hot spare, port trunking, and UPS support
- 10 licenses of NovaBACKUP® Business Essentials v14
- Citrix Ready
Share Office Data Faster
Affordable Entry Model

This TeraStation utilizes the latest Marvell ARMADA XP 1.33 GHz processor, 1 GB DDR3 memory to provide surprisingly fast performance for an entry-level model. This enables offices to share information with greater speed.
[PC] CPU: Intel(R) Core(TM) i3 2100, M/B: Intel DH77KC, Memory: PC-1600 DDR3 2 GB, NIC: Gigabit CT Desktop, OS HDD: Seagate ST1000MD003 x 2 RAID 0, OS: Windows7 x86 (32 bit) Professional Edition [NAS] TS-XH8.0TL/R6 (RAID 5 setting), TS3400D0804 (RAID 5 setting)

The TS-XH8.0TL/R6 and TS3400D0804 were connected to the computer via a LAN, with sequential writes and reads measured using benchmark software (CrystalDiskMark 3.0.2). (Testing conducted by BUFFALO in May 2013)
* Measured values were obtained in a specific test environment; this does not necessarily guarantee similar results can be achieved in all operating environments.
Business Class NAS Features
File Sharing

Secure file sharing from a central location with cross-platform support and access restrictions.
Client/Server Backup

Backup all mission-critical data for peace of mind
-NovaBACKUP®backup software
-Time Machine support
-Supports most major server backup software
Buffalo Surveillance Server

Store video captured with an IP camera directly on a TeraStation via a network.Supports up to five IP cameras per TeraStation. Just select the camera model and enter the IP address on the setup screen, and the TeraStation is set to record video. With the management software, you can centrally control multiple
TeraStations from a single point, such as a Windows PC or Mac.
The TeraStation can be configured to automatically switch over to a secondary TeraStation when the primaty TearStation runs out of capacity, to continue recording without interruption.
*Product comes with one free camera license. Additional licenses available for purchase.
iSCSI Target

Create NAS and iSCSI volumes on a single RAID array. Supports simultaneous usage of NAS and iSCSI in one device.
Backup
Failover

The TeraStation can be backed up to another TeraStation by replicating one to the other. When the primary TeraStation faces hardware failure, the secondary TeraStation will automatically take over NAS operations (Failover), without any noticeable service interruption to users. Failover also keeps trace of various setting changes, minimizing restoration workload.
Replication
Replicates data between two TeraStations. In the event of a TeraStation failure, simply unplug the Ethernet cable from the malfunctioning TeraStation and plug into the backup TeraStation for service restoration.
Scheduled backup

Scheduled backup can be set at a specific data and/or time.
Many-to-one TeraStation Backup

Backup all shared folders in multiple TeraStations on a single TeraStation.
Cloud Storage Backup

Backup mission-critical data to Amazon S3 (Simple Storage Service) for offsite backup
*Amazon S3 account required.
Retroactive recovery
Keeps up to 10 backup generations with historical incremental backup.
Supports prompt recovery when NAS is replaced or fails
"Save and restore settings" after a failure and when purchasing multiple TS3400 units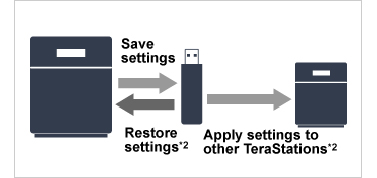 You can connect a thumb drive or other USB memory*1 to the TS3400 and save the settings to the USB memory. Use this feature to restore the settings from USB memory after a failure or more easily program the settings when purchasing multiple TS3400s.
*1: USB sold separately; not included with TeraStation.
*2: Prior matching of disk configurations/formatsxxx may be required.
"Initialization" when you forget your password or other settings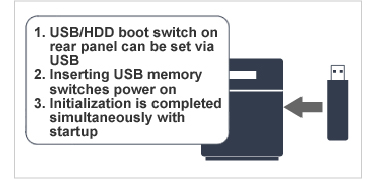 You can initialize the TeraStation using USB memory.*3
Use this feature if, for example, you happen to forget your password.
Main initialized settings:
- IP address
- Ethernet frame size settings
- Administrator user name ? Passwords
*3: May require prior setting of USB memory from TeraStation's settings screen.
*4: Initialized settings parameters are the same as those initialized with the Web-based settings screen.
Hardware Features
Extremely reliable hardware
The design of the unit and ventilation fan help ensure air flow,which is critical in holding down temperatures inside the case.The fan used id very quiet.It also monitors temperatures within the case and automatically regulates the fan speed for quiet yet effective cooling.
Utilizes specially designed,highly reliable power supply unit

The components are rigorously designed to handle high-temperature environments and extended operation.The highly reliable power supply withstands even continuous 24-hour-a-day use.BUFFALO recommend confidently to even business users with systems running for long hours.
Front panel dust filter
The filter prevents dust from getting inside the unit,which reduces the load on the fan and contributes to more stable operation.
Hot-swappable hard drive

The inernal drives are hot-swappable,so they can be replaced in the event of a hard drive failure, with no need to switch off the power. It is designed to minimize effects on the system when disks are replaced.
The RAID array absent the failed hard drive allows the system to be used as usual, even while the drive is being replace,so there is no extra obstacle to normal business operations.
Hot Spare

When a drive fails, the hot spare function automatically starts up the spare hard disk to maintain redundancy. This protects your valuable data.
Media Cartridge feature

Ditch the tape storage and assign a hard drive as removable backup storage cartridge.
Port Trunking

UPS Support
Supports devices from Schneider Electric and Omron.
Select from a variety of RAID modes for failure resistance, speed, and capacity
Supports RAID 6/5/10/1/0. Features powerful data protection features
This NAS is equipped with four internal hard disk drives. In addition to the normal operating mode, there are five other RAID modes to select from, according to your needs. The unit includes modes for protecting system backup data, work data, photo and video data, and other important data from unexpected drive failure.
TeraStations offer a wide variety of modes for protection of system backup data, business data, photo and video data, and other important data in the event of a drive failure. In particular, models with six or more drives support RAID 51, which features mirroring (duplication) of RAID 5 with RAID 1, and RAID 61, which similarly combines RAID 6 and RAID 1. This allows you to build an even safer data protection environment.

RAID Mode Comparison Table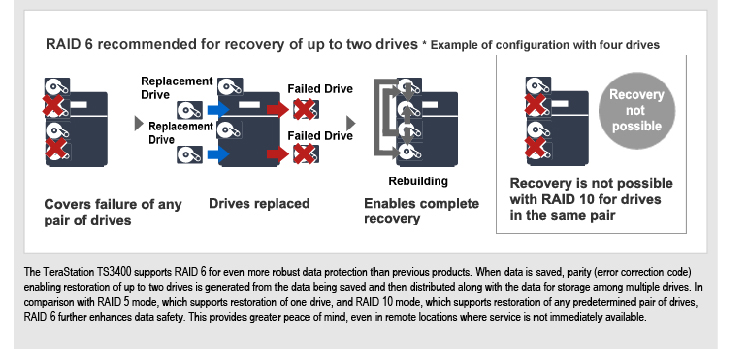 *1: Configurations comprise an even number of drives.
* The TS3400D is set to RAID 6 mode when shipped.
* While RAID 6/5/10/1 are effective for data protection, this does not mean that complete protection is guaranteed. Please be sure to back up your important data.
File Sharing
Active Directory
Manage access restrictions with user account information from the Windows Active Directory server
Settings such as read/write access and user/group-based access authorization can be tailored to your needs
DFS Namespace support
Disk quota support prevents users/groups form consuming too much disk space
Hide specific folders for limited access
Offline Files feature enables folder synchronization to/from your laptop for offline accessibility
WebAccess for Business
WebAccess for Business smartphone app

Free app for Android, iPhone, and iPad, to access and manage the TeraStation over the Internet. Configure your TeraStation from the palm of your hand!
TeraStation Sync
Share files with remote locations by synching folders between two TeraStations over the web.
Citrix Ready Certification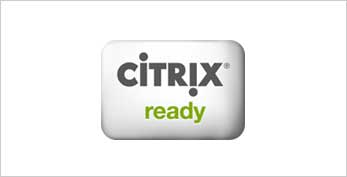 Other features
Easy setup wizard and management through intuitive web interface
USB print server
Scheduled shut down eliminates unnecessary access and reduces energy costs
AES-128 bit hard drive encryption
Hide specific folders for limited access
Security lock slot
AntiVirus scanning
Hardware Overview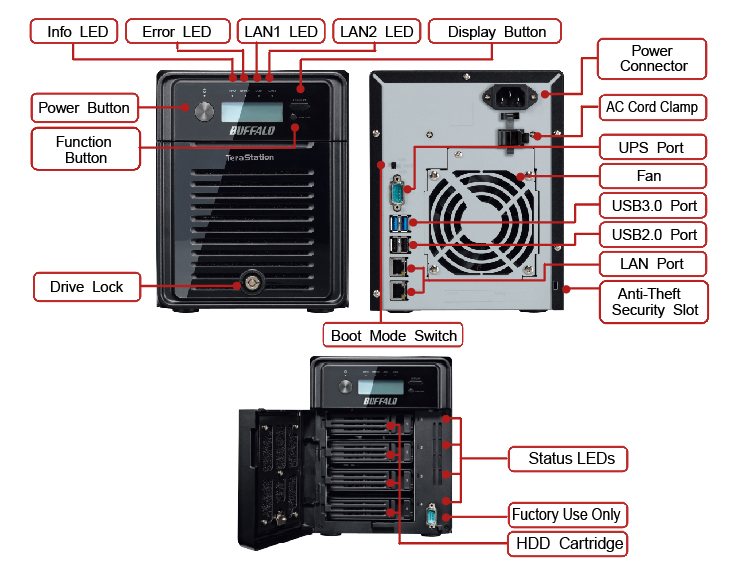 Dimensions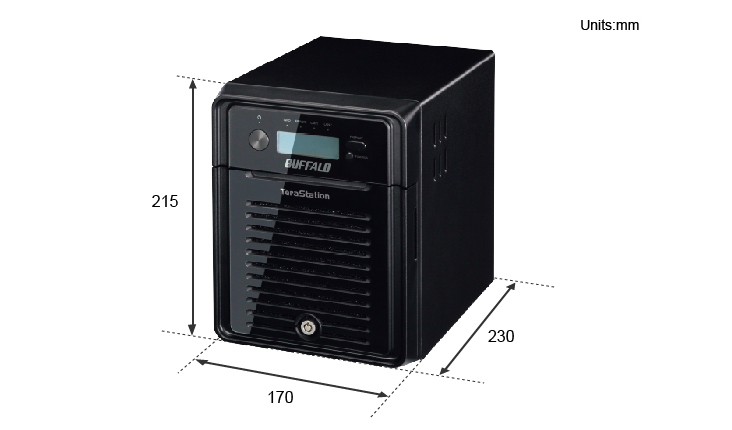 Model
Hardware
| | |
| --- | --- |
| Type | Desktop |
| OS | Linux Original |
| CPU | Marvell ARMADA XP |
| Clock | 1.33GHz |
| Memory | DDR3 1GB |
Internal Hard Drives
| | |
| --- | --- |
| Number of Drives | 4 |
| Drive Interface | SATA II |
| Supported RAID Levels | 0, 1, 5, 6,10 |
| Drive Capacity | TS3400D0404(4TB) TS3400D0804(8TB) |
LAN Interface
| | |
| --- | --- |
| Standard Compliance | IEEE802.3/3u/3ab |
| Speed and Flow Control | 10/100/1000 Mbps (Auto Sensing) |
| Number of Ports | 2 x RJ-45 (Auto MDIX) |
USB Interface
| | |
| --- | --- |
| Standard Compliance | USB 2.0 / USB 3.0 |
| Connector Type | A type |
| Number of Ports | 2 x USB2.0 / 2 x USB3.0 |
UPS Interface
| | |
| --- | --- |
| Standard Compliance | D-Sub 9pin |
| Number of Ports | 1 |
Other Interface
Key Feature
| | |
| --- | --- |
| iSCSI | Y |
| IP Camera | Y |
| Redundant Power Surpply | - |
| Hot Spare | Y |
| Hot Swap | Y |
| Replication | Y |
| Failover | Y |
| Amazon S3 | Y |
| Port Trunking | Y |
| Disk Quota | Y |
| Virus Scan | Y (supported from firmware version 1.11 or later) |
Protocol Support
| | |
| --- | --- |
| Networking | TCP/IP |
| File Sharing | CIFS/SMB, AFP, HTTP/HTTPS, FTP/FTPS, SFTP, NFS |
| Directory Integration | LDAP, Active Directory |
| Management | HTTP/HTTPS |
| Time Synchronization | NTP |
Other
Client OS Support
Windows® 8 (32/64-bit)/ 7 (32/64-bit)/ Vista® (32/64-bit)/ Windows® XP
Windows Server® 2012/ 2008 R2/ 2008/ 2003 R2/ 2003
Mac OS® X 10.8/ 10.7/ 10.6/ 10.5/ 10.4
Power Consumption
60W (Average), 86W (Max)
Dimensions (LxWxH, )
230 x 215 x 170
Weight
8.0 kg
Operating Environment
5-35°C, 20-80% (non-condensing)
Power Supply
AC 100-240V, 50/60Hz
Warranty
3-year
Package Contents
Contents
TeraStation 3400(TS3400D)
Setup CD-ROM
LAN Cable
ACCable
Front Panel Key
Quick Setup Guide
Warranty Statement
TS3400D / 2013-07-15

Product Datasheet

Download
You can compare the specifications of the product in this page. Click the model which you want to compare and click the "Compare"button.