Philip Nash Photography, EU
Philip Nash Photography Snaps Up Buffalo's Storage
Cost effective backup solution pushes all the right buttons
"Assessing the options, I knew I didn't want tape storage as it was too expensive and the retrieval of images would take too long. I was looking for a resilient solution that I could be confident would keep my data safe, even if our servers failed."
Philip Nash — Philip Nash Photography
Setting the Scene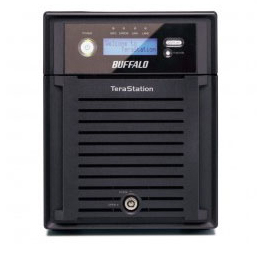 Philip Nash Photography, based in Surrey, has been shooting commercial and personal photography and video for over 9 years. As with a great a deal of professional photographers today, the company has been working with digital formats for some time. But, as well as bringing a host of benefits to both the photographer and client through the speed in which images can be viewed and delivered, digital photography has also bought with it a new challenge — one of storage.
Whereas, traditionally, photography studios were crammed full of film and negatives, now memory cards and electronic storage are becoming the norm. So instead of damaged film resulting in a disastrous shoot, PC or server failure could mean the loss of a week's work, or at worse a life time's worth of images. As a result, today's photographers need to ensure digital images are stored and backed up appropriately, as founder and owner Philip Nash explains:
"Storing photos and videos electronically puts a great deal of strain on any company's IT infrastructure. Being in the photography business means we deal with massive amounts of images and video footage every day. We also do a lot of image manipulation which calls for a lot of space on the server. These files all need to be securely stored and be easily retrievable."
"In the early days we used an online storage service to help lighten the load but it was very slow and our 1TB of space became full very quickly and buying more capacity was not a cost effective or viable option. I was also very aware that if our server or internal drives on our PCs failed, we would lose everything," he added. It was about two years ago that this single point of failure, coupled with limited storage capacity prompted Philip to look for a better solution: "Assessing the options, I knew I didn't want tape storage as it was too expensive and the retrieval of images would take too long. I was looking for a resilient solution that I could be confident would keep my data safe, even if our servers failed."
Assessing the Options
Following extensive research, Philip chose a solution from Buffalo Technology."I was familiar with Buffalo and knew that its products were great for back-up and provided a good amount of capacity at a competitive price," said Philip. "I was also looking for a company that could provide both locally attached storage and network attached storage for daily backups and additional security and resilience."
To give peace of mind when storing images, Philip Nash Photography wanted a device with RAID —which would store the same data across multiple hard disks in the same device, to ensure it remained safe even if one hard drive failed. The ability to store and share data across a number of networked PCs was also of high importance.
Between 2005 and 2006, to meet all of his requirements Philip selected three storage devices from Buffalo — a DriveStation Quattro external hard drive with 2TB capacity and two Terastation Pro networked attached storage (NAS) devices in capacities of 1 and 2TB.
Keeping Data Safe
When selecting Buffalo's DriveStation Quattro, it was the first external storage device to come with a eSATA connection, making it incredibly fast. "I wanted a locally attached drive with the fastest transfer rate possible, on which we could easily store images and video throughout the day. It also needed to come with enough capacity to store manipulated images. The eSATA connection gives us this capability. Having looked at comparable products since choosing the Buffalo device, none come close in terms of speed, functionality and — most importantly — reliability," adds Philip.
As well as the ability to store and easily transport large files, the DriveStation Quattro also supports RAID to ensure data remains safe, even if one of the drives fails. "We selected the Terastation Pro NAS devices as we wanted to backup files at night for extra peace of mind. The nature of the device also means that it can be stored anywhere there is an Ethernet connection, which is great for additional security. The automated back-up from the DriveStation to the Terastation devices was another key factor in our product selection, as it makes the file transfer process easy and straightforward. The mirroring and RAID 5 modes in the device also protect against data loss and the price point of Buffalo's products kept the solution affordable," he added.
More of the Same
Two years on and Philip Nash Photography is reaping the benefits of a reliable, costeffective storage solution. "The team at Buffalo has been very responsive to any queries or comments we have. The products still do what I need and are the ideal solution for storing large images and files. I do have a certain amount of IT knowledge but believe that even a novice would find the Buffalo devices extremely easy to set up and use," added Philip.
Due to the success of the products, Philip Nash Photography has invested in an additional 4TB DriveStation Quattro and a 4TB Terastation Pro NAS device. "I haven't looked back since purchasing Buffalo equipment and, in fact, recommend the devices to other photographers and videographers due to their great value for money and reliability," concludes Philip.
Cost effective backup solution pushes all the right buttons
"Assessing the options, I knew I didn't want tape storage as it was too expensive and the retrieval of images would take too long. I was looking for a resilient solution that I could be confident would keep my data safe, even if our servers failed."
Philip Nash — Philip Nash Photography