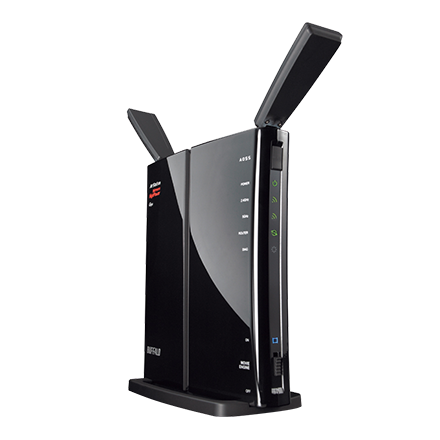 300 Mbps Dual Band High Power Wireless Broadband Router
WZR-HP-AG300H





Simultaneous wireless operation

Do you want to connect TV set, computer and other devices in your home to the wireless network in simple and convenient way? Please just try Buffalo's WZR-HP-AG300H. When transferring the video data, if the wireless signal passes through the same channel with the data of the devices such as computer, it is easy to produce signal interference and conflict. WZR-HP-AG300H not only supports 11n/g of the wireless network but also supports 11n/a of the signal interference resistance. As a result, the device may be connected to the wireless network through different channel. TV is connected to the wireless network through 11n/a while computer/game machine is connected to the wireless network through 11n/g that any device at home may realize the fast and convenient wireless network communication.
Maximum Wireless Coverage
WZR-HP-AG300H integrates two antennas (sending 2×receiving 2) to strengthen the signal transmission, elevate the wireless throughput by Approx. 2.2 times, surpassing the signal output capability of the existing 11n wireless router. Recommend this product to those who want to watch smooth HD video or are doubtful the communication speed of the wireless router.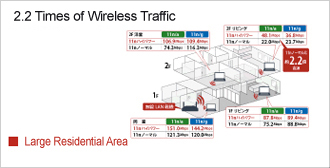 【Test Environment】
WindowsXP Pro +WLI-EXC-AG300N
High Power 11n Device: WZR-HP-AG300H, Ordinary 11n Device: WZR-AGL300NH
PC1:DELL Dimension2400(Celeron2.4GHz/Memory 512Mbyte)WindowsXP Home SP2 PC2:Fujitsu FMV-S8245 
WindowsXP Pro +WLI-EXC-AG300N
【Test Method】Wired connection PC1with Router, connection PC2 with router by wireless network card. Test the TCP data transfer rates from PC1 to PC2 in 10 seconds by Iperf Ver.1.70, WindowSize 128K , testing for 5 times and receive the average value of three times after removing the max. and min. value. (Test was carried out in June, 2010 by Buffalo)
Optimized antennas

With two antennas that can be adjusted for 270° horizontally and 90° vertically. Further adjust to the optimal signal transmission environment according to the place. If the place is unsuitable for opening the antenna, the antenna may be folded.
Compatibility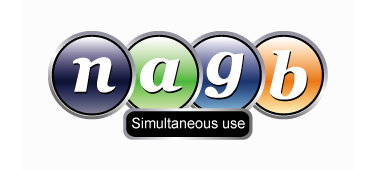 The wireless transfer rates up to 300 Mbps (theoretical value). Adopting MIMO (multiple-input-multiple-output) technology to receive and send signal by two antennas. Its high-speed performance obviously improves the transferring of high-quality image and the environment with obstacles.
Mixing usage of existing wireless devices supporting IEEE802.11a/g with transfer rates up to 54 Mbps (theoretical value) and IEEE802.11b with transfer rates up to 11 Mbps (theoretical value) due to simultaneous supporting 11n/a/g/b.
※The wireless network card shall also support the same specification when using 300 Mbps (theoretical value) for connection.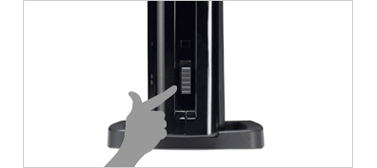 Only by using "Movie Engine•Switch" (ON/OFF) on the front panel of the main unit, the video to be played in the streaming media or network program may be easily set without any complicated operation in the Web management screen.
Program set by "Movie Engine•Switch" ON
● Alteration of wireless unicast rate
● Enable the automatic acquisition of Ipv 6
● Enable the alteration of multicast/unicast
● Give the communication appointed in the setting interface with priority
● Set the lowest limit of communication speed
Gigabit Ethernet
All equipped wired network interfaces (LAN×4, WAN interface×1) support the gigabit Ethernet (1000BASE-T) that 1000BASE-T connection with the computer with gigabit interface or NAS (network storage device) may be easily realized to create the 300Mbps wireless network & wired network. It accelerates the sending speed of the Ethernet and supports the "Jumbo Frame" elevating the transmission rate, and the high-speed performance of gigabit may be further strengthened .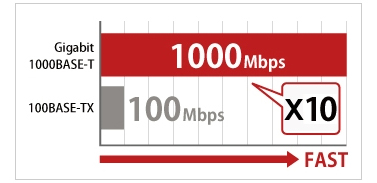 ※Frame Length: up to 16,000 Bytes, wire rate: 9,216 Bytes (Header + including FCS)
※If Jumbo Frame function is to be used, both network card and Hub of the PC shall support the Jumbo Frame function.
■Support suspension • horizontal placement
Support suspension • horizontal placement

The design is flexible. This product not only supports the traditional vertical placement but also supports the horizontal placement and is attached with the wall-mounting vertical base.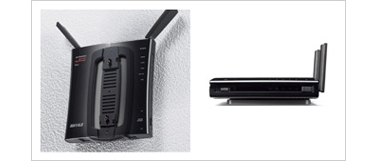 Easily connect a USB hard drive for easy file sharing,media streaming
The product contains a USB2.0 interface for the ordinary USB external hard drive, flash drive and card (SD card) reader. It can be used as an NAS device sharing the data of PC and digital product once connected to the USB external hard drive. It is easy to operate the USB external hard drive that it can be set as a small NAS for the home use. Only by connecting the USB interface without any complicated configuration, USB external hard drive may be used as an NAS device (applying for patent now).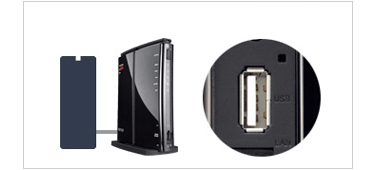 Usage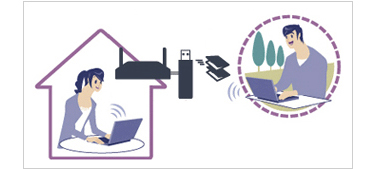 Connect USB storage to wireless router, the USB storage will be home server. You can access USB storage wherever you are at home or outside.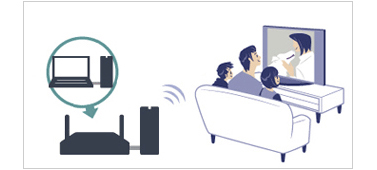 Transfer video from computer to HDD through USB cable. Connect HDD to wireless router, then you can enjoy home videos edited by computer through network TV set.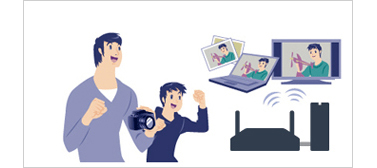 Store the pictures in digital camera to HDD connected to WZR-HP-AG300H from computer. You can use other computer to edit the pictures or play them through TV set .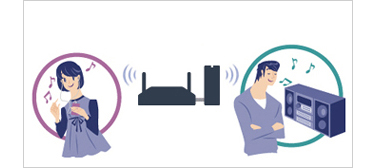 All music can be stored in HDD connected to WZR-HP-AG300H. The books and network music can be shared by multiple computers.

■ "Media server" function
"Media server" function
It stores files like movie, music and photo on the hard disk through the network and uses the built-in "media server" function to play the video file stored on the hard disk on the TV supporting the multimedia server.

■"WebAccess" function
■"WebAccess" function
It contains the WebAccess function to easily upload/download the hard disk data through the Internet even in the outdoor environment. It may casually play or edit the data at home in the journey, or share the video or photo with the friend far away at any time.
Model
Wireless Interface
| | |
| --- | --- |
| Standard Compliance | IEEE802.11n/a/g/b |
| Security | WPA2-PSK (AES,TKIP), WPA-PSK (AES, TKIP), WEP (128/64bit) |
| Transfer Rates | Max. 300Mbps(IEEE802.11n) Max. 54Mbps(IEEE802.11a, IEEE802.11g) Max. 11Mbps(IEEE802.11b) |
| Antenna | Internal anntena, 3x3 |
| WDS | Y |
Wired Interface
| | |
| --- | --- |
| Standard Compliance | IEEE802.3/3u/3ab |
| Speed and Flow Controll | 10/100/1000 Mbps (Auto Sensing) |
| Number of Ports | Internet : 1 x RJ-45 (Auto MDIX) LAN : 4 x RJ-45 (Auto MDIX) |
USB Interface
| | |
| --- | --- |
| Standard Compliance | USB 2.0 |
| Connector Type | A type |
| Number of Ports | 1 |
Key Feature
| | |
| --- | --- |
| Advanced QoS | - |
| Guest Port | |
| Beam Forming | |
| Parental Controls | |
| Wi-Fi Extender | |
| PPTP Server | Y |
| BitTorrent | Y |
| Media Server | Y |
| NFINITI HighPower Technology | Y |
| Dynamic DNS | Y |
| Energy Save | |
| MAC Address Clone | Y |
Other
| | |
| --- | --- |
| OS Support | Windows® 8 (32/64-bit), Windows® 7 (32/64-bit), Vista® (32/64-bit), XP Mac OS® X 10.8, 10.7, 10.6, 10.5, 10.4 |
| Power Consumption | 13.2W (Max) |
| Dimensions (LxWxH, mm) | 165 x 158 x 35 mm |
| Weight | 330 g |
| Operating Environment | 0-40°C, 20-85% (non-condensing) |
| Power Supply | AC 100-240V, 50/60Hz |
| Warranty | 3-year |
Package Contents
You can compare the specifications of the product in this page. Click the model which you want to compare and click the "Compare"button.