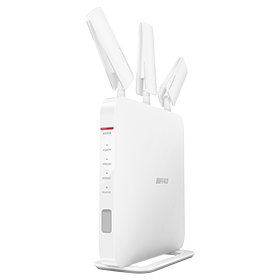 AirStation Extreme AC 1900 Gigabit Dual Band Wireless Router
WXR-1900DHP
Buffalo's AirStation Extreme AC 1900 Gigabit Dual Band Wireless Router offers high speed dual band wireless connectivity, delivering the latest in Wi-Fi technology. Ideal for high bandwidth applications, it's equipped with two wireless radios and HighPower Technology for extreme performance and range.











- Next generation wireless 802.11ac
- Speeds up to 1900 Mbps (AC1300 + N600)
- Allows up to 4 simultaneous gigabit wired connections
- Simultaneous dual band operation
- HighPower technology improves coverage and reduces or eliminates dead spots
- Implicit Beamforming optimizes signal energy for enhanced operation
- Simple to install and use - even for the novice user
- Configure with smartphone and tablet devices
- Wireless security - AOSS/WPS support
- Use with smartphone and tablet devices
- Web Filtering and Parental Control by Symantec™ restricts unsafe content
- Priority Control QoS automatically prioritizes traffic according to user's preference
- USB 3.0 accessory port for NAS and USB 2.0 for printer capabilities
- Backwards compatible with 802.11n/a/g/b devices
- Configure as an access point or wireless bridge
NEXT GENERATION NETWORKING
802.11ac is the latest wireless standard offering speeds up to 3X faster than 802.11n. Operating in the 5 GHz spectrum, 802.11ac offers transfer speeds up to 1300 Mbps, ideal for uninterrupted HD video streaming and concurrent internet access.
Dual 5 GHz and 2.4 GHz bands allow simultaneous connection of more devices

The WXR-1900DHP HighPower wireless LAN router supports 802.11ac 1300 Mbps + 802.11n/g/b 450 Mbps high-speed transfers. This capacity for high-speed communications enables full use of the high transfer rates available with fiber optic and other high-speed circuits, making downloads, large file transfers, playback of high-Vision video, and other data transfers over the Internet easier and more enjoyable.
Access your NAS at Gigabit speed. Optimal for 1 Gbps fiber optic services.
All of the WXR-1900DHP's wired LAN ports (4 LAN ports and 1 Internet port) support Gigabit Ethernet (1000BASE-T), allowing Gigabit connections with computers equipped with Gigabit LAN ports and with TeraStation and LinkStation networked hard disk drives (NAS). This intelligently forms high-speed 1300 Mbps wireless LAN and wired LAN networks. This router is also compatible with Jumbo Frames, larger Ethernet data packets used to increase the efficiency of transfers over networks. This enables fuller utilization of Gigabit transmissions. The WXR-1900DHP's effective wired throughput is 939 Mbps with DHCP and 916 Mbps with PPPoE, for trouble-free Internet connections for wired devices as well.
"Moving" feature enables you to use the same SSID and password that are already input on your devices

Beamforming for a stress-free environment and greater Wi-Fi stability
The WXR-1900DHP supports beamforming, a technology that determines a client device's position and distance to allow direction of wireless signals with pinpoint accuracy, even in environments containing numerous homes and other reception-blocking obstacles. This concentrates the radio signal only on the necessary terminals, boosting transfer speeds and improving stability.
* Requires client-side support for beamforming.

WiFi range is amplified by the three external anntenas, expandable to any direction.

"Multi Security" Function Allows Use Mix of Different Wireless LAN Encryption Levels
The WXR-1900DHP supports WPA2-PSK (AES), WPA-PSK (AES), WEP, and WPA2-mixed (AES, TKIP) encryption. This allows use of a mix of encryption levels without downgrading any device's encryption level, even when connecting devices compatible only with lower encryption levels.

Changing advanced settings is simple?anytime, anywhere
Renewing the UI administrator screen makes control from smartphones and tablets a snap. Want to make a guest port temporarily available for a visitor? It's simple and easy, all with a single smartphone.

Network Admin Screen Even Easier to Use

Prioritize your data and set up your network environment the way you want
"Priority Control QoS" for Uninterrupted Media Streaming
Automatically prioritize your media and entertainment traffic for uninterrupted streaming and lag-free gaming. Best in class features and support for multiple video, audio, gaming, voice and data services provides unharnessed potential for streaming and entertainment possibilities.

Now Everyone Can Share USB Hard Drives and Printers
Dual USB ports for simultaneous HDD and printer connections
The WXR-1900DHP is equipped with one USB3.0 port and one USB2.0 port. This allows you to simultaneously connect and share an external hard drive or other USB3.0 compatible device and a printer or other general USB device.

Connect a printer to the USB 2.0 port for shared use
You can connect a USB-compatible multifunction printer and allow a number of computers to share the MFD/P, all without any need to move any of the computers or the MFP/D.

Connect a hard drive to the USB 3.0 port to create a high-speed NAS
AirStation Extreme AC1900 is equipped with a USB 3.0 port for connecting a USB external hard drive, USB flash drive, SSD or card reader (for SD or other cards) and USB 2.0 port for connecting a printer. Connecting a USB hard drive to the USB 3.0 port turns the drive into a networked drive (NAS), allowing users to share data on computers and digital home electronics. With an inexpensive USB flash drive connected, it is also easy to set up a low capacity home server - no difficult settings required.
Web Filtering and Parental Control
Powered by Norton™, this added level of security easily filters unsafe and restricted content for worry free web surfing the whole family can enjoy.
Relay signals even from other manufacturers' or older wireless LAN routers. Connect with just one touch.
The WXR-1900DHP can also be used to relay/repeat signals from other manufacturers' wireless LAN routers and from older products. Connecting the wireless LAN router you've already been using is also simple. Just press the WPS button or AOSS button on the other router and the WXR-1900DHP to create a secure relay, with no need to change the router's settings. Use it the same way you always have.
* The relay function allows connection of up to two connections, including the router and the relay.
* Multi Security can also be used when the WXR-1900DHP is set up as a relay by connecting it to a wireless LAN access point.
* Use of the relay function requires a transmission source wireless LAN router that supports WPS or AOSS.
* Use of the relay function requires a transmission source wireless LAN router that supports 802.11na or 802.11ngb.

Connect your wired device wirelessly with wireless LAN client feature
You can connect a wired device to the WXR-1900DHP's wired (Ethernet) port and use the router to function as a wireless LAN client device, which allows you to connect your wired device to your wireless network. If the wired device has a Wake On LAN (WOL) feature, the device can be powered up remotely through the wireless network. If you have a VPN network, you can also turn on the WOL-endabled device from an external location.
With the purchase of two WXR-1900DHPs, you can use one WXR-1900DHP as a router and one as a client and enjoy the high-speed wireless LAN communications that 801.11ac provides.

Other Features
Guest port function optimal for connecting visitors' computers and smartphones

The WXR-1900DHP features a "Guest Port" function allowing visitors to connect their own computer or smartphone to the WXR-1900DHP wirelessly, but for Internet access only. Access to the household's network is denied, household members can continue using the network without concern. Users can connect not only via SSID or authentication keys, they can alternatively select the easy-to-use Web Authentication feature?just launch the browser, enter User ID and password, and that's it.
Use your home computer while away

Connecting to the home network from outside the home users what called "remote access"(Virtual Private Network, or VPN). Using remote access, you can run the household computer remotely with remote desktop feature and transfer data with all computers, NAS, and other devices on the network, making the home network even more useful. This results in an more convenient network experience, for personal as well as business use.
Media server serves up movies, music, and photos
The WXR-1900DHP supports "Media server", a feature you can use to enjoy movies, music, and photo files stored on the hard disk through networks TVs, audio systems, and other digital home electronics as well as BUFFALO's LinkTheater or other video players connected to the same network. See how simple it is view your home HighVision/HD videos and download movies on your living room's wide-screen TV.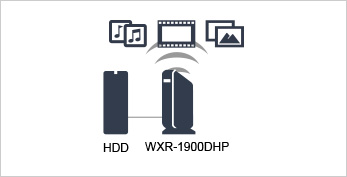 "WebAccess" lets you access data on your hard drive while away
The "WebAccess" function lets you upload and download data to and from your hard disk over the Internet. This comes in handy in a variety of situations, such as when playing back or editing data on the home hard drive while you are traveling or sharing videos and photos with family and friends who live far away.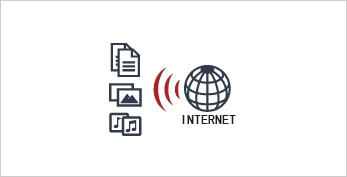 BitTorrent downloads without a computer
This router comes with "BitTorrent" file download client software, now used widely throughout the world. Connect a hard disk drive to the "WXR-1900DHP" and automatically download and save huge files to the connected drive, with no need to keep the computer on.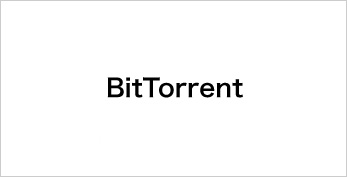 "HDD power-saving function" reduces hard disk energy consumption
The "HDD power-saving function" automatically puts the USB-connected hard disk to sleep when the drive is not used for an extended period. This cuts wasteful power consumption and noise for greater savings and increasing comfort. The disk automatically wakes when any data is accessed, so use is stress-free.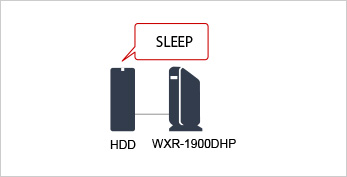 Hardware Overview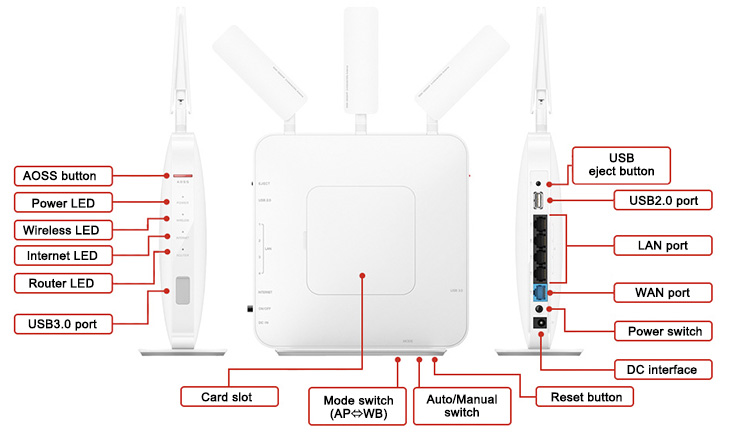 Dimensions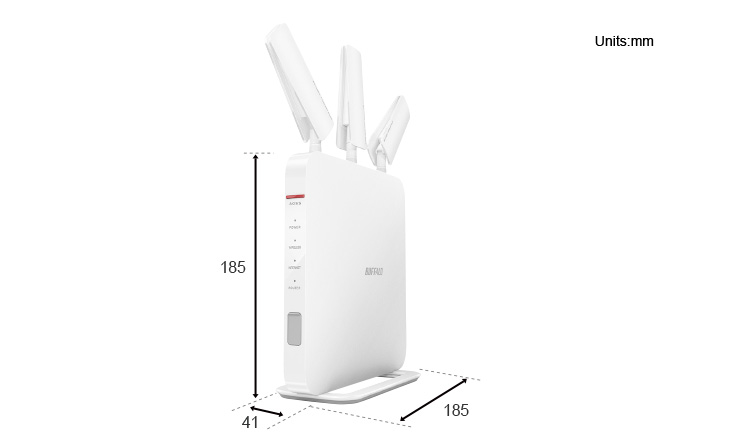 Model
Wireless Interface
| | |
| --- | --- |
| Standard Compliance | IEEE802.11ac , IEEE802.11n/a/g/b |
| Security | WPA2-PSK (AES), WPA-PSK(AES), WPA/WPA2 mixed PSK(TKIP/AES mixed), WEP (128/64bit) |
| Transfer Rates | Max. 1300Mbps(IEEE802.11ac) Max. 450Mbps(IEEE802.11n) Max. 600Mbps(IEEE802.11n 2.4GHz TurboQAM) Max. 54Mbps(IEEE802.11a, IEEE802.11g) Max. 11Mbps(IEEE802.11b) |
| Antenna | External anntena, 3x3 |
| WDS | - |
Wired Interface
| | |
| --- | --- |
| Standard Compliance | IEEE802.3/3u/3ab |
| Speed and Flow Controll | 10/100/1000 Mbps (Auto Sensing) |
| Number of Ports | Internet : 1 x RJ-45 (Auto MDIX) LAN : 4 x RJ-45 (Auto MDIX) |
USB Interface
| | |
| --- | --- |
| Standard Compliance | USB 2.0 / USB 3.0 |
| Connector Type | A type |
| Number of Ports | 1 x USB 2.0 / 1 x USB 3.0 |
Key Feature
| | |
| --- | --- |
| Advanced QoS | Y |
| Guest Port | Y |
| Beam Forming | Y |
| Parental Controls | Y |
| Wi-Fi Extender | Y |
| PPTP Server | Y |
| BitTorrent | Y |
| Media Server | Y |
| NFINITI HighPower Technology | Y |
| Dynamic DNS | Y |
| Energy Save | Y |
| MAC Address Clone | Y |
Other
OS Support
Windows® 10, Windows® 8.1 (32/64-bit), Windows® 8 (32/64-bit), Windows® 7 (32/64-bit), Vista® (32/64-bit), XP
Mac OS® X 10.9, 10.8, 10.7, 10.6, 10.5, 10.4
Power Consumption
27.8W (Max)
Dimensions (LxWxH, mm)
41 x 185 x 185 (Exclude antennas and a stand)
Weight
549 g (Exclude a stand)
Operating Environment
0-40°C, 10-85% (non-condensing)
Power Supply
AC 100-240V, 50/60Hz
Warranty
3-year
Package Contents
Contents
AirStation™ Extreme AC 1900 Gigabit Dual Band WXR-1900DHP
Stand
Antennas
LAN cable
AC adapter
Quick Setup Guide
Warranty statement
WXR-1900DHP / 2015-10-02

Product Datasheet

Download
You can compare the specifications of the product in this page. Click the model which you want to compare and click the "Compare"button.