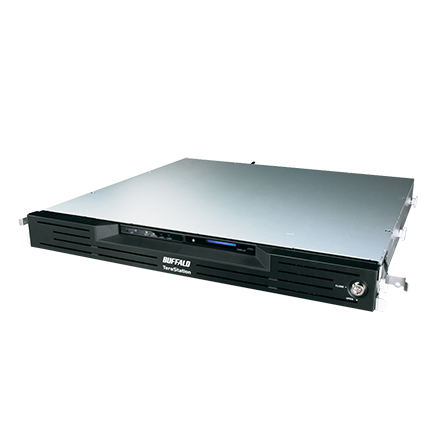 High-Performance Quad-drives RAID NAS Powered by Windows®
WS-RVL/R5
This product keeps the high performance of TeraStation series, powered by Windows Server® 2008 R2 optimized from Windows Server OS. The product can be used as file sever/data storage for Windows®. Perfect compatibility to original Windows®, all kinds of functions can be used in Windows Server® 2008 R2. Compared with previous Windows Server® 2003 R2, the product supports iSCSI, hardware system upgrade and sharing protocol SMB2.1, backup software and hard drive encryption support realizes the high performance. Besides, increasing functions by using relevant software.
WS-RV4.0TL/R5(4TB)
WS-RV8.0TL/R5(8TB)





TeraStation Pro Rackmount WSS provides high performance four hard drives RAID based network storage in 1U Rackmount from factor. Powered by Intel Atom D510 dual-core processor with 2GB memory, TeraStation Pro Rackmount WSS provides class-leading performance, enabling faster read/write performance and concurrent access from multiple computers. TeraStation Pro Rackmount WSS, powered by Windows Storage Server 2008 R2 Standard Edition, provides seamless capability with windows computers and servers. Active Directory support provides easy integration and user/group management in larger Windows network. Replication synchronizes files and folders between two TeraStation to protect important data. As disaster recovery, DFS Replication even allows data synchronization of TeraStations in remote locations via Internet. SIS, Single Instance Storage, avoid overlap of identical file and save capacity usage when duplicating a file.
Optimal file server for use in Active Directory environments

TeraStation Pro WSS employs the Windows Storage Server 2008 R2 (Standard Edition) , comprising a more focused and limited set of functions from the Windows Server OS. It can be incorporated as an optimal low-cost, affordable file server/data storage for Windows environments.
Highly compatible with existing Windows environments, this unit gives you use of the
abundant functions only available with Windows. The iSCSl support, improved hardware specs and SMB2.1 file protocol provide high performance operation.
Further functions include addition of improved backup features, iSCSl storage compatibility, disk encryption, and more. Compatible software can also be used to simplify addition of further functions.
Functions available only with Windows Storage Server 2008 R2 Standard Edition
•Joining Active Directory makes administration more efficient. Allows unlimited users and groups

TeraStation Pro WSS uses the account information registered in the Active Directory server to control access to files and folders stored on the unit. This means the it requires no separate account management. In addition, the server can accommodate an unlimited number of registered users and groups, so it can be used even in large-scale environments. Active Directory centralizes management of account information, which vastly reduces the work of setup and administration, even with systems using multiple units.
•Shared Folder Shadow Copy function enables restoration of data, even data accidentally delete by users

Copies of the shared folder can be created automatically according to administrator-specified schedules. if a user accidentally deletes a file, the user himself can use Explorer or a major Microsoft Office application* to directly restore the deleted file to when last saved.
*Use of Shared Folder Shadow Copy requires the client computer running Windows XP SP2 or later.
•SIS (duplicate file remover) function
Using the SIS function allows you to avoid automatically making duplicate files with identical content, which helps conserve disk space. When an identical copy of a file is created in the target SIS volume, the source file is copied to a special folder (that only the system recognizes) and a link file is created. If the file is opened from the link and changes are made, the files is not considered to be the same data, the link is broken, and the data is saved as a separated file.

•Includes DNS Server and WINS Server functions

The WS-RVL/R5 provides a DNS server function and WINS server function. Under this arrangement, the DNS resolves the hostname, and the WINS resolves the NetBIOS name. Name can be still resolved with the WS-RVL/R5 itself, even without setting up any separate DNS server or WINS server.
•RODC function
You can use the RODC (read-only domain controller) function to build an environment suitable for making use of Active Directory database read—only partitions. This function is intended for use in relatively small-scale environments.
Enhanced transfer speeds
•Dual-core CPU and 2GB memory make transfer of large amounts of data faster

TeraStation Pro WSS runs on the dual-core, high clock speed Intel Atom D510 processor with 2GB of memory for superior performance. This is a perfect solution for offices that use large amounts of data or have numerous computers connected, or in any situation where processing speed is critical.
*Testing conducted by BUFFALO, March 2012
<Devices> [PC] CPU: Intel Celeron P4500 (1.86 GHz), Memory: 2GB, OS: Windows 7 Home Premium 32 bit [NAS] WS-QV4.0TL/R5 (RAID 1 setting) <Measurement method> The WS-QV4.0TL/R5 was connected via LAN to a the computer, and sequential writing was measured in five tests using benchmarking software (CrystalMark 2004R3 (Ver. 0.9.126.451)
*Measured values were obtained in a specific test environment; this does not necessarily guarantee similar results can be achieved in all operating environments.

*Testing conducted by BUFFALO, March 2012
<Devices> [PC] Dell Studio XPS 8100, CPU: Intel Core i7 (2.93 GHz), Memory: 4 GB, OS: Windows 7 Home Premium 64 bit [NAS] WS-QV4.0TL/R5 (RAID 5 setting) <Measurement method> With 3 computers simultaneously accessing the NAS, sequential reading was measured using benchmarking software (IOmeter 2006.7.27)
*Measured values were obtained in a specific test environment; this does not necessarily guarantee similar results can be achieved in all operating environments.
•Features USB 3.0 ports for faster backups to external hard drives

Duration of backup time to external hard drive from TeraStation Pro WSS via USB 3.0 is 1/3 of via USB 2.0. For instance, 800GB backup completes in approximately 8 hours.
*Testing conducted by BUFFALO, March 2012
<Devices> [NAS] WS-QV4.0TL/R5 (supporting USB 3.0), WS-Q4.0TL/R5 (supporting USB 2.0) [EXTERNAL HDD] HD-WL2.0TLU3/R1
<Measurement method> The time to copy 1,000 800KB files to the external hard drive was measured, up to deletion of the file transfer dialog.
*Measured values were obtained in a specific test environment; this does not necessarily guarantee similar results can be achieved in all operating environments.
Multiple backup options, and RAID enhance safety and reliability
For terabyte-class data protection, we recommend the "Replication" function, which saves the data to two independent WS-RVL/R5 units. Systems utilizing the Replication function offer greater reliability and superior availability-if one of the WS-RVL/R5 units happens to fail, the system can be rebuilt simply by replacing the cable to the other WS-QVL/R5.
* [Models confirmed to support the replication function]
WS-WVL/R1 Series, WS-QVL/R5 Series, WS-RVL/R5 Series, WS-WVL/R1 Series, TS-8VHL/R6 Series, TS-6VHL/R6 Series, TS-QVHL/R6 Series, TS-RVHL/R6 Series, TS-WVHL/R1 Series, TS-XL/R5 Senes, TS-RXL/R5 Series
•Normal operation (replication mode)

There are two LAN ports equipped on the unit. One is connected to the network, and the other is connected to the backup NAS. Data written to the main unit is backed up in file units (updating a file triggers saving and deletion on the main unit).
*You can specify individual shared folders for backup. Up to a maximum of 32 shared folders may be specified.
•Failure of the main unit

After opening the web settings screen for the backup and WS-RVL/R5 changing the settings, the backup device can be used as the main unit.
*Settings and other types of information other than the files themselves are not replicated.
•Rebuilding replication

The repaired WS-RVL/R5 is connected as a backup to the LAN port of the unit currently being used as the main drive. The replication settings are reconfigured, synchronizing the data on the main and backup drives and returning the setup to normal replication mode.
•DFS Replication allows you to save data to a remote location via the network

TeraStation Pro WSS supports "DFS Replication," which allows you to back up files to a WS-RVL/R5 in a different location via the network. Backing up data to a remote location via the Internet protects your data, even when there is a breakdown locally. Even if a natural disaster or other such major problem occurs at the head office, the backup data in the remote locations allow to recover data.
*Difficulties in backing up may occur in some network environments. We recommend that the system be evaluated and verified in advance.
*Use of this function requires Active Directory on Windows Server 2003 R2 or later. In addition, the two WS-QVL/R5 units must be located in the same forest.
RAID Mode Comparison Table

*The WS-QVL/R5 is set to RAID 5 mode when shipped.
*While RAID 5 and RAID 1 are effective for data protection, this does not mean that complete protection is guaranteed. Please be sure to back up your important data.
•Backup functions allow detailed settings (Using Windows Backup)

Advanced backup settings let you back up your important data in accordance with your needs.
Backup destination
- Other WS-RVL/R5 on network, or external HDD connected to USB port
If the WS-RVL/R5 you normally back up files to fails, you can access the saved data either by connecting to the backup WS-RVL/R5 or connecting the backup USB HDD to the computer and reading the data.

Backup destination task settings
(up to 32 separate tasks can be programmed)
- You can use the schedule function to set day of week and time settings for tasks.
This enables You to perform regular scheduled backups automatically.

Setting for the hidden shared folders
- Read-only setting, password setting
- You can modify the backup settings to keep the backup WS-RVL/R5 from being invisible on the network, allowing you to prevent loss of data due to unauthorized overwriting and modifying.
Use as iSCSI storage of file servers or virtual server
The iSCSl standard enables data to be transmitted over a network (LAN) by encapsulating SCSI commands using the TCP/IP protocol. TeraStation Pro WSS supports iSCSI Software Target 3.3. While connected to the network (LAN), TeraStation Pro WSS is recognized as a local disk, just like a USB hard drive or other hard drives. The unit is recognized once the "initiator" is installed on the computer or server.
*The initiator is pre-installed on Windows 7/Vista/Server 2008, Windows XP/Server 2003 initiator can be downloaded free of charge from the Microsoft website.
•Perfect as for additional storage of file server

You can use TeraStation Pro WSS as an additional storage when server capacity runs low. Since it's connected to the LAN, it can be set up nearly anywhere.
•Use as storage of virtual servers
It is ideal as additional storage of virtual servers. Mirroring with two of this NAS units creates a system with even greater redundancy.
Robust fault tolerance and highly reliable design
•Hot-swappable hard disk drive

The internal drives are hot-swappable, so they can be replaced in the event of a hard drive failure, with no need to switch off the power. It is designed to minimize effects on the system when disks are replaced. The RAID array absent the failed hard drive allows the system to be used as usual, even while the drive is being replace, so there is no extra obstacle to normal business operations.
•Extremely reliable hardware
The design of the unit and ventilation fan help ensure air flow, which is critical in holding down temperatures inside the case. The fan used is very quiet. It also monitors temperatures within the case and automatically regulates the fan speed for quiet yet effective cooling.

Utilizes specially designed, highly reliable power supply unit
The components are rigorously designed to handle high-temperature environments and extended operation. The highly reliable power supply withstands even continuous 24-hour-a-day use. BUFFALO recommend confidently to even business users with systems running for long hours.

Front panel dust filter
The filter prevents dust from getting inside the unit, which reduces the load on the fan and contributes to more stable operation.

*This product is primarily designed for use in office environments. It does not intended to completely remove all dust from the air. It is not intended for use in factories, on construction sites, and other environments generating large amounts of dust.
•Linked with UPS
The unit can run off of an APC or Omron UPS (uninterruptible power supply). This helps prevent data loss and other troubles that can occur during momentary power interruptions, tripped circuit breakers, and other unexpected power outages. In addition, the UPS can safely shut down the unit if there happens to be an interruption in the outside power supply. The UPS should be connected to the D-sub 9-pin communications port or USB port.
Advanced administrative functions from security to operations
•Advanced TeraStation access administration
Group administration function provides flexibility and rigorous security

Read-only and read-write attributes can be set for the individual folders and files residing on the unit. You can also restrict access to shared folders for groups and users individually for secure, efficient data management.
Quota function allows setting of users' available capacity

File server resource managers can set and manage the amount of storage capacity, in folders and volumes. Managers can also set NTFS quotas*, providing users and groups the appropriate amount of disk space while preventing any one user or group from making excessive use of the hard drive.
*Volume must be formatted for NTFS.
Offline File function is convenient for mobile computer users
Although shared folders cannot be accessed when not connected to the network, the unit does support the "Offline File" function included in Windows Vista/XP/2000 and Windows Server 2008/2003. This function enables users to access folders and files even when you are offline, just as if they were connected to the network. Files can be referred to and changed (changes in files are synchronized between the computer and the unit the next time the user connects to the network).
•Security slot to guard against theft

A security slot is provided on the rear panel. Used with other security products, this feature is helpful in preventing theft of the unit in stores and offices.
Simple setup and recovery functions
Once you've got this NAS in place, setting it up is a breeze with the special setup utility. "NAS Navigator 2," included with the unit, automatically detects and accesses any NAS on the network, right from your computer. Just click on the NAS icon shown in the NAS Navigator 2 window-you can then connect to the remote desktop and access shared folders.
•Includes USB memory for recovery.
Recovering from failure simply and quickly

This unit includes a Utility USB memory stick that comes in very handy in recovering from unforeseen failures. In the event of a failure, set the USB/HDD boot switch on the rear panel to "USB," insert the USB memory in the USB port, and switch on the power to restore the unit to its default factory settings. This lets your recover from
failures quickly and easily, without the need for any display, mouse, keyboard, or any other devices.
*Only the OS is recoverable. Settings and data cannot be recovered.
•LCD panel displays status and information
The LCD panel on the front of the unit indicates IP addresses, and error status.
Rack-mountable

This rack-mounted model can be mounted in any conventional TIA/EIA-310-D standard 19-inch rack. Keeping related devices and cables together in the same place simplifies connections with other equipment and facilitates centralized management and administration. Furthermore, keeping the WS-RVL/R5 mounted in a rack helps prevent theft of the unit. The rack mount hardware is included as a standard accessory. The unit is ready to mount upon purchase.
•Convenient features packed in a slim body
The front panel features an LCD display that provides a quick and ready grasp of the unit's operational status. When an error occurs, the LCD indicates this by displaying a message backlit in red, while an alarm is also sounded. on the front of the WS-RVL/R5 indicates IP addresses, error status messages, and other information. The rear panel also features a rear identifier LED. Pressing the button on the front panel causes the LED to light. This is convenient during maintenance of systems with multiple devices mounted in a rack. The unit also features a high airflow cooling fan at each side of the rear panel. These fans are highly effective, even when the unit is rack-mounted. Efficient heat dissipation helps ensure stable operation and superior reliability.
•Easy installation

Mounting the unit in a rack is simple. Just attach the rails, connect the WS-RVL/R5, and secure it with the screws.
Other features
•Use of two LAN ports enables access to each segment to be managed separately

This NAS is equipped with two LAN ports, enabling access from each segment to be managed separately. Unrelated divisions are prevented from connecting to each other's networks, while being allowed to access the data stored on their own WS-RVL/R5.
•Print Server function

This NAS includes the "Print Server" function that lets multiple computers share a single printer through the network. This allows printers, even those without any Ethernet ports, to be used as networked printers.
*Only compatible with Windows.
*Duplex communications for printers is not supported.
*Function is not guaranteed to work with all printers.
*Only one printer may be connected to the USB port.
Model
Hardware
| | |
| --- | --- |
| Type | Rackmount |
| OS | WSS2008R2 SE |
| CPU | Intel Atom D510 |
| Clock | 1.66GHz |
| Memory | 2GB |
Internal Hard Drives
| | |
| --- | --- |
| Number of Drives | 4 |
| Drive Interface | SATA II |
| Supported RAID Levels | 0, 1, 5, JBOD (Normal) |
| Drive Capacity | WS-RV4.0TL/R5(4TB) WS-RV8.0TL/R5(8TB) |
LAN Interface
| | |
| --- | --- |
| Standard Compliance | IEEE802.3/3u/3ab |
| Speed and Flow Control | 10/100/1000 Mbps (Auto Sensing) |
| Number of Ports | 2 x RJ-45 (Auto MDIX) |
USB Interface
| | |
| --- | --- |
| Standard Compliance | USB 2.0 / USB 3.0 |
| Connector Type | A type |
| Number of Ports | 2 x USB2.0 / 3 x USB3.0 |
UPS Interface
| | |
| --- | --- |
| Standard Compliance | D-Sub 9pin |
| Number of Ports | 1 |
Other Interface
Key Feature
| | |
| --- | --- |
| iSCSI | Y |
| IP Camera | - |
| Redundant Power Surpply | - |
| Hot Spare | - |
| Hot Swap | Y |
| Replication | Y |
| Failover | - |
| Amazon S3 | - |
| Port Trunking | Y |
| Disk Quota | Y |
| Virus Scan | - |
Protocol Support
| | |
| --- | --- |
| Networking | TCP/IP |
| File Sharing | CIFS/SMB, AFP, HTTP/HTTPS, FTP/FTPS, SFTP |
| Directory Integration | Active Directory |
| Management | HTTP/HTTPS |
| Time Synchronization | NTP |
Other
| | |
| --- | --- |
| Client OS Support | Windows® 7 (32/64bit) Windows Vista™ (32/64bit), Windows® XP, Windows® 2000, Windows® Server 2003, Windows® Server 2008, Mac OS® X 10.4 - 10.7 |
| Power Consumption | 140W (Max) |
| Dimensions (LxWxH, ) | 430 x 44.3 x 420 |
| Weight | 9kg |
| Operating Environment | 5-35°C, 20-80% (non-condensing) |
| Power Supply | AC 100-240V, 50/60Hz |
| Warranty | 3-year |
Package Contents
Contents
TeraStation Pro Rackmount WSS(WS-RVL/R5)
LAN Cable
AC Cable
Mounting Rail Kit
Front Panel Key
Utility Media(USB Memory)
Quick Setup Guide
Warranty Statement
You can compare the specifications of the product in this page. Click the model which you want to compare and click the "Compare"button.