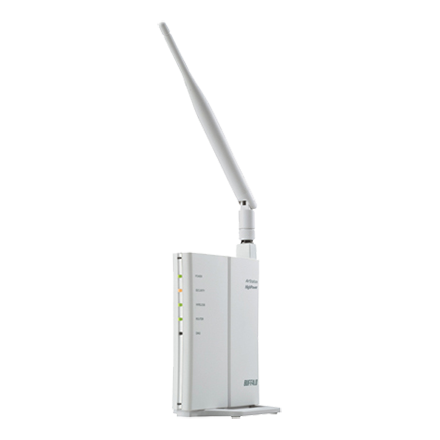 150 Mbps High Power Wireless Broadband Router
WCR-HP-GN
WCR-HP-GN is a high power wireless router adapting 11n technology 150 Mbps (standard value) and supporting 11g/b wireless network card. It is provided with High Power design and 5dBi removable antenna in order to effectively improve the single receiving and sending effect. Simply apply in the personal computer and game machine with Buffalo is AirStation One-Touch Secure System™ (AOSS™). Compact size is suitable to be placed in any environment




Wireless broadband distributor supporting 11n technology/11g/11b
WHR-HP-GN is a high power wireless router adapting 11n technology 150 Mbps (standard value) and supporting 11g/b wireless network card. Simply apply in the personal computer and game machine with Buffalo's AirStation One-Touch Secure System™ (AOSS™).



※"300Mbps" "54Mbps" "11Mbps" are the max. theoretical value of wireless network standard , not the actual data transfer rates.
Small High Power Wireless Router Supporting 11n Technology
Support 150 Mbps Transfer Rates
Small size with 11n technology, The transfer rates up to 150 Mbps when used with Buffalo's wireless network card with same specification.
※150Mbps is theoretical value, the actual transfer rates vary from traffic and operating environment including network traffic, building materials, structure and etc.
High Power Technology
Support BUFFALO exclusive HighPower technology, extended range and performance of your wireless network.
High Power 5dBi Removable Antenna
Attached 5dBi high-gain removable antenna, be adjusted for 360° horizontally and 180° vertically. Adjust the antenna according to the environment for the most proper receiving and sending effect of the place. The antenna can also be folded to save the space in view of factors like environment or position.
Simple Installation and Easy Setting
"AirNavigator" allows you to simple installation
BUFFALO AirStation™ Series is attached with installation CD and online software which allows you to simple installation and setting.
Attached software "Client Manager3"
Client Manager 3 is suitable for users while on the go
Feature network configuration file storage. It will automatically determine connected AP when you start computer next time after login the configuration file. Besides wireless LAN setting, IP address or Porxy setting also can be automatically switched. It is a convenient feature for users often moving between home, company and on the go.
Features of ClientManager3
1."AOSS™" wireless network connection and setting
2.Store network configuration files。
All information related to previous connection will be stored in "Configuration file" .
Automatically switch setting according to your usage location when using next time. No need to re-setting.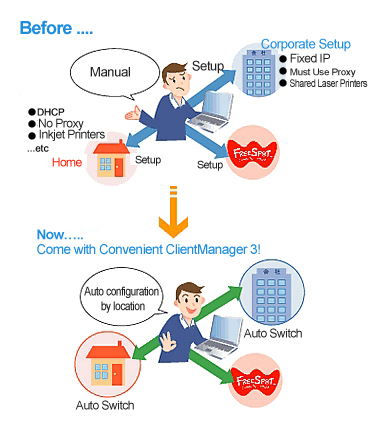 Clear WEB Setting Screen
Simple and clear setting screen. Help information will be shown on the screen allows you to confirm the content and explanation of every item. Easy for setting.

Wireless network encryption and intensification
AOSS™(AirStation™ One-Touch Secure System)
AOSS is a quick and simple wireless network connection and encryption setting tool (AOSS™ area)
Point1:Complete connection setting with the push of a button
Only need to press the AOSS™ button on wireless AP and network card (on the screen) without complex setting.
Point2:Complete encryption setting with the push of a button
Automatic setting the best encryption according to your network card.
Encryption method compatible to AOSS™: WPA-PSK(AES、TKIP)、128/64-bit WEP
Support the latest wireless setting
WPS (Wi-Fi Protected Setup) is the simple wireless LAN setting mode of the industrial standard drafted by Wi-Fi Alliance. WPS consists of two modes, namely, pushbutton and PIN code, both of which are supported by this product. Even the product of different manufacturers may be simply set.
※This mode only supports Windows Vista™.。
※To connect by AOSS/WPS. The base station and wireless network card must support AOSS/WPS.
Support strong encryption "WPA2"
WPA2 is a stronger security specification of wireless network drafted by Wi-Fi Alliance in September of 2004. It uses the encryption mode that cannot be cracked currently that the user may use the wireless network at ease.
What is AES?


It radically improves RC4 encryption, which is regarded as one reason of the fragility of WEP that it is a superior technology
The most security encryption method used by USA government.
It also supports the earlier encryption mode
It supports earlier encryption modes including "TKIP" or "WEP (64/128bit)" to select the proper encryption mode according to your network device.
It may realize the mixed encryption of WEP, TKIP and AES
It contains the "Multi Security" function that once AOSS is pressed, it will automatically select the highest level of encryption according to the encryption level supported by the device. It may realize the mixed encryption of AES, TKIP and WEP.

※Some devices may have to alter the setting

Set WEP encryption device which can not connect with AES/TKIP encryption devices
Set on WEB setting screen to make low WEP encryption device which can not connect with AES/TKIP encryption devices. Ensure you to safe usage of internet .

※Only support router mode.
Various firewall functions
SPI (Statefull Packet Inspection) Feature
This is a high-security packet confirmation function. It confirms the packet content before receiving the data and closes the transmission dock after the transmission to effectively prevent the malicious packet.
Packet Filtering Feature
It makes the corresponding outlet for the user to transmit the data and separately prepares a new inlet when the server makes response to significantly reduce the possibility of being intruded. It closes all inlets after the communication or there is no response for a certain period.
VPN Multi-path throughFeature


It supports VPN (Virtual Private Network realizing confidential transmission and Tunneling function by PPTP technology) to enable you to safely connect or access the internal LAN of the company from your home or the wireless Internet。
Due to the Multi-path through function, it may use multiple VPN sessions (supporting PPTP).

※VPN Multi-path through function transmits the encrypted data through VPN but not executes the VPN encryption.
Support WDS feature
It supports the wireless relay function to connect many products in a wireless way to enlarge the service range of wireless network.
※WDS function supports products of WHR-G300N-TW(V2), WHR-HP-G300N, WZR-HP-G300NH, WHR-HP-GN, WCR-GN, and WCR-HP-GN. Other models of product do not support this function.
※The main AirStation may only communicate with two slave units.
Complete and convenient router function
Support UPnP
It supports the UPnP (Universal Plug and Play) specification that connects the peripheral device of the computer through the network. It may use Windows Messenger on many computers and supports video communication of Windows Messenger and NetMeeting.

※Since NetMeeting does not support UPnP, it connects only one computer at the same time.
DMZ(DeMilitarized Zone)
It may utilize the network game or stream playing software
DHCP Server Feature
It contains the function of automatic distribution of DNS or Gateway. Other than the convenience of network management, it may be set as the user of DHCP with any other DHCP server.
Dynamic IP Masquerade function
It may convert a Global IP address to the IP Masquerade of multiple Private IP addresses.
Built-in DDNS matching function
The built-in dynamic DNS matching function may prevent the problem that the dynamic IP fails to remotely connect with the network, and it becomes more convenient to use in cooperation with other remote connection functions.
Support to alter MAC Address
Part of CATV use "MAC Address record type" Cable Modem, and this function enables you to use without altering the Cable Modem setting.
Other features
Comply with specific hazardous substance restriction directive "RoHS Norm"


The product complies with restriction instruction of the use of specific hazardous substance in electrical and electronic equipment "RoHS Norm" implemented by EU countries from July 2006.
Substances prohibited in "RoHS Norm":
Pb lead, Cd cadmium, Hg mercury, Cr 6 + hexavalent chromium, PBB
Model
Wireless Interface
| | |
| --- | --- |
| Standard Compliance | IEEE802.11n/g/b |
| Security | WPA2-PSK (AES,TKIP), WPA-PSK (AES, TKIP), WEP (128/64bit) |
| Transfer Rates | Max. 150Mbps(IEEE802.11n) Max. 54Mbps(IEEE802.11g) Max. 11Mbps(IEEE802.11b) |
| Antenna | External 5dBi anntena, 1x1 |
| WDS | Y |
Wired Interface
| | |
| --- | --- |
| Standard Compliance | IEEE802.3/3u |
| Speed and Flow Controll | 10/100 Mbps (Auto Sensing) |
| Number of Ports | Internet : 1 x RJ-45 (Auto MDIX) LAN : 4 x RJ-45 (Auto MDIX) |
USB Interface
| | |
| --- | --- |
| Standard Compliance | - |
| Connector Type | - |
| Number of Ports | - |
Key Feature
| | |
| --- | --- |
| Advanced QoS | - |
| Guest Port | - |
| Beam Forming | - |
| Parental Controls | - |
| Wi-Fi Extender | - |
| PPTP Server | - |
| BitTorrent | - |
| Media Server | - |
| NFINITI HighPower Technology | Y |
| Dynamic DNS | - |
| Energy Save | |
| MAC Address Clone | Y |
Other
OS Support
Windows® 7 (32/64-bit), Vista® (32/64-bit), XP Mac OS® X 10.7, 10.6, 10.5, 10.4
Power Consumption
7.4W (Max)
Dimensions (LxWxH, mm)
(W x H x D)130 x 23 x 105 mm
Weight
146g
Operating Environment
0-40°C, 20-80% (non-condensing)
Power Supply
AC 100-240V, 50/60Hz
Warranty
2-year / 3-year
*Products covered by the three-year warranty include those purchased on or after April 1, 2011 (please present receipt to verify date of purchase) or manufactured after April 1, 2011 (instructions for checking the month of manufacture are provided here).
Package Contents
| | |
| --- | --- |
| Contents | AirStation HighPower N150 Router WCR-HP-GN Antenna*1 Base for vertical placement LAN network cable (parallel cable) AC adapter AirNavigator CD Quick Setup Guide Warranty Statement |
You can compare the specifications of the product in this page. Click the model which you want to compare and click the "Compare"button.