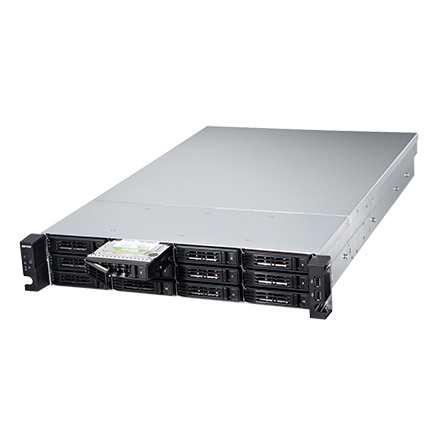 TeraStation 7120r Enterprise
TS-2RZH
Enterprise Class Ultra High Performance 12-bay NAS Solution
TS-2RZH48T12D(48TB)
TS-2RZH36T12D(36TB)
TS-2RZH24T12D(24TB)




- 2U, 12-bay form factor
- Ultimate performance with Intel Xeon quad-core processor
- 10 Gigabit Ethernet extension board support
- Business class NAS features such as file sharing and client/server backup
- iSCSI target support
- Cloud storage backup support
- 24/7 reliability with hot swap, hot spare, port trunking, and UPS support
- Redundant power supply
- DDR3 ECC 8GB memory
Model:
TS-2RZH48T12D(48TB)
TS-2RZH36T12D(36TB)
TS-2RZH24T12D(24TB)

The TeraStation 7120r is a new addition to the award-winning TeraStation family of business NAS products offered by BUFFALO. Sporting the Intel Xeon E3-1275 quad-core processor and expansive storage capacity, the TeraStation 7120r supports the data backup, file sharing, block level storage, and disaster recovery demands of modern businesses. The TeraStation 7120r runs many services simultaneously and the quad-core processor enables the ability to focus on concurrent tasks with minimal performance degradation.
High-speed Data Transfer

【Testing Environment】
*[PC] Vender: MouseComputer MousePro-i703BS-1207, OS: Windows(R) 7 Professional 64bit SP1, NIC: Realtek PCIe GBE Family Controller Intel E10G42BTDA ( (10Gbps Measuring), CPU: Intel(R) Core(TM) i7-3820 processor, Memory: 8GB (4GB×2 (DDR3 SDRAM PC3-12800) / Dual Channel), SSD: 240GB Intel(R) 520, Motherboard: Intel(R) X79 Express Chipset.[NAS] TS-2RZH24T12D (RAID6 Setting F/W:2.20-0.19), Intel E10G42BTDA (TS-2RZH 10Gbps measuring)
【Testing Method】
*The TS-2RZH24T12D was connected to the computer via a LAN, with sequential writes and reads measured. Using benchmark software (CrystalDiskMark 3.0.2). (Testing conducted by BUFFALO in Nov 2013)
* Measured values were obtained in a specific test environment; this does not necessarily guarantee similar results can be achieved in all operating environments.

Ultimate Performance with Intel Xeon
Powered by Intel Xeon E3-1275 quad—core processor and DDR3 memory, the TeraStation 7120r is BUFFALO's flagship NAS device supporting enterprise and datacenter needs
•Powered by Intel Xeon quad-core processor
Equipped with the Quad-core, 8-thread Intel Xeon E3-1275 with 8MB cache
•High-performance interfaces
DDR3 memory as well as optional upgrades to 10-Gigabit Ethernet boost data transfer capabilities.
Business Class NAS Features
•File Sharing

Secure file sharing from a central location with cross-platform support and access restrictions
•Client/Server Backup

Backup all mission-critical data for peace of mind
- NovaBACKUP® backup software
- Time Machine support
- Supports most major server backup software
iSCSI Target

Create NAS and iSCSI volumes on a single RAID array. Supports simultaneous usage of NAS and iSCSI in one device.
Backup
•Replication

Replicates data between two TeraStations. In the event of a TeraStation failure, simply unplug the Ethernet cable from the malfunctioning TeraStation and plug into the backup TeraStation for service restoration
•Scheduled backup

Scheduled backup can be set at a specific date and/or time
•Many-to-one TeraStation Backup

Backup all shared folders in multiple TeraStations on a single TeraStation
•Cloud Storage Backup

Backup mission-critical data to Amazon S3 (Simple Storage Service) for offsite backup
*Amazon S3 account required
Retroactive recovery
Keeps up to 10 backup generations with historical incremental backup
24/7 Reliability

Fits any TIA/EIA-310-D compliant 19-inch rack
•High quality hardware

Equipped with redundant power supply, ECC memory, and nearline HDD for stable operation
•Hot Swap
•Hot Spare

•Media Cartridge feature

Ditch the tape storage and assign a hard drive as removable backup storage cartridge
•Port Trunking

•UPS Support
Supports UPS devices frorn APC and Omron
•RAID Modes

File Sharing
•Active Directory
Manage access restrictions with user account information from the Windows Active Directory server
•Settings such as read/write access and user/group-based access authorization can be tailored to your needs
•DFS Namespace support
•Disk quota support prevents users/groups from consuming too much disk space
•Hide specific folders for limited access
•Offline Files feature enables folder synchronization to/from your laptop for offline accessibility
WebAccess for Business
•WebAccess for Business smartphone app

Free app for Android, iPhone, and iPad, to access and manage the TeraStation over the Internet. Configure your TeraStation from the palm of your hand!
•TeraStation Sync

Share files with remote locations by synching folders between two TeraStations over the web.
Other features
•Easy setup wizard and management through intuitive web interface
•USB print server
•Scheduled shut down eliminates unnecessary access and reduces energy costs
•AES-128 bit hard drive encryption
•Hide specific folders for limited access
•Security lock slot
Certified Citrix Ready®
Citrix Ready is an end-to-end partner program for introducing and recommending third-party products, solutions, and services. This program allows solutions that Citrix recommends to be found rapidly and easily with the aim of improving the quality of the products Citrix offers.
For more detailed information about the Citrix Ready program, refer to this site: www.citrix.com/ready/en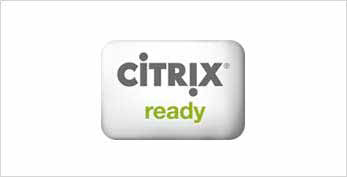 Model
Hardware
| | |
| --- | --- |
| Type | Rackmount |
| OS | Linux Original |
| CPU | Intel Xeon E3-1275 |
| Clock | 3.4GHz |
| Memory | DDR3 ECC 8GB |
Internal Hard Drives
| | |
| --- | --- |
| Number of Drives | 12 |
| Drive Interface | SATA III |
| Supported RAID Levels | 0, 1, 5, 6, 10, 50, 51, 60, 61, JBOD (Normal) |
| Drive Capacity | TS-2RZH48T12D(48TB) TS-2RZH36T12D(36TB) TS-2RZH24T12D(24TB) |
LAN Interface
| | |
| --- | --- |
| Standard Compliance | IEEE802.3/3u/3ab |
| Speed and Flow Control | 10/100/1000 Mbps (Auto Sensing) |
| Number of Ports | 4 x RJ-45 (Auto MDIX) |
USB Interface
| | |
| --- | --- |
| Standard Compliance | USB 2.0 |
| Connector Type | A type |
| Number of Ports | 6 x USB2.0 |
UPS Interface
| | |
| --- | --- |
| Standard Compliance | D-Sub 9pin |
| Number of Ports | 1 |
Other Interface
Number of Ports
PCI-Express x8 slot x 1, PCI-Express x4 slot x 1
10GB Ethernet Cards Compatibility Information
Emulex: OCe11102-N, OCe11102-I, OCe11102-F
Intel: X540T2, E10G42BTDA, E10G41BFSR, E10G42BFSR, E10G41AT2

Key Feature
| | |
| --- | --- |
| iSCSI | Y |
| IP Camera | Y |
| Redundant Power Surpply | Y |
| Hot Spare | - |
| Hot Swap | Y |
| Replication | Y |
| Failover | Y |
| Amazon S3 | Y |
| Port Trunking | Y |
| Disk Quota | Y |
| Virus Scan | - |
Protocol Support
| | |
| --- | --- |
| Networking | TCP/IP |
| File Sharing | CIFS/SMB, AFP, HTTP/HTTPS, FTP/FTPS, SFTP, NFS |
| Directory Integration | LDAP, Active Directory |
| Management | HTTP/HTTPS |
| Time Synchronization | NTP |
Other
Client OS Support
Windows® 7 (32/64bit)/ Windows Vista™ (32/64bit)/ Windows® XP
Windows Server® 2012/ 2008 R2/ 2008/ 2003/ 2000
Mac OS® X 10.4 - 10.7
Power Consumption
250W (Max)
Dimensions (LxWxH, )
736 x 480 x 88
Weight
25.0 kg
Operating Environment
5-35°C, 20-80% (non-condensing)
Power Supply
AC 100-240V, 50/60Hz
Warranty
3-year
Package Contents
Contents
TeraStation 7120r Enterprise(TS-2RZHD)
Setup CD-ROM
LAN Cable
AC Cable x 2
4-Post Rackmount Rails
Mounting Rail Kit
Quick Setup Guide
Warranty Statement
You can compare the specifications of the product in this page. Click the model which you want to compare and click the "Compare"button.