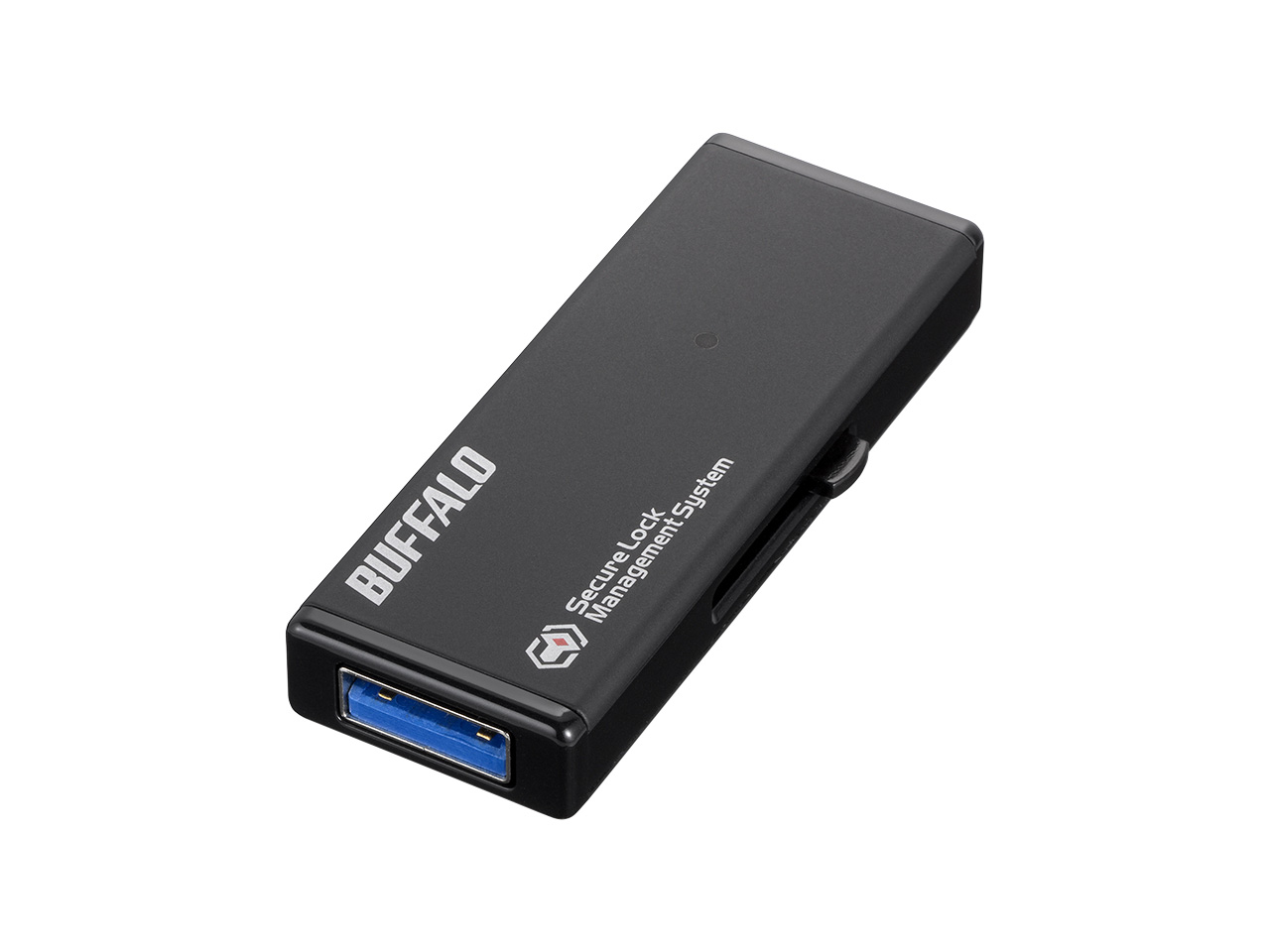 Security USB Memory
RUF3-HS
RUF3-HS Series USB flash memory products feature hardware-based forced data encryption.
All data saved to the flash memory is encrypted, which prevents the data leakage if the drive is ever lost or stolen.
There is no need to install any security software, either, so it's easy to use with most any OS.




Compatible with security management software (optional)
System administrators can use Buffalo's optional RUF2-HSC-MGR "SecureLock Manager 2" USB memory management software to set up RUF3-HS drives to conform to the company's own password policies and other security settings.
This helps ensure thorough compliance with the company's working rules. SecureLock Manager 2 includes password policy settings, password recovery, log function, and more.

* Use with RUF3-HS Series requires SecureLock Manager 2.
Master key file increases working efficiency
In SecureLock Manager2, the master key is separate from the settings file. This allows USB flash drives for all departments to be
managed using a single master key.
Supports latest OS versions
The RUF3-HS is compatible with the newest Windows 8.1 and Windows Server 2012 R2 operating systems.
USB 3.0 handles huge amounts of data easily
USB 3.0-supported devices capable of high-speed data transfers can increase your work efficiency tremendously.
Using USB 3.0 for the RUF-HS Series security functions makes it perfect for business models that involve handling of critical data.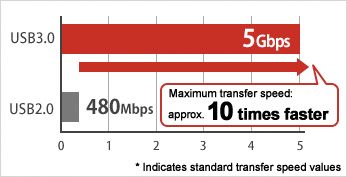 Strong forced hardware encryption

Since any data saved to the RUF3-HS is force-encrypted, you never need to worry about encryption hassles or forgetting to encrypt the data. Access to the RUF3-HS also requires password authentication. Even if the drive is ever lost or stolen, the combination of forced encryption and password authentication prevents leakage of your vital data.
Password authentication prevents unauthorized access
The RUF3-HS Series features password-based security to prevent use by third parties. Only those persons who know the password can use the RUF3-HS, so you can save your data with confidence. After authentication with the password is completed, you can save and edit the files just as you would on an ordinary USB drive.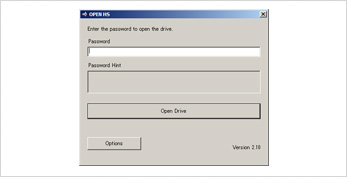 * Initialization required when the password is forgotten or is incorrectly entered consecutively ten times.
AutoRun tool automatically launches authentication screen
The RUF3-HS includes Buffalo's own AutoRun function that opens password authentication (OPEN_HS.exe) automatically.
This calls up the authentication screen, so there is no need to bother clicking to open the authentication screen program every time you need it.
No driver installation required
The RUF3-HS does not require installation of any drivers, regardless of administrator or user permissions.
Automatic password authentication allows you to bypass password entry
Although it is reassuring to know that the drive can only be accessed by users who know the password, having to enter the password each time the drive is used can be a hassle. The RUF3-HS features an "automatic password authentication function" that allows you to use the flash drive without entering the password.
If, for example, you've registered your home computer with the RUF3-HS, you can then easily use the drive with that computer at home without entering the password. The password is still required when you connect it to an unregistered computer outside the home.
Using this feature with the AutoRun tool allows you to open the password authentication screen automatically and use the drive right away.

[Maximum number of registered devices]
• Maximum number of computers that can be registered to one RUF3-HS: 3
• Maximum number of RUF3-HS drives that that can be registered to one computer: 10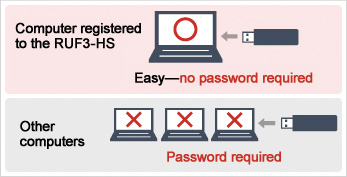 Other Features
AutoRun virus protection
There is a type of computer virus—the "AutoRun virus"—that infects computers through USB flash memory products. The RUF3-HS detects how AutoRun virus infection spreads and then uses alternate means to prevent the virus from spreading further.
(1) If AutoRun.inf contains a description to open an application, the portion with the description is automatically deleted.
(2) The user is informed of the deletion.
Smart capless design
The capless slider design makes the RUF3-HS easy to use with one hand. And with no cap to lose, it makes carrying your data even easier.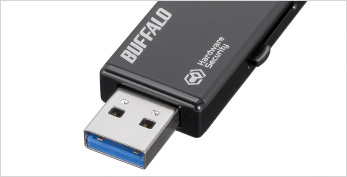 Includes convenient strap hole
You can attach a strap to the RUF3-HS for greater convenience. This also helps prevent the drive from being lost.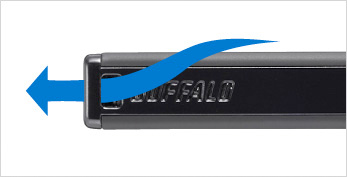 Convenient, high-capacity storage on the go
The RUF3-HS lets you store large amounts of data with confidence, so you can carry documents, photos, videos, and other materials required in business settings, ready whenever you need them.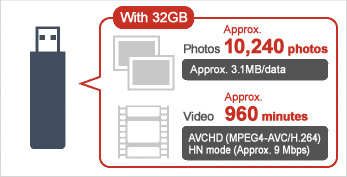 RoHS Compliant
This product complies with the "RoHS Directive," a directive implemented in the EU since July 2006 that places restrictions on the use of specified hazardous substances in manufacturing electrical and electronic equipment.
Hardware Overview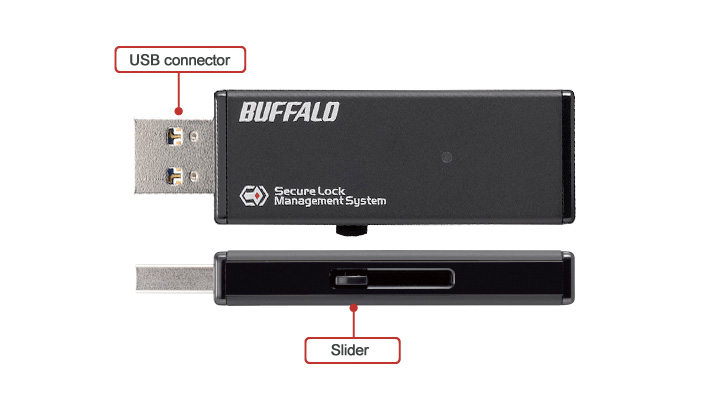 Dimensions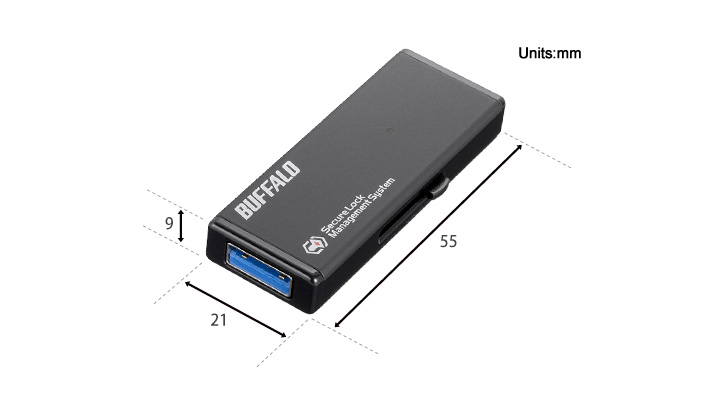 Model
Memory capacity
| | |
| --- | --- |
| 32GB | RUF3-HS32G |
| 16GB | RUF3-HS16G |
| 8GB | RUF3-HS8G |
| 4GB | RUF3-HS4G |
USB Interface
| | |
| --- | --- |
| Standard Compliance | USB 2.0 / USB 3.0 |
| Number of Ports | 1 |
| Data Transfer Rate | Max. 5 Gbps (USB 3.0) Max. 480 Mbps (USB 2.0) |
Key Feature
| | |
| --- | --- |
| Forced Hardware Data Encryption | AES 256bit |
| Virus Check | - |
| Compatible with security management software | Y |
| Password authentication | Y |
Virus Check
OS Support
| | |
| --- | --- |
| Variety | Windows 8.1 / 8 (64bit/32bit), 7 (64bit/32bit), Vista SP2 (64bit/32bit), XP SP3 (32bit),Windows Server 2012R2 / 2012 / 2008R2 / 2008 |
Other
| | |
| --- | --- |
| Dimensions (LxWxH, mm) | 55 x 21 x 9 |
| Weight | 10 g |
| Operating Environment | Temperature 0 - 40℃, Humidity 10 - 85% (Non-condensing) |
| Power Consumption | 2.5W |
| Power Supply | DC 5V±5% (USB powered) |
| Warranty | 1-year |
Package Contents
| | |
| --- | --- |
| Contents | RUF3-HS Quick Setup Guide Warranty Statement |
RUF3-HS / 2014-08-25

Product Datasheet

Download
You can compare the specifications of the product in this page. Click the model which you want to compare and click the "Compare"button.