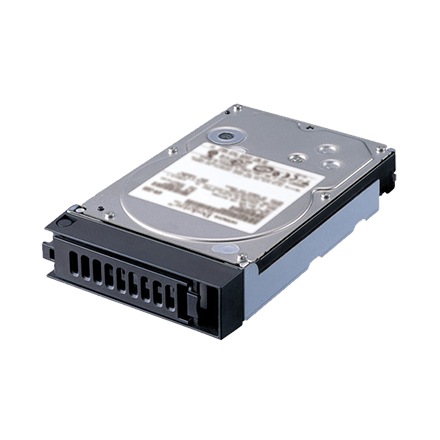 Replacement hard drive for Buffalo storage solutions
OP-HDSeries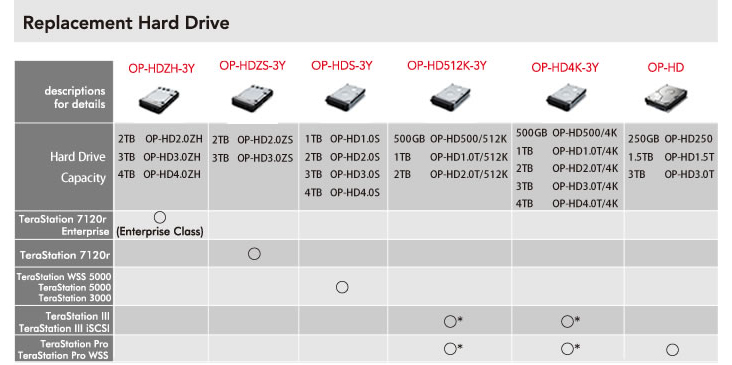 NOTE:
LinkStation Quad 6 TB & TeraStation ES, III and III iSCSI 6 TB models (specically: LS-Q6.0TL/R5, TS-XE6.0TL/R5, TS-X6.0TL/R5, TS-RX6.0TL/R5 and TS-RIX6.0TL/R5) use 1.5 TB HDDs and should use OP-HD1.5T as the replacement drive. For all other capacities and models, please refer to the chart above and then select the appropriate capacity.
*Some TeraStation devices were originally supplied with 512 or 4K drives depending on when they were produced. It is recommended to replace drives with the same sector size to maintain proper performance. If the TeraStation currently has 512-byte sector HDDs, then OP-HD512-3Y replacement drives should be used. If the system has 4K sector drives installed, then OP-HD4K-3Y should be used. Mixing sector size hard drives inside the same array can lead to reduced RAID performance and is not recommended. Specically for TeraStation Pro WSS units, mixing sector sizes is not supported and RAID arrays cannot be rebuilt using mixed drives.
Specifications
| | |
| --- | --- |
| Capacities | 250GB, 500GB, 1TB, 1.5TB, 2TB |
| Interface | SATA |
| Dimensions | 105 x 30 x 170mm |
| Weight | 900g |
OP-HD Series / 2014-03-25

Product Datasheet

Download
You can compare the specifications of the product in this page. Click the model which you want to compare and click the "Compare"button.