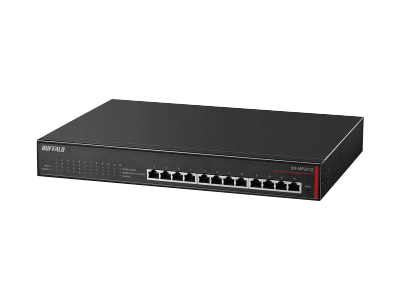 Two-layer 10GbE switch.
BS-MP20
Support IEEE802.3bz, and use existing network to realize high speed of LAN.
All ports support 10GbE, 5GbE and 2.5GbE switche.
Can realize high speed of LAN with low cost, and apply to products of various enterprises.

Support IEEE802.3bz.5. Realize high speed at 10GbE (Cat.6A), 5GbE, 2.5GbE (Cat.5e, 6) in network environment of enterprise.

Can meet the requirements of the new Ethernet standard 802.3bz (5GBASE-T, 2.5GBASE-T) published in September, 2016, and apply to 10GbE switches of various enterprises. It not only satisfies high-speed communication of 5GbE and 2.5GbE network speed of new standard, but can also meet the high-speed communication requirements of higher network speed 10GbE. Compared with communication speed of 1,000Mbps, 10GbE increased by ten times, 5GbE increases by five times, and 2.5GbE increases by 2.5 times, thus realizing high speed of communication. (These values are theoretical value)
Can use LAN cable of Cat5e and Cat6. 5GbE & 2.5GbE can use existing cable to realize high speed.

When connecting to 10GbE communication network, Cat.6A or Cat.7 cable shall be used, and when connecting to 5GbE and 2.5GbE communication network, Cat5e or Cat6 cable can be used directly, and high-speed network environment can be realized, with no need to replace the cable.

※According to different service environments of customers, such as the quality of LAN cable / cabling environment / external noise, the product's performance cannot be utilized.
5GbE and 2.5GbE 100m communication can be realized through Cat.5eLAN cable.
In actual service environment, in most cases, multiple LAN cables are bundled, and in these cases, the electromagnetic noise (alien crosstalk) generated from bundled cables cannot be belittled.
We use the cable of 6-around-1 configuration in the test, the target cable is in the center, and other six interference cables form a circle to make 5Gbps communication. The result shows that, Cat.5e cable can also ensure that the target cable in the center cam realize 100m 5Gpbs communication.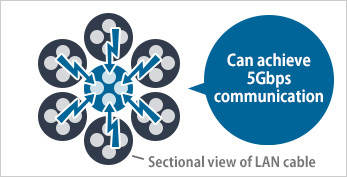 【Test environment】
Switching hub: BS-MP2008…2 units
LAN cable: 100m cat5e cable; seven cables are bundled (6-around-1 cable)
Data packet generator: Spirent Test Center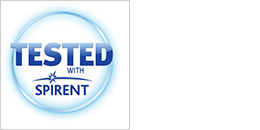 【Test method 】
・Ensure the transmission rate of each cable of 6-around-1 is 5Gbps.
・Check whether PacketLoss is within the reference value.

【Precautions】
・We investigated the said 6-around-1 test method in December, 2016.
・According to different service environments of customers, such as the quality of LAN cable or external noise, it might be impossible to realize the farthest communication distance.
Can reasonably build 10GbE environment. Realize high-speed transmission in 10GbE environment.
This product not only has necessary functions, but also has huge price advantage compared with general 10GbE switch. It becomes easy to configure 10GbE switch in small and medium-sized offices.
Shorten the backup time by building 10GbE environment.

In the environment built with this product and 10GbE switch (BS-MP20 series, BS-XP20 series), the old module takes nine hours and fifty minutes to back up, while the new module only takes two hours and seventeen minutes (※). The backup time is shortened by 76%.

※Convert on the basis of the time spent on image backup of C-drive of 34.25GB through Arcserve UDP v6 (RAID 6)

Owing to the configuration of TeraStation supporting 10GbE and switch, the work efficiency is improved.

Even not in 10GbE environment, it can also be connected to TeraStation at high speed by configuring TeraStation supporting 10GbE and this product. It is faster to edit TeraStation files or back up TeraStation on PC.

■Test of communication speed of customers' six PC.
【Customer environment 】
PC:TOSHIBA dynabook R63/6Units / CPU: Core i5-5300U 2.30GHz / Memory:4GB / SSD:TOSHIBA THNSNJ128GMCY / OS:Windows 7 Pro (32-bit) SP1
【10GbE environment】
NAS:TS5410DN RAID6 / HUB:BS-XP2012
【1GbE environment】
NAS:TS5400DN RAID6 / HUB:BS-GS2016
(We investigated the test of BS-MP20 series and BS-XP20 with the same performance in10GbE environment in August, 2016.)
The transition to 10GbE will be easier in future. All ports support 10GbE, 5GbE and 2.5GbE.
Configure 10GBASE-T, 5GBASE-T and 2.5GBASE-T ports and support 10GbE, 5GbE and 2.5GbE. This product is strongly recommended to the enterprises that plan to build 10GbE environment in future.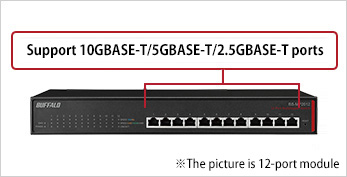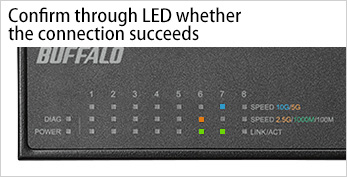 If confirming that the connection with interface equipment succeeds, LED will be lit on. When confirming whether 10G connection succeeds, the speed lamp (10G/5G) will indicate "Blue"; when confirming whether 5G connection succeeds, the speed lamp (10G/5G) will indicate "Orange"; when confirming whether 2.5G connection succeeds, the speed lamp (2.5G/1000M/100M) will indicate "Orange"; when confirming whether 1000M connection succeeds, the speed lamp (2.5G/1000M/100M) will indicate "Green". The connection status of each port is clear.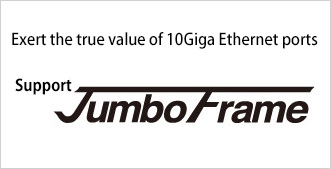 Increase the transmission rate of Ethernet, so as to realize Jumbo Frame which supports higher network transmission rate. Fast transmission of 10GBASE-T technology can be realized.
・「BS-MP2012」 Jumbo Frame: 9,216 bytes.
・「BS-MP2008」 Jumbo Frame: 9,216 bytes.

※All equipment involving in communication must support JumboFrame function.
Reduce the burden of network manager. Carry necessary management function.
Operate directly and support Web setting image.
This product can set and manage through Web setting image, also has Japanese display function and can be operated directly. When using multi-layer network, the product can be conveniently connected to the switch of each layer through Web browser and be set. Centralized management can be conducted on the connection setting and application of operating method through the network, and the management cost can also be lowered.
Support VLAN function of building multiple networks.
VLAN means the function of dividing the network into multiple LANs through the switch. According to the network's use method or safety level, it can be effectively applied where some specific part of network applies special operating method
This product can support port-based VLAN/Tag VLAN/Multiple VLAN functions, and realizes network safety and adaptability.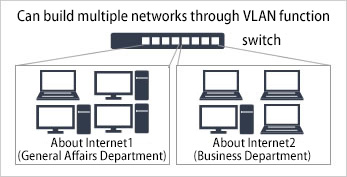 This product carries multiple QoS (Quality of Service) functions with communication priority control.
For the enterprise intranet in which multiple application programs coexist in recent years, multiple QoS functions of conducting differentiated management on important communication become particularly important. This product is based on IEEE802.1p protocol, and it not only supports eight QoS priorities, but can also support COS, TOS and DSCP, so as to meet customers' diversified requirements.
For safe use of the product. High-reliability design and enterprise-dedicated telephone window
Realize stable network operation and high-reliability design.
To ensure stable network operation, the product adopts high-reliability components according our quality standard to pursue high quality, and also adopts long-life design.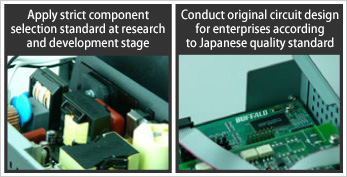 The operating temperature is 50℃.
After the frame design is modified, the upper limit of operating temperature of the product increases by 50℃, compared with the upper limit of operating temperature of traditional product 40. The product can be set in the classroom's ceiling, or high-temperature place of warehouse and factory, etc.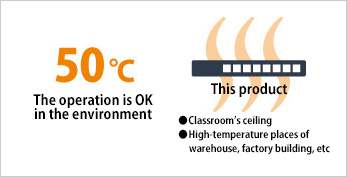 High-reliability design and enterprise-dedicated telephone window
The product is configured with enterprise-dedicated telephone window, and even if it goes wrong, customers can contact the customer service staff via email or telephone.
Safety specification. Passed UL60950-1 certification.
To prove that the safety design is implemented, the product passed UL certification (UL-60950-1). The office network can be used safely.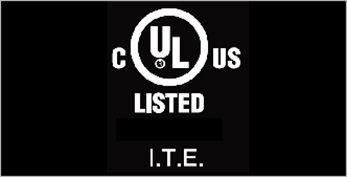 Prevent the interference wave.
Apply the standards of prevention of wave leakage such as 「VCCI ClassA」「FCC ClassA」. Realize the high-shielding performance of preventing causing bad influence on surrounding electronic products. Meanwhile, as the external noise disturbance is considered in product design, stable operation of the product is ensured.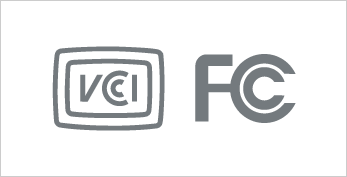 Put the product in idling mode to minimize the power consumption when there is no data transmission.

This product carries idling technology (IEEE802.3az EEE) that when there is no data transmission, the power consumption will be cut off. When there is no communication, the power supply of MAC-layer chip will be in idling state, thus greatly lowering the power consumption, and when it is used normally, it can also save the power effectively. ※

※The equipment applying LAN cable connection must conform to IEEE802.3az EEE standard.
Achieve the purpose of building stable network. Effectively prevent network interruption through the function of「loop prevention」.
Can retrieve the loop and have corresponding port disabled.

Have the loop prevention function of retrieving the factors of network loop incurred during use of the network and disabling corresponding ports automatically. The traditional product is hard to retrieve the fault, while this product can quickly retrieve the network loop which causes major fault, and automatically prevent the consequence of network interruption caused by loop fault.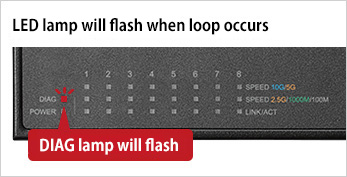 When a loop occurs, DIAG LED will indicate "Red" and flash to warn the occurrence of loop, so as to eliminate the loop quickly.

The network loop leads to system loop, the unlimited transmission of communication traffic leads to communication traffic saturation of network, and thus causes network interruption.
Model
Wired LAN Interface
| | |
| --- | --- |
| Supported machine type | The supported machines of IEEE802.3u, IEEE802.3ab, IEEE802.3bz, IEEE802.3an, IEEE802.3x. |
| LAN interface | IEEE 802.3u (100BASE-TX) IEEE 802.3ab(1000BASE-T) IEEE 802.3bz( 2.5GBASE-T/5GBASE-T) IEEE 802.3an (10GBASE-T) IEEE 802.3x (Flow Control) IEEE 802.3az (EEE Idling Stop) |
| Transmission rate | 100Mbps(100BASE-TX)、1000Mbps(1000BASE-T)、2.5Gbps(2.5GBASE-T)、5Gbps(5GBASE-T)、10Gbps(10GBASE-T) |
| Transmission mode of switching data | Store &forward |
| Transmission path coding | 4B5B/MLT-3 (100BASE-TX) 8B1Q4/4D-PAM5 (1000BASE-T) PAM16 (2.5GBASE-T/5GBASE-T) DSQ128 (10GBASE-T) |
| Data transmission rate (flow rate) | 148,810Communication traffic/s(100BASE-TX) 1,488,095Communication traffic/s(1000BASE-T) 3,720,238Communication traffic/s(2.5GBASE-T) 7,440,476Communication traffic/s(5GBASE-T) 14,880,952Communication traffic/s(10GBASE-T) |
| Caching capacity | 2MB |
| Jumbo frame | 9,216Bytes ※Include the head 14Bytes+FCS4Bytes |
| Address list | 16,000 pieces (self-learning ) |
| The number of LAN ports | BS-MP2008:8 ports (support AUTO-MDIX of all ports) BS-MP2012:12 ports (support AUTO-MDIX of all ports) |
| Applicable cable | Cat.5 and above: Two pairs of UTP/STP cable (100BASE-TX) Cat.5e and above: Four pairs of UTP/STP cable (1000BASE-T/2.5GBASE-T/5GBASE-T) Cat.6A and above: Four pairs of UTP/STP cable (10GBASE-T) |
| Transmission distance | 100m |
| Terminal shape | RJ-45 8-pole terminal (shielding) |
| Management function | English Web setting interface (IPv4) Realize software upgrading and storing / restoring setting functions (Web) through HTTP. |
| Function | Loop prevention function Support JumboFrame9,216Byte (including head 14Byte+FCS4Byte) All ports are non-blocking transmission. Traffic control. Port VLAN, TagVLAN, MultipleVLAN QoS (port transmission/IEEE802.1p/COS/TOS/DSCP) Port mirroring IGMP Snooping v1/v2/v3, IGMP query DHCP customer |
| Safety function | Username, password MAC address filtering Management VLAN MAC address authentication |
| VLAN function | Support VLAN (VLAN quantity: 64, VLAN ID:1 - 4,094), IEEE802.1Q (VLAN Tagging) |
Others
| | |
| --- | --- |
| Power supply voltage | AC100V 50/60Hz |
| Power consumption | BS-MP2008:Max. 31W BS-MP2012:Max. 42W |
| Dimension method | W330×H44×D230mm |
| Weight | About 2,400g |
| Operating environment | Temperature 0~50℃, humidity 10~85% (no condensation) |
| Obtain the qualification | VCCI Class A、FCC Class A、Canada IC Class A、UL、cUL、CE |
| Warranty period | Standard warranty period: 3 years |
| 19-inch frame | Applicable (attach the mounting hardware) |
| Optical option | Magnet kit 「BS-MGK-A」 Magnet mounting hardware 「LSW-KG5P」 |
| Main accessories | Power line (for AC100V), 3pin-2pin converter (attached with ground line), two mounting hardware for19-inch frame, eight screws for fixing the mounting hardware, four screws for fixing the frame, power line clips, four rubber pads, the serial number label ×2, power cable clips, manual and warranty. |
You can compare the specifications of the product in this page. Click the model which you want to compare and click the "Compare"button.