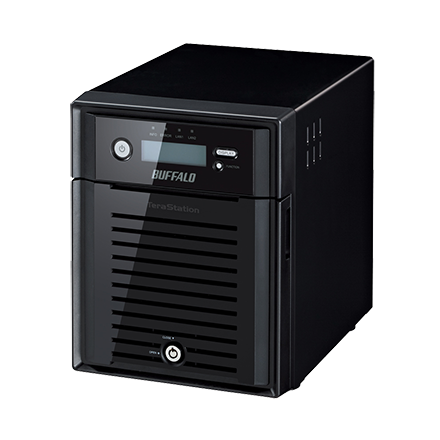 Business Class Four-Bay NAS Device TS5400DN
TS5400DN
The BUFFALO TeraStation 5400 is a four-bay, RAID-enabled NAS device designed for SOHO and SMB users demanding higher performance and data redundancy. Sporting the Intel Atom 1.86 GHz dual-core processor, the TeraStation 5400 provides exceptional performance during data backup, file sharing and other everyday NAS demands. The TeraStation 5400 runs many services simultaneously and the dual-core processor enables the unit to focus on concurrent tasks with minimal performance degradation.






Hard drives designed for NAS systems
Especially designed for use in NAS systems, the TeraStation's hard drives feature highly new technologies for highly reliable and stable operation. The drives are also equipped with specialized NAS firmware designed specifically for the extended operation that NAS devises are famous for.

Features
- Reduced power consumption and operating temperatures
- Vibration and noise suppression
- Stable operation and lower operating costs
Superior performance with Intel Atom dual-core processor
The Intel Atom dual-core processor, 2 GB DDR3 memory, and USB 3.0 combine to make the TeraStations even faster.
These high-performance models ramp up data sharing speeds in the office.
NAS for sharing and backup of office files
High-volume file server can be used by multiple departments

SMB/CIFS and NFS support enables cross-platform file sharing on networks including Windows, Mac, and Linux/Unix clients.
Access can be controlled for each individual group and user for secure and efficient data management.
Back up your office's client PCs and servers

Backup all mission-critical data for peace of mind
- NovaBACKUP® backup software
- Time Machine support
- Supports most major server backup software
iSCSI Target support enables simultaneous use of NAS and iSCSI

Create NAS and iSCSI volumes on a single RAID array. Supports simultaneous usage of NAS and iSCSI in one device.
Supports USB Memory Recovery feature
Save and recover settings when recovering after failure and setting up multiple TeraStations
You can connect USB memory *1 to the TeraStation and save the settings to the USB memory. Use this feature to restore the settings from USB memory after a failure or when purchasing multiple TeraStations to make setup much faster and easier.

Main settings:
- User and group sharing
- Folder access authorization
- Backup settings

*1: USB memory is sold separately, not included with the TeraStation.
*2: Requires prior disk configuration.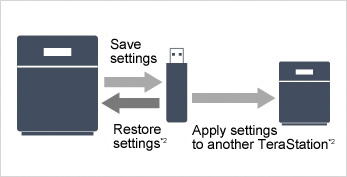 Reinitialize the TeraStation when a password is forgotten
You can reinitialize the TeraStation from USB memory.*3 Use this feature when, for example, you've forgotten your password.

Main initialized settings*4:
- IP address
- Ethernet frame size settings
- Administration and user names and passwords

*3: USB memory settings must be made in advance from the TeraStation's settings screen.
*4: The initialized settings are the same as those reinitialized from the Web settings screen.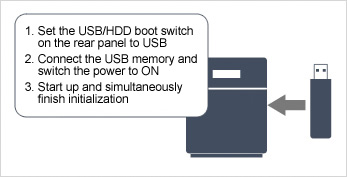 Numerous backup functions
For offices unable to keep any full-time administrator on hand, reducing the effort needed to restore operations and limiting down time in the event of a system failure is an extremely difficult problem. The TeraStation provides a solution that minimizes the impact of a system failure on the business and reduces administrator workload.
"Failover" automatically saves data and switches TeraStations

The TeraStation can be backed up to another TeraStation by replicating one to the other. When the primary TeraStation faces hardware failure, the secondary TeraStation will automatically take over NAS operations (Failover), without any noticeable service interruption to users. Failover also keeps trace of various setting changes, minimizing restoration workload.
"Replication" automatically saves data to two TeraStations

Replicates data between two TeraStations. In the event of a TeraStation failure, simply unplug the Ethernet cable from the malfunctioning TeraStation and plug into the backup TeraStation for service restoration.
"Scheduled Backup" saves data regularly to an external drive

Many-to-One TeraStation backup

The "Many-to-One TeraStation Backup" function allows you to back up shared folders from multiple TeraStations onto a single
TeraStation, making this a convenient way to unify backups from various different departments. This feature is easy to use, with
settings made only on the backup TeraStation—no changes in settings are needed with any of the TeraStations being backed up.
Backups can be set to perform up to eight tasks and back up a maximum of eighty shared folders.
"Cloud Storage Backup" uses the cloud for failure protection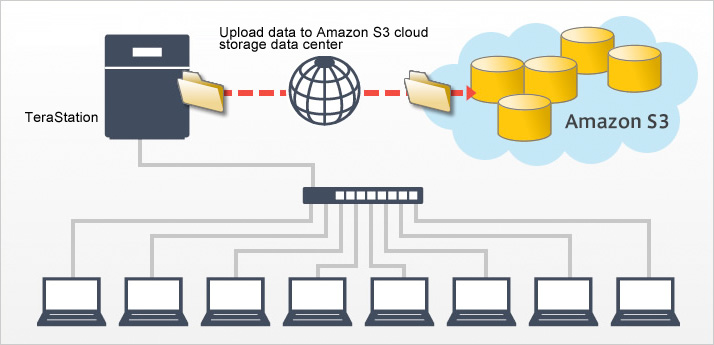 Back up mission-critical data to Amazon S3 (Simple Storage Service) for offsite backup.
*Amazon S3 account required
Supports "Multipart Upload" function
Multipart Upload allows the user to split up large files into smaller parts and upload them in parallel. You can reduce upload times by dividing a large file of 100 MB, for example, then uploading the smaller component files in parallel. Additionally, even if unstable network conditions cause an interruption or failed upload, only the interrupted files are affected, and the upload can be resumed from the point where it was interrupted. The distributed uploads are then reassembled into a single file on the server side.
High Reliability Design
Hardware Supporting 24/7 Operations

• Case design promotes airflow to prevent overheating
The TeraStation features a specially designed case and is equipped with ventilation fans to help ensure airflow, which is critical in holding down temperatures inside the case. The fans used are extremely quiet. The unit also monitors temperatures within the case and automatically regulates the fan speed for quiet yet effective cooling.
• Utilizes specially designed, highly reliable power supply unit
The components are painstakingly designed to handle high-temperature environments and extended operation. The highly reliable power supply is capable of withstanding continuous operation, 24 hours a day. Business users with systems running continuously for long hours can use the TeraStation with complete peace of mind.
• Highly reliable fans
The fans used in this unit feature highly reliable double ball bearings. If a fan ever fails, it can be replaced without opening up the TeraStation.
• Front panel dust filter
The filter prevents dust from getting inside the unit, which reduces the load on the fan and contributes to more stable operation.
"Hot Swap" support allows drives to be replaced with power on

The TeraStation's drives are hot-swappable, so they can be replaced in the event of a hard drive failure, with no need to switch off the power. This design minimizes effects on the system when disks are replaced. The disks other than the failed HDD are configured in a RAID array, allowing the system to be used as usual even while the drive is being replaced, with no obstruction to normal business operations.
"Hot Spare" function automatically runs spare drive after failure

When a drive fails, the hot spare function automatically starts up the spare hard disk to maintain redundancy. This protects your valuable data.
"Media cartridge" function convenient for sharing data
If configured as a media cartridge, an internal drive can be used as a removable storage device in the same way as an external drive. Media cartridges can be unplugged and connected to a different TeraStation with all data intact.

"Port Trunking" function enhances redundancy through duplication

The TeraStation is equipped with two LAN ports. Use of two LAN cables ensures an alternative route for transmissions and provides the LAN with redundancy for more reliable communications.
Port trunking also enables link aggregation, with two LAN cables functioning as a single cable. Using the bandwidth of two cables increases data transfer speeds.
Supports UPS interfacing—safely shut down multiple NAS devices with one UPS

The TeraStation supports interfacing with UPS (Uninterruptable Power Supply) units manufactured by APC, Omron, and Schneider Electric. This proactive measure helps prevent loss of data and other problems resulting from unexpected power failure due to momentary power outages or tripped circuit breakers. Running off of a UPS also allows TeraStations to be shut down safely if any interruption in the external power supply occurs.
D-Sub 9 pin or USB ports can be used as communications ports for the UPS.
Supports RAID 6/5/10/1/0
The TeraStation is equipped with four internal hard drives. In addition to the normal operating mode, there are five other RAID modes to select from, according to your needs. The unit includes modes for protecting system backup data, work data, photo and video data, and other important data from unexpected drive failure.
Secure administration
Joining Active Directory makes administration more efficient

TeraStation enhances access control
- Settings such as read/write access and user/group-based access authorization can be tailored to your needs
- DFS Namespace support
- Disk quota support prevents users/groups from consuming too much disk space
- Hide specific folders for limited access
- Offline Files feature enables folder synchronization to/from your laptop for offline accessibility
Disk encryption provides assurance even if TeraStation is stolen

Using the TeraStation's encryption settings allows data to be encrypted as it is written to the drive. This means that even if the hard disk is removed, the data cannot be read with another computer or TeraStation. In addition, you can assign passwords to shared folders residing on the TeraStation so that only users with the password can access the files.
* When the encryption settings are used, files are encrypted and cannot be read on other devices. However, files that are not assigned passwords can be read
on an encrypted TeraStation without a password.
Security slot helps guard against theft
The TeraStation features a security slot located on the rear panel. When used together with other security products, this feature is helpful in preventing theft of the unit. This is also recommended for TeraStation that are used in stores and
offices.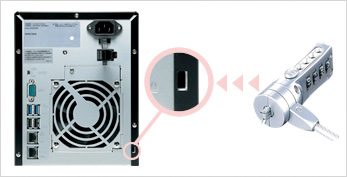 ON/OFF Timer runs the TeraStation only at selected times

The TeraStation includes an ON/OFF Timer function that supplies power to the device only during programmed time periods. This makes using the TeraStation more convenient and saves energy, and prevents power from being wasted when a user forgets to turn the power off. The power switch can be controlled using up to three programmable weekday and weekend timer settings. This cuts energy waste after office hours, on days off, and at other times when the TeraStation is not in use, thus reducing CO2 emissions and helping to protect the global environment.
Greater Energy savings than with PC-based file servers
Using the TeraStation consumes less electricity, costs less to run, and generates less CO2 than running computer-based file servers. Incorporating multiple units increases these benefits even more. Wouldn't you like to reduce expenses and act more ecologically with the TeraStation?
Virus Check Expansion Pack Support

Virus infections pose major risks to computers, causing freezes, deleted or leaked data, and other malfunctions. Anti-virus measures are critical in the event your computer is ever infected. When an infected file from a computer without virus protection is saved to a shared file server, the infection can spread from the file server to other computers through the network. Computers may become infected without the user knowing it.
Download and upload office data anywhere with a smartphone
Use the NAS from the field with WebAccess for Business
The WebAccess for Business application lets you remotely access the TeraStation via the Internet from Android smartphones, iPhones, and iPads. The application allows administrators to authorize terminal devices individually, so businesses can use it with confidence as well.

Remotely open shared folders on the TeraStation
WebAccess technology enables shared folders on TeraStations in different locations to be linked, allowing files to be shared easily over the Internet.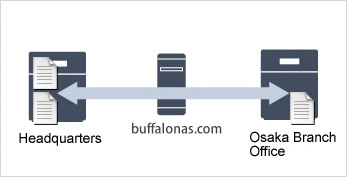 Other features
Certified Citrix® Ready
Citrix Ready is an end-to-end partner program for introducing and recommending third-party products, solutions, and services. This program allows solutions that Citrix recommends to be found rapidly and easily with the aim of improving the quality of the products Citrix offers.
For more detailed information about the Citrix Ready program, refer to this site: www.citrix.com/ready/en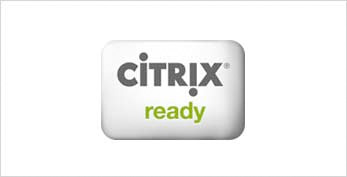 Includes full-featured "NovaBACKUP" backup software
Easy setup wizard and management through intuitive web interface
"Green Purchasing Law" Compliant
Model
Hardware
| | |
| --- | --- |
| Type | Desktop |
| OS | Linux Original |
| CPU | Intel Atom D2550 |
| Clock | 1.86GHz |
| Memory | DDR3 2GB |
Internal Hard Drives
Number of Drives
4
Drive Interface
SATA II
Supported RAID Levels
0, 1, 5, 6,10, JBOD (Normal)
Drive Capacity
TS5400DN0404(4TB)
TS5400DN0804(8TB)
TS5400DN1204(12TB)
TS5400DN1604(16TB)

LAN Interface
| | |
| --- | --- |
| Standard Compliance | IEEE802.3/3u/3ab |
| Speed and Flow Control | 10/100/1000 Mbps (Auto Sensing) |
| Number of Ports | 2 x RJ-45 (Auto MDIX) |
USB Interface
| | |
| --- | --- |
| Standard Compliance | USB 2.0 / USB 3.0 |
| Connector Type | A type |
| Number of Ports | 2 x USB2.0 / 2 x USB3.0 |
UPS Interface
| | |
| --- | --- |
| Standard Compliance | D-Sub 9pin |
| Number of Ports | 1 |
Other Interface
Key Feature
| | |
| --- | --- |
| iSCSI | Y |
| IP Camera | Y |
| Redundant Power Surpply | - |
| Hot Spare | Y |
| Hot Swap | Y |
| Replication | Y |
| Failover | Y |
| Amazon S3 | Y |
| Port Trunking | Y |
| Disk Quota | Y |
| Virus Scan | Option |
Protocol Support
| | |
| --- | --- |
| Networking | TCP/IP |
| File Sharing | CIFS/SMB, AFP, HTTP/HTTPS, FTP/FTPS, SFTP, NFS |
| Directory Integration | LDAP, Active Directory |
| Management | HTTP/HTTPS |
| Time Synchronization | NTP |
Other
Client OS Support
Windows® RT 8.1 / RT
Windows® 8.1 / Windows® 8 / Windows® 7 / Windows Vista™ (32/64bit)
Windows® XP
Windows Server® 2012/ 2008 R2/ 2008/ 2003/ 2000
Mac OS® X 10.5 - 10.10
Power Consumption
60W (Average), 86W (Max)
Dimensions (LxWxH, )
215 x 170 x 230
Weight
8.0 kg
Operating Environment
5-35°C, 20-80% (non-condensing)
Power Supply
AC 100-240V, 50/60Hz
Warranty
3-year
Package Contents
Contents
TeraStation 5400DN (TS5400DN)
Setup CD‑ROM
LAN Cable
AC Cable
Front Panel Key
Quick Setup Guide
Warranty Statement
TS5400DN / 2015-03-25

Product Datasheet

Download
You can compare the specifications of the product in this page. Click the model which you want to compare and click the "Compare"button.